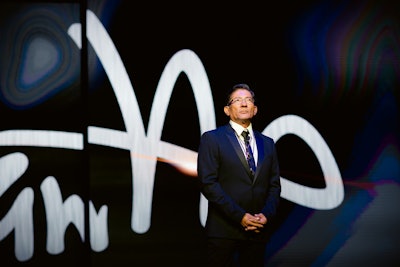 Behind every good leader there is a good team, because good leaders bring out the best in others. Sam Villa, who just won the 2017 NAHA Lifetime Achievement Award, does just that. He says he is motivated by the passion to teach others to be the best they can be.
In his award's acceptance speech, Villa credited the industry for his success – "I am not a genius, rock star or visionary…I'm just a messenger…a hairdresser motivated by the passion to teach other hairdressers," he said. His father introduced him to his first hair show and taught him that helping others succeed and working hard with passion is the key to becoming successful…and he was right (thanks Dad!)!  So, in addition to being a Global Artistic Ambassador for Redken 5th Avenue, Villa started his own company to deliver even more digital and live education to the industry.  He also designs ergonomically correct state-of-the-art tools that deliver maximum results with minimum effort, as well as, help reduce repetitive stress injuries for stylists.
Villa believes people buy people, and then they buy things, and is leading an industry-wide movement called #ArtistsSupportingArtists to promote the people in the industry to be the best they can be.  It's a movement and commitment to being positive on social media to build trust, confidence and success.  To focus on smaller hands on classes to ensure quality learning.  To spread awareness and promote membership of the Professional Beauty Association to uphold strong quality standards for the industry.  To think, say and do things differently to add value behind the chair. Regardless of ego or brand affiliation, Villa believes the PEOPLE of this industry can unify to elevate its standards and improve the state of professional beauty.
Many talented PEOPLE have challenged and inspired Villa to be the best he can be – far too many teachers and mentors to list.  They are the ones that hit the road everyday with the promise to make others better.  The individuals that know that leadership is based on inspiration not domination, on cooperation not intimidation. "And the most important thing teachers should remember is that we must never cease to learn," says Villa.
#ArtistsSupportingArtists – How to Get Involved
Tag positive communication with #ArtistsSupportingArtists.
Communicate with the same level of respect digitally as you would in person.
Keep the intentions of comments positive – try to promote confidence, creativity and growth.
There is no value in "I hate it" or "That's hideous," comments like that can potentially cause pain and insecurity.
Be constructive - "Have you ever tried a version where it's thinner at the bottom?" or "If you want to blend that fade a little more, try…" Stick to feedback that creates a conversation, provides opportunity for discovery, and doesn't carry an emotional punch.
PAY IT FORWARD!
"I'm deeply humbled by this recognition.  Awards represent achievement and to a certain extent show who you are as a person, because they reflect your desires, ambitions, goals, and accomplishments. For an industry that has given life to my career, it's an absolute honor for it to give tribute to my achievements," added Villa.
[Images courtesy of Sam Villa]