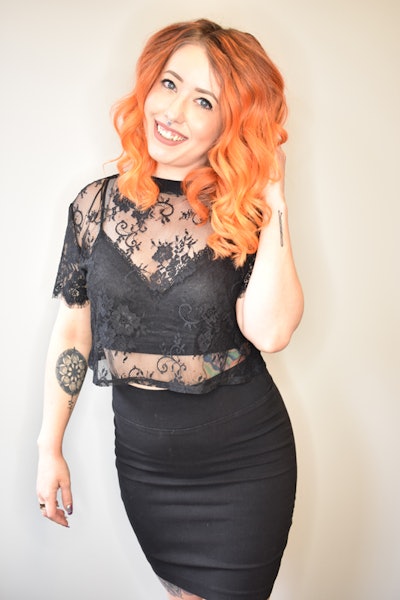 Taylor Rae is a Denver-based stylist specializing in vivids and color correction who's been working in the industry for almost a decade. Her account is inspiring to colorists and clients alike, as most pictures she posts grab thousands of likes. Read our Q&A with her below to learn more about her clients, inspiration and social-media fame.
LP: Tell us about a little about yourself and how you got into the industry?
TR: My inspiration stems from art, music and the desire to create something that makes my clients feel on top off the world. I came into the industry right after high school wanting to translate my passion for art into hair color! About two years ago is when my vivid work really took off. It started out with a few rebellious clients and now about 80% of my clientele has vivid hair.
Social media was a huge game changer for my career, specifically Instagram. It allowed me to share my portfolio of work with potential clients, industry companies and connect with fellow hair nerds. Always striving to continue my education and perfect my craft I attend many hair shows and classes to become inspired by new trends and techniques. When I'm not making beautiful rainbows, I enjoy reading SciFi fantasy novels, eating all the chocolate I can get my hands on and relaxing with my husband and our two Frenchies.
LP: We love all of your bright rainbow creations. Do you have any tips for creating beautiful rainbow hairstyles? Favorite products? Maintenance? 
TR: One of the most important things about rainbow hair is lifting the hair to the correct level for the desired vivid color. Understanding the underlying pigments will help increase the vibrancy and longevity of your vivid color. My go-to products for rainbow hair are PRAVANA VIVIDS and Brazilian Bond Builder; the pigments in PRAVANA VIVIDS are vibrant and long lasting, and I add B3 to all of my formulas to create glass-like shine and decrease color fade.
At-home care is super important when it comes to vivid shades. I recommend washing one to twice a week in ice cold water and using PRAVANA VIVIDS Color Protect shampoo and conditioner which is catatonically charged to complement the charge in the vivid color to ensure long lasting bright color. Also limiting the amount of hot styling tools will help your color stay longer.
RELATED: Ursula's Rainbow: Talking Bright Color with Ursula Goff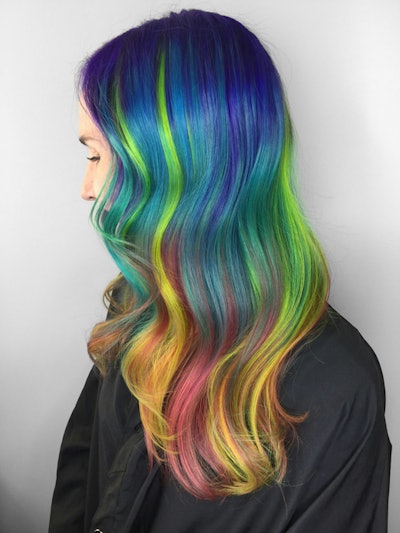 LP: What should clients know before a drastic color makeover?
TR: Before a drastic makeover clients should understand that vivid colors are a higher price point than most color and they can take anywhere between three to eight hours to complete. Also vivid colors can be high maintenance and require a touch up every four to six weeks. Rose gold, silver and pastels are examples of a more high-maintenance color. While your desired look my not always be achievable in one session, there are fun color combinations that can be done during the in-between stages.
LP: How do you find the right vivid color for your client? Do they usually have the idea in mind for the colors they want? Tell us about your consultation process?
TR: Most of my clients have a rough idea of what they want when they come in for their appointment which we use as a starting point in the consultation process. I always tailor my clients desired looks based on the color(s) they would like, their budget and how often they are willing to come in for touch ups. A pastel look requires touch up every few weeks while most of my rainbow clients come in every 3 to 4 months.
RELATED: PRAVANA Announces New Color Collective Team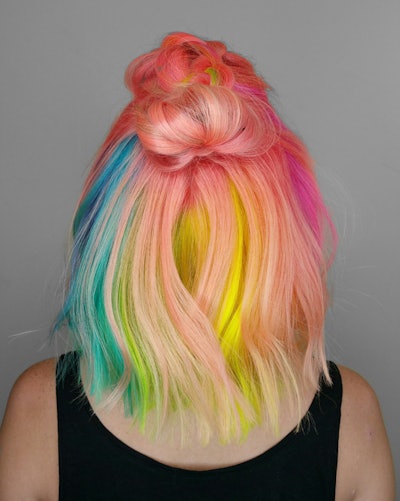 LP: Do you have a favorite hair color creation?
TR: It's so hard to pick a favorite! I love all my creations!
LP: Do you have any advice for aspiring colorists?
TR: My advice to aspiring colorists is to always continue to educate yourself and try not to take things too personally. This can be a tough industry—not everyone will like you or your work, but keep your head up and stay true to yourself!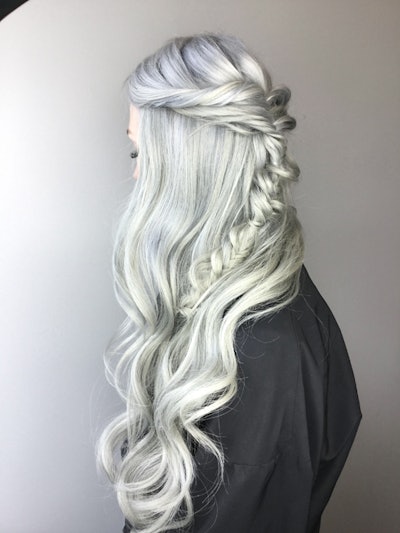 LP: What is your favorite hair trend for this summer?
TR: My favorite hair trend this summer is rainbow hair! Neons are on the rise again, and it adds a bright punch to and multi-color melt!
LP: Neon nails!!! Stiletto, bejeweled and loud!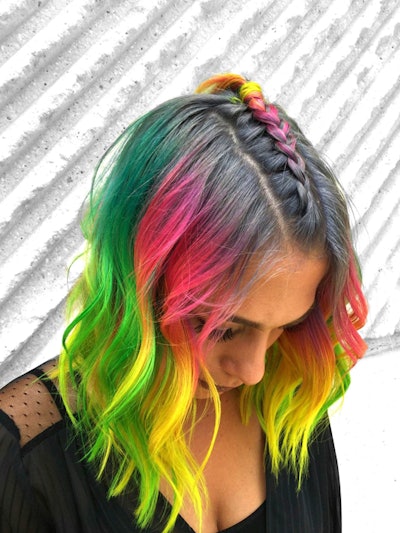 LP: What is your personal mantra?
TR: Be who you are and say what you feel,
Because those who mind don't matter
And those who matter don't mind  - Dr Seuss
[Images courtesy of Taylor Rae]