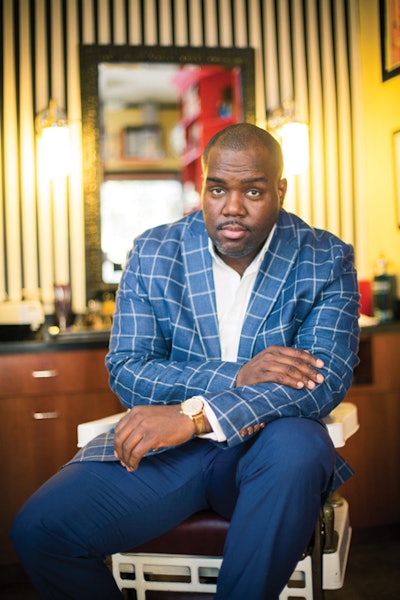 Since 2003, Philadelphia's 2BGroomed barber and grooming shop has embraced the same mantra: Neat. Trim. Smart. "Our mission is to provide an experience, and
a connection, that will help clients express their truest statements of self," says owner Jahmal Rahney. "We believe our role is to act not only as stewards of this statement but as the servants who make it possible." Clearly the approach is working: 2BGroomed has been recognized with multiple "City's Best" awards from Philadelphia Magazine and even made USA Today's "10 Great Places for a Shave and Haircut" list in 2012. 
Rahney, a Philadelphia native who had dreamed of opening a barbershop in the thriving Center City area ever since he picked up a pair of scissors at the age of 12, says his primary goal has always been to cultivate meaningful relationships with clients. "The haircut and the shave are a benefit," he explains. "It's the personal interaction—as opposed to the quick Q&A about how much a man wants cut off and where—that helps professionals intuit the look and experience that each client truly craves." 
RELATED: Barbering with Modern Techniques at Peoples Barber and Shop
Rahney believes that understanding the male psyche is vitally important to running a dedicated men's business. "There are unique, nuanced differences between clients that need to be explored for men to emotionally connect with your establishment, to see it as a place to invest their time," he says. "And, the factors that lead to this decision aren't limited to colors, scents, proximity and decorum." Thus Rahney tells his staff to first ask themselves who's coming through their doors and why. "Refined, detail-oriented men who are in tune with the current
luxury trends, for instance, might not jive with your offer of free beer in the can during their Wednesday trim," the owner points out. "Reaching out to premium breweries and distillers to arrange tastings at your establishment, however, may be just the trick!"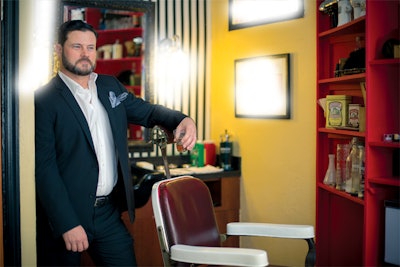 Having a distinct target client in mind also guides vision and business plans. "We pursue the man who wants more—he should be a willing and active participant in himself and in his community," Rahney says. Embracing the "If you build it, they will come" maxim, 2BGroomed's signature elements include its expansive jazz music catalogue and its Ralph Lauren-inspired barbershop aesthetic. "The brand personifies character to me, and helps communicate the visual aspect of Neat. Trim. Smart." 
RELATED: Time-Honored Barbing at Barber of Hell's Bottom
A large part of this entrepreneur's focus lies in bolstering his own professional community. "My career and exposure have afforded me great opportunities that many others are not privileged to experience," says Rahney, who honed his business skills at Temple University and the University of Pennsylvania. He is especially aware of the industry's many inner-city artisans who have not been as fortunate as he. "Not having educational opportunities directly affects how people work, live and grow," Rahney points out. Thus he recently developed an app called LIVECHAIR, designed to "trigger a tremor in our social movement," he says. The Open Table-esque tool—which is being rolled out in Philadelphia, Atlanta and Chicago as well as Raleigh, North Carolina and Washington, D.C.—allows independent barbers to manage their schedules in real time and easily book clients. A portion of the users' nominal booking fee is funneled into local community causes benefiting minority boys and men. The objective, Rahney says, is to help minority barbers develop their businesses.
In this way, Rahney seeks to implement positive change, not just for clients, but for overlooked sectors of society. "Most barbershops are transactional," he notes. "I want 2BGroomed to be transformational."
—Katie O'Reilly 
[Images: Courtesy of 2B Groomed]