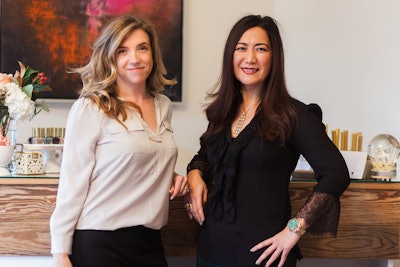 Sherri Coates and Karen Kops met merely two and half years ago, yet they're already successful business partners and friends. Their salon, Poppy & Monroe, has brought a green initiative and organic mindset to Nashville. All services at the salon are natural; waterless manicures and pedicures are their standard. We talked to Sherri and Karen to learn more about their history, the salon and the products they use.
Launchpad: Tell us about yourselves, your background, and how you two came to open Poppy & Monroe
Sherri: We met 2 1/2 years ago at a design tradeshow in NYC. Karen was VP of Design and I was VP of Business Development for two of the largest hospitality design & manufacturing firms in the hotel business. Karen had just recently vacated her position, so I was hoping she would start designing some new collections for the company I worked for. We realized quickly that we were both Nashville-based, so months later, we finally set a tea date and had a great conversation about finding work-life balance and other endeavors.
Karen had become interested in natural products with the birth of her son, and I grew up in San Diego, California, where health and wellness is second nature. We both loved the natural beauty services we had during our travels but could not find a place in Nashville with the same experience. We are both creative and business oriented, so decided to set out to fill that need. With a lot more conversations, research and amazing help from friends and beauty experts, we opened Poppy & Monroe in 2015.
Launchpad: How did you dive into the world of beauty?
Sherri: Being from California, I've been into clean eating, health and wellness trends in large thanks to my environment and many fitness teachers and friends who are the typical California health nuts. But the big wake-up call was when my mother died at only 57 years old of heart disease, and then I had several girlfriends diagnosed with breast cancer in their 30s. 
Karen: As many new moms, I wanted to be able to ensure the best and healthiest environment for my son. When I started researching, what I found was shocking in terms of how unregulated the industry is. I learned that in the U.S., there have been no regulations on the cosmetics industry since the 1930's. The U.S currently bans only 10 ingredients while Europe bans over 1300! 
Collectively, we had very personal reasons and knew we wanted to share and educate others as much as possible. We have accomplished that goal since launching our brand a year and half ago, which makes us both feel very fulfilled. Our clients have adopted our concept wholeheartedly, and we couldn't be more thrilled!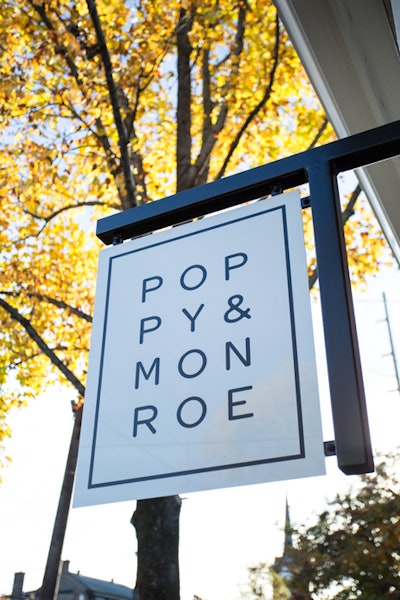 Launchpad: What makes Poppy & Monroe unique to other salons in the area?
We are the sole clean beauty collective in town, offering Nashville a healthier alternative to the otherwise chemical-laden services and products offered at other salons/spas. We only use products that are less-toxic, safe and environmentally conscious, avoiding harsh chemicals that are potentially harmful to clients' health and our staff as well. In addition, we're so proud to curate and offer only the best of brands that are leading the way in the clean beauty space. We have given our clients access to clean products, something that Nashville had never had before outside of the large cosmetic and department store chains.
Launchpad: How do you decide which product lines to work with, and what are your favorite products to feature?
We really take our time and do so much research before even considering testing a line. We have very high standards for what we'll carry and our testing process is very intense. We really believe in offering only the best of clean beauty, from how it looks packaging wise, the story behind the brand, their standards for manufacturing, and most importantly, that it is effective and results are there. We attend a lot of indie and green beauty shows to find the latest trends out there that no one else is carrying yet. We follow beauty experts, sites and bloggers who we respect and travel the East and West coasts often as different direction tends to come from those areas of the country as well as Europe and Asia.
We carry so many great lines it's difficult to choose our favorites. Some cult favorites are RMS, Ilia, Odacite, Maya Chia and we just received The Beauty Chef which is winning many awards at the moment. We of course also love our own Poppy & Monroe signature body butter, soak and nail oil launching as we speak.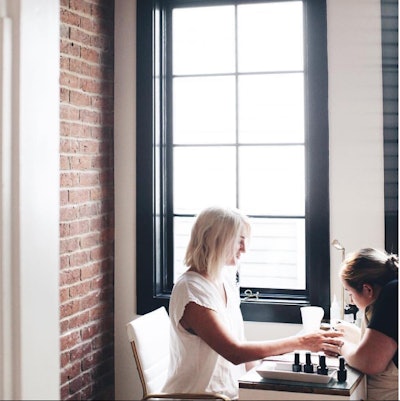 Launchpad: What is your most popular service?
Many of our services are so new to Nashville, but our 5-free toxic gel polish manicures and sugaring are definitely our most popular.
Launchpad: Can you share some photos of your favorite nail art looks with us and tell us about the designs? We love it when our nail artists come up with nail design wheels that reflect their personality.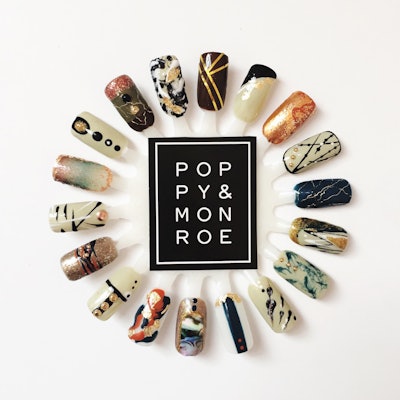 Launchpad: The waterless manicures and pedicures are incredibly intriguing. Besides conservation, what are the benefits of going waterless?
We chose to go this route because it lessens the spread of bacteria, reduces the use of a viable resource and allows your polish to stay on longer since your nails expand in water and then contract when dry. We are super stringent about cleanliness so we still spray your feet with a non-toxic antibacterial solution we created in-house and we use hot towels with essential oils to ensure your feet are spic and span before we get started.
Launchpad: How do you select and train your employees? What are your top objectives for them?
We're so proud of our team of "Artists" as we like to call our pampering associates. We recruit, train and hire only the best and when we find them, we have long-term objectives for retention including many paid benefits and incentives. They are truly artists and are highly skilled in their chosen craft, from nails, facials, sugaring, makeup and dermaplaning services. Our clients speak the loudest as far as accolades and reviews for them so that creates the loyalty we now experience. Our repeat business is astounding and our Artists' schedules are consistently booked which makes us even prouder of our staff.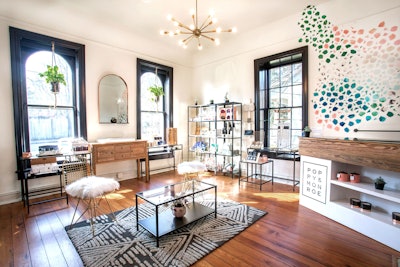 Launchpad: Is there anything else you'd like people to know about you, Poppy & Monroe, or your overall mission?  
We're so grateful for the response we've seen during our first year of business so we have many growth plans already in play as we speak. We hope to continue offering accessibility to clean beauty products and services for everyone to experience and to continue creating an environment that is truly conducive to promoting self-care. Everyone needs that balance more than ever and we're so thankful that so many clients allow us the opportunity.
[Images courtesy of Poppy & Monroe]