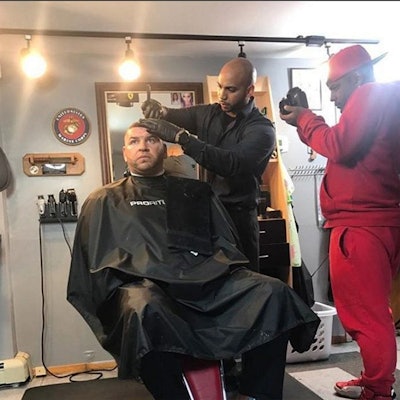 Celebrity barber, Richie Munoz, may have made a name for himself keeping the guys on MTV's Jersey Shore fresh, but working alongside the GTL-loving crew isn't all he has to offer. For over a decade, Richie has been giving precision cuts and lives by the motto, "you can't rush perfection."
"Old school" barbering is truly an art that not only requires the right education and skill set, but the right products to do it well. Luckily, Richie has shared his top four men's grooming must-haves.
Any must have for a barber is a styling product that also conditions, which is perfect for beards. Facial hair does not product natural oils like the scalp does, leaving your face dry and exposed to all weather elements. This causes facial hair to be coarse, brittle and dry. Using a conditioning product like PRORITUALS Dream Cream can combat this. Dream Cream is a powerful conditioner that will hydrate, condition and create a soft hold for the beard to keep fly aways down.  Simple, apply about the size of quarter in the palm of your hand and mix together by rubbing both hands  in a circular motion. Rub your hands through the facial hair multiple times and wipe any excess  with a towel.  You may rinse this product out of the beard any time of the day leaving the facial hair feeling silky smooth and leaving you with  the ability to run a comb through the beard with ease.  

I also recommend having a treatment oil, such as PRORITUALS Hair Treatment Oil to add a true sheen look to the beard. This product contain five different plant oils such as omega and fatty acids which is great for the skin and lipids and antioxidants which feeds the hair follicle making them healthier. Apply about 1-2 pumps in the palm of the hand mix together by rubbing your hands in a circular motion. Rub your hands through the facial hair multiple times and wipe any excess with a towel. This is a great way to keep the beard from being coarse and dry.  

Every barber needs a great wax. They hold down fly aways and those long hairs that do not want to cooperate. Simply run your finger through the product in a circular motion several times to get about a half a dime size and then rub the wax in between both finger tips and apply to the bears. Grab a comb and follow through – this should fix those unruly hairs.

A good brush is key to finishing a great style. I love the Marilyn Brush New Yorker. It's perfect for adding volume and style to any hair style. It's made of 50% bore and 50% nylon quills and the soft, durable pneumatic pad eliminates static and gives that finished look. The design of this brush is made to fit in your pocket, giving you the ability to rebrush hair on command.