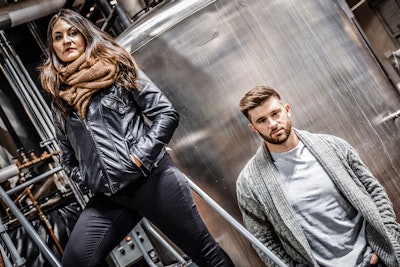 Brooke Allen is a Kansas City native specializing in men's hairstyling. She also happens to be an ardent baseball fan. Brooke recently used social media to pursue her dream of having Kansas City Royals baseball star Salvador Perez as a client. Her clientele at Chop Tops Hair Company of Kansas City is 95% male, so she involved her clients in her pursuit and they were happy to help!
"Salvador has a signature hairstyle of three lines shaved on the back of his head," she said. "I talked some of my clients into letting me shave three lines in their hair for a social media campaign. I put the photos up on Instagram with the hashtag #getsalvyinmychair. I really worked hard to make the connection, feeling like the worst thing that could happen was to get a no!" But Brooke didn't get a no; she drew the attention of Salvador's teammate, catcher Drew Butera who was recently traded to the team and looking for a new hairstylist. Spoiler alert: Brooke now works regularly with the Kansas City Royals baseball team, styling hair for many of the team members including Butera.
Butera visited Brooke's salon for his styling; he liked the consistency of her work and her passion for both her craft and for baseball. He brought Brooke to the stadium, where she had spent so much time as a fan, to cut his teammates' hair too.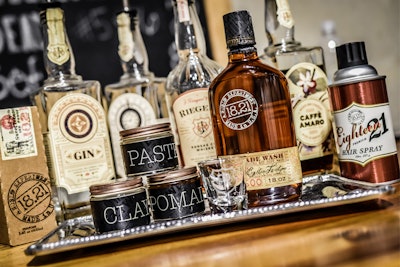 "The guys were uncertain at first of a female hairstylist," she said. "But I won them over and many became regular clients at the stadium." Working in a room with a TV and couches, players hang out while their team members get haircuts. Brooke has worked with and met many of her former idols, including Salvador. Visiting teams also stop in for haircuts and Brooke has styled hair for players she never dreamed of meeting, like Matt Carpenter of the St. Louis Cardinals. She's worked with Kris Medlen, Alex Gordon, Mike Moustakas, Luke Hochevar and more. "It has been a dream come true. I used to spend a lot of money to attend games here!  Now once every home stretch I take my box of tools and clean up the guys."
Brooke has been in the salon industry more than 15 years and had been styling men for 10 of those 15. "Male clients are very loyal," she said. "They come in regularly and are very easily encouraged to try new styles. I got referrals from my clients and my base grew and grew until I could select my preferred clients. I worked with younger girls in the salon and taught them; yet I feel I am always the student and never the master. I saw their social media skills and asked them to teach me what they knew! I was inspired to start the campaign that ended up with my dream clientele of baseball players."
Social media is also how Brooke met the 18.21 Man Made Grooming team. When her salon started carrying their 18.21 haircare products, she fell in love with their superior quality, smell and results. She started posting her client photos on Instagram with the #1821ManMade hashtag and was eventually noticed by the owners. She met the brand team and when she found they were looking for educators she knew it was a great fit. "I loved their passion for their brand! My motto is to educate clients, not sell to them. This brand helps keep the longevity of men's hair and it is suitable for every client."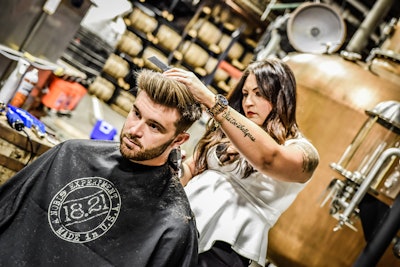 Brooke achieves Drew Butera's signature style with 18.21 Man Made Grooming products. To get Drew ready for close-ups on camera, Brooke neatens up his hairline and neck. She does a razor cut as his hair very fine and straight and the razor gives a more natural line. Drew's strong cowlick works with his signature style that is longer on top, so Brooke doesn't fight the natural movement but works with it. His style really works for his bone structure and face.
"When he makes an amazing play on the field he pulls off his cap and flips his hair at the crowd," she said. "It's his signature move!"
She added, "We blew dry his hair with Man Made Clay for volume. The clay has a lot of grit and gives great texture. If he's going out we use Man Made Paste for more definition. Drew loves the paste; all the products are water soluble and very versatile. You can put it in damp hair and dilute it for a lighter hold; put it in dry hair for more hold and blow dry it for more of a natural look, giving control without stiffness. We always finish with Premium Hairspray for a natural look that doesn't weight hair down."
Butera loves that the products give a natural look with no product running into his eyes while sweating during a game. Brooke uses the 18.21 Man Made Grooming product line on all her male clients.
[Image courtesy of 18.21]