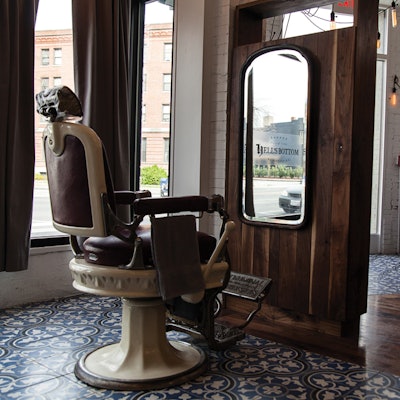 The son of two hairdressers, Kelly Gorsuch knows his way around a salon. He also knows how to expand out from one—in the past four years, the 37-year-old has opened four wildly popular barbershops. His exploits began in Shaw, a trendy yet historical, ghostly corner of Washington, D.C., that inspired Gorsuch to name his shop Barber of Hell's Bottom. Today, Hell's Bottom headlines three D.C. locations, and a new 65,000-square-foot outpost in Richmond, Virginia. 
"My philosophy is simple: focus and excellence," Gorsuch says. "The entire brand is stronger if everyone has the same objective." To underscore this imperative he hired a designated brand manager and it shows, starting with the shop's signature, speak easy-esque decor that Gorsuch describes as an "Americanized version" of the Japanese aesthetic tradition of wabi-sabi. "I believe in using natural materials and colors but I also like to celebrate America's great furniture-makers," he explains. "I pay maniacal attention to every detail in the environment, and we pride ourselves on our distinct design aesthetic." The result is a rustic look that conjures both nostalgia and modernity.
RELATED: Modern Vintage-Style at Junior & Hatter Gents
Another distinct difference: All 17 Barber of Hell's Bottom barbers are trained in modern scissor techniques—affording maximum movement in their shapes—as well as traditional barbering skills. "As a company, we take pride in everyone being able to provide straight-razor shaving," Gorsuch says. "Everyone must ascribe to the company concept of elevated barbering, which we define as the barber and the guest working together to achieve the best possible look for the guest—not the barber. We are, after all, in the hospitality business."
RELATED: Modern Military Haircuts with Rikki Hixx
Brand manager Jill Heizer agrees that Hell's Bottom has gained recognition for combining time-honored traditions in the barbering craft with current scissor and clipper techniques. "Our dedication to craft allows us to provide each of our guests with a perfectly crafted, personal style," she says. It comes down to the trifecta of "service, experience and relationship," she adds. 
This hybrid of barbering tradition and modern, salon-style customization is a new phenomenon, Heizer notes, one that springs from men's realization that it's okay to invest time and money in themselves. "Having that space to go and relax is something everyone needs," she says. One winning experiential flourish: the warmed lotion used in the shop's über-popular straight-razor Beard Shave ($30). 
Keeping up with a fast-paced industry is nothing new for Gorsuch, who started hair-cutting school at 17 and opened his first salon at 24. He also opened three of Hell's Bottom's four locations in a two-year span, and doesn't appear to be slowing down. "We are taking a hard look at establishing a Hell's Bottom in Los Angeles," Gorsuch says. "We've landed on a great concept, and will be looking to make that move once we've finished growing our Richmond location."
—by Katie O'Reilly
[Image: Courtesy of Barber of Hell's Bottom]