Beauty editors in NYC were treated to a luxurious Wella Professionals Oil Reflections blowout with Wella Celebrity Ambassador Andy LeCompte earlier this week. While getting primped by the hair maestro, Launchpad got the scoop on why he loves Oil Reflections, some of his favorite celebrity styles and what inspired him to pursue his dreams to become a celebrity stylist. Read on to get the lowdown.
Launchpad: Tell us a little bit about some of the benefits of Wella Oil Reflections.  
LeCompte: Don't you believe good, healthy hair makes you have a good, gorgeous blow out? It all starts in the shower. When you shampoo your hair with good products, it really makes a difference. The [Wella Oil Reflections Luminous Reveal] Shampoo is super hydrating, all-around nourishing, and leaves hair feeling soft and healthy. The [Wella Oil Reflections Luminous Instant] Conditioner is great for daily use and the [Wella Oil Reflections Luminous Reboot] Mask should be used weekly [for luminous, smooth locks]. But when we were on tour, Madonna literally went through three tubs of the mask in a week! Her staff cannot run out of the mask! [Wella Hair] Oil Reflections, which has been around for a few years, is one of our top selling products. It's very nourishing and hydrating for the hair and it gives it shine. 
I always bring my clients this shampoo and conditioner. They like that because then they don't need to think about how to take care of their hair at home or how they can make it look it good on the red carpet. Good, shiny soft hair comes from hydration and the nutrients you're getting in your [at-home] products. I always push heavier, more nourishing products because [then I dry hair out with tools]!

LP: Any words of wisdom for stylists using the products?
LeCompte: I use the oil in everyone's hair as a cutting tool and to get through the tangles. I also feel like the oil is less heavy than a lot of styling products tend to be so I love to use it in anyone's hair from flat to thick. I like hair to look and feel touchable, soft and moveable and that's what oil has always done for me. You can also build body with the oil and use it with [Wella EIMI] Dry Me Shampoo to thicken it up. You know how when your hair is dirty it almost has more volume and pliability? That's what this oil does for you.

LP: Any advice on how to retail the Wella Oil Reflections lineup? 

LeCompte: We have a great deep conditioning in-salon treatment [Wella Oil Reflections Luminous Magnifying Elixir] that gives clients 72 hours of shine [and smoothness]. It's a really great way to show people the instant results. You can charge for it but you can also offer it as complimentary service, which I do when I'm running late. I think it's a great way to sell products. They will love how their hair feels and then you can tell them they can take products home [that will give them that same feeling]. 

LP: If you had to pick one product that's your favorite what would it be? 
LeCompte: Wella's Luxe Oil [Keratin Restore] Mask. It makes the hair feel like butter! But I do really love the Oil Reflections mask and oil too! 

LP: What's your go-to product when working on set?
LeCompte: [Wella EIMI] Sugar Lift. I'll set hair with it. It's also great if someone's hair is slippery and healthy and I want to give it a little grit. It's not like a salt spray because it's a little shinier and more nourishing but it does a similar thing. On the red carpet everyone wants shiny, touchable hair. And what do guys like? They want your hair to be soft and touchable. They don't want it to be stiff!

LP: What are some of your most favorite celebrity styles you've ever created? 

LeCompte: I love the fake bangs I've done on Penelope Cruz. She loves fake bangs! There was one set of short, Aubrey Hepburn bangs I did on her for Pirates of the Caribbean with a Disney-like pony. It was the cutest thing! Penelope is fun because she's Latina and she really likes to go for it on the red carpet.  I [also like working with] Nicole Richie because she's daring and a risk-taker. Once I cut Nicole's hair when she had these really long yellow-burgundy extensions--the hair was actually cool at that time—but   then her makeover transitioned and turned into something important with her bob and I gave her all of those bobs, which has been really fun.
LP: So you like working with people who are more daring?
LeCompte: Yes, it's fun to work with people that like to take risks. Madonna is also a risk-taker. The amount of looks we've created through the years, it's just incredible! But I also like people who own their style and work it for a period of time and aren't changing their hair every other day.
LP: What trends do you see on the horizon in 2017?
LeCompte: I see people cutting their hair and going short. Wigs have come so far and people are constantly wearing wigs and extensions so they're willing to go quite short and dramatic. I also see a lot of platinum color happening.
LP: What's the trend your most excited about?
LeCompte: Slick, tomboy-looking hair that's mixed with feminine. I just did a shoot with Jennifer Connelly and I created a side part, put a comb in it and slicked it back so it was super long [and feminine] on one side and the other side was slicked like a man. 
LP: Any tips for aspiring stylists?
LeCompte: Dream big, be fearless, and take risks and chances. When I started doing hair I was so fearless. I wasn't afraid to take risks. If you believe in it, you can make anything happen. You just have to do it. I always loved Madonna. When I [was younger] I watched Truth or Dare which inspired me to be free and get out of the town I was in. I wanted that life. I wanted to travel the world and stay at the Ritz in Paris and stay in fabulous hotels. There were scenes of the New York City skyline and I wanted to go there. At that point, celebrity hairstyling didn't exist. Celebrities weren't on the covers of magazines. It was models. So I wanted to do hair for magazine covers so I saved the covers that interested me.  I was obsessed with Elle covers—Heidi Klum, Madonna, Gilles Bensimon and all those models' hair. I wanted that life. Of course I didn't know I was going to actually get that life and that I would be following Madonna around and doing her magazine covers!
 In Truth or Dare Madonna talks to her backup singers and tells them she thinks about them in her dressing room because they're such better singers and dancers than her so she knows she has to try [as hard as she can]. She became one of the biggest stars in the world by saying she wants to rule the world. When she broke it down like that in the movie it made me think: 'I might not be the best hairdresser in the world but I can be if I want it bad enough.' I wanted to be out of a small town and be accepted for who I am. The place I was accepted was in hair salons and that's where I felt the most comfortable. So I started working at my sister's salon when I was really young and started doing my friends hair and then working on photo shoots, and that's what helped me get a job at Prive and what led me to working with celebrities.
LP: So the person you looked up to when you were young is now one of your regular clients. It's all come full circle.
LeCompte: I even said that when we were on tour. Truth or Dare was having its 25th year anniversary and on the tour she played a screening for it. We do a prayer and when I said mine I said that her movie inspired me to be the best. Madonna has been a teacher of mine long before I even knew her. Now I'm standing here 14 years later! But what have I learned from her in that time once I got in the room? I learned about how to stay there. This woman has stayed [in the industry] for 35 years because you have to keep trying. You can't stop when you've made it and think you're good enough. You've got to keep going and try harder. When I started working with her I brought my A-game and every time I do a job or a project I have to bring it even harder. It doesn't get easier.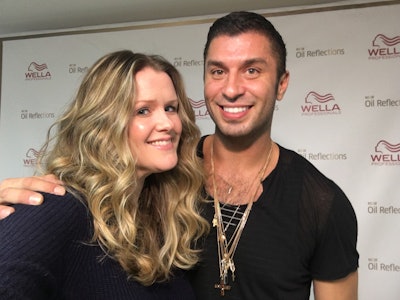 [Images: Molly Church]