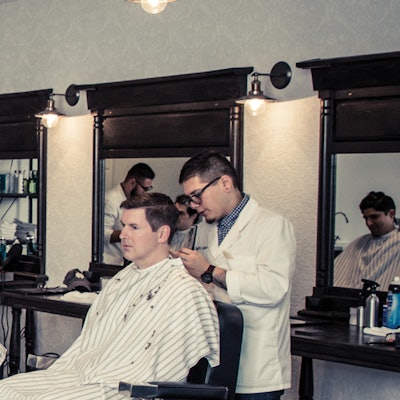 It's no surprise that perfection is the name of the game at The Argyle League: Its owner's first professional stint was as a ballet dancer. But when love struck Carlos Xavier Carrillo and economic stability became a priority, the resourceful Carrillo retired his slippers and turned to clippers. In his younger days, he'd had a flare for hair-cutting, clipping friends' coifs with his mom's dog grooming shears; it seemed a career he could get behind. As he made his way as a hairdresser in women's salons, Carrillo noticed men were receiving subpar attention, their services squeezed in during other clients' color processing, for example. "Attention to detail was missing for men," he recalls. "So, I decided to open a place where every detail of a man's haircut would be considered." Thus, The Argyle League was born.
RELATED: Straight Up - Scissors & Scotch
Under the premise that "the devil is in the details," every customer receives the exact same level of service from beginning to end. All 10 barbers at The Argyle League apprenticed with Carrillo and learned specific methods for every step, from drape to finish. "Consistency is key," the owner says. The approach has paid off: Gents pine for the precision haircuts, the six-towel-straight-razor shaves, and the gratis, 15-minute in-between-appointment trims, all of which keep them on par with the shop's "Stay Sharp, Gentleman" slogan.
All of Argyle's barbers don white coats as they go about their business nipping locks inside the 1,500-square-foot shop, where customers imbibe complimentary bourbon as a large elk bust stands guard above custom dark-stained furniture contrasted with white damask wallpaper "It's a juxtaposition of masculinity and beauty," explains Carrillo, who says the décor is a reflection of himself. "There have always been two sides to me—a little rough [on the outside] and a sweetheart [on the inside]." 
[Image: Courtesy of The Argyle League]