Through her educational initiatives, Sheri Doss helps stylists achieve their professional goals. —FRANCESCA MOISIN
​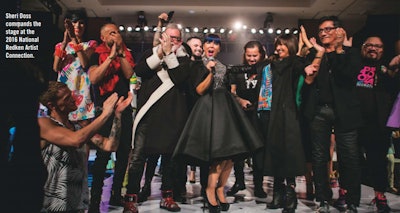 Many stylists know from childhood that a career in hair is all they want to pursue—but this is not one of those stories. "My mother, Janet, got married young, had my sister and me and was widowed by age 24, following my father's death in a motorcycle accident," reveals Sheri Doss, Redken and Pureology VP of education. Memories of Mom working construction during the day while attending beauty school at night tainted Doss's perspective of the industry, since it was tough being separated such long hours. "I wasn't sure what I wanted to be when I grew up, but thought perhaps a math professor," she says. Yet fate has a funny way of intervening. 
For lack of a better plan, Doss eventually enrolled in cosmetology school, and there discovered that her inherent teaching passion was in fact for beauty, not numbers. In 1995, she met a sales rep who introduced her to Redken products—though initial results of that meeting were hardly auspicious. "'Disaster' is the only way to describe my first use of Color Gels on a client," Doss laughs. But, like her mom and hero, she persisted, soon joining the company in a full-time capacity
Today, three main tenets defi ne the Redken academic platform. Stylists occasionally grow obsessed searching for the next hot trend in a hamster wheel-type quest that often ends with frustration, so the brand starts by instilling tress fundamentals. "Master basic techniques and you'll forever be able to create or re-create any look," notes Doss. While this may be the agenda with which instructors enter rooms, once there, every class follows its own organic path. "We check in with students, honoring the specifi c topics they wish to explore, thus placing importance on a personal approach to education," explains the pro. Finally, programs are interactive, regardless of the venue in which they're conducted. The Redken Exchange institute on Manhattan's famed Fifth Avenue hosts regular principles-driven courses, along with a changing weekly curriculum. Bespoke events take place around the country, be it in-salon or at trade shows. And on-demand apprenticeship is available via 150-plus videos accessible on YouTube and the pro section of redken.com. "I'm living proof that lives can be transformed through learning," muses Doss.
[Images: REDKEN]