Calvin Quallis: CEO of Scotch Porter
Why did you decide to start your own business?
I've known, for a very long time, that I wasn't quite cut out to be a 9-5er. The thought of spending the rest of my working life in an office space-type work environment and confined to a cubicle seemed like a death sentence. My brain and spirit dwindled a bit each day. But while sitting at my desk one afternoon, I literally said to myself aloud, "Dude, this can't be it. Life doesn't go on forever, and you don't get a second chance at this." I understood that there were great financial risks if I quit my job and my business failed. However, what I feared most was taking too little risks and settling for comfortable and ordinary, and all the regrets that come with it. If I didn't walk, it meant that I would be undervaluing myself and that instead of being great, I would have become okay with just being good. I couldn't live with that decision; so the very next day, I sat down with my boss and discussed my plan to resign. The greatest coincidence of all time was that she had something to discuss with me also, she too had resigned.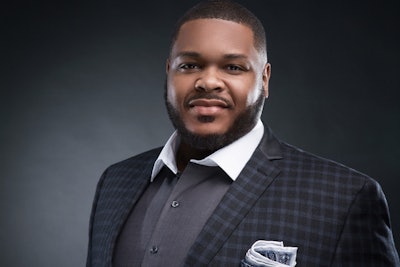 Why a men's grooming line?
Prior to starting Scotch Porter, I owned a barbershop in Newark, NJ called Center Stage Cuts. Aside from being passionate about looking and feeling good, creating a men's grooming line was a natural progression from owning a barbershop, especially as I saw that many of our customers had problems with dry, brittle beards and razor bumps. My solution was to create a line of grooming products that catered to these specific issues. I initially sold the products in our shop and they quickly became a hit with our customers.
What is the Scotch Porter brand philosophy?
Scotch Porter is more than just a men's grooming brand, we're not just selling what's in a bottle; we are creating a lifestyle. This is visible through our social media messaging, our brand ambassadors, our editorial journal that discusses lifestyle elements, such as fashion, music, culture and the overall experience that we offer our customers. 
We also understand and have a deep connection with our customers. We understand why all of our customers strive to appear put together. It all comes from wanting to feel good. Looking good feels good, and feeling good gives you the confidence needed to go out there and crush it. Finally, and equally important, our products are truly effective, and do exactly what we promise they'll do. Our customer's expect world class, effective products and that's what we deliver.
Favorite part about being CEO of a men's grooming line?
I'm most proud of working with a great group of individuals that are just as invested and committed to the vision of Scotch Porter as I am. Our mission is to help men feel confident and look their best as they set out to explore the world and build their dreams.
What is your "go to" grooming product?
A non-foaming face wash and moisturizer, along with a very moisturizing body lotion and great smelling fragrance are essential to a grooming routine that will keep you looking and smelling great. Try Scotch Porter's new Charcoal & Licorice Restoring Face Wash ($18) and Charcoal & Licorice Moisture Defend Face Lotion ($15).