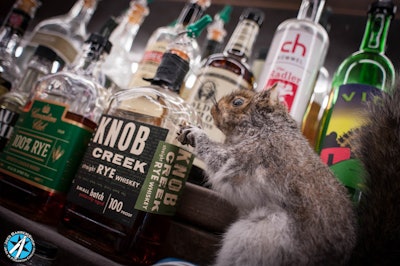 Joe's Barbershop has been a Chicago staple since 1968, when it was founded by Italian native and second-generation barber Joe Caccavella. Like his father before him, Caccavella taught his then-teenage son, Joe Caccavella, Jr., the fine art of barbering. Today, Joe Sr., 78, and Joe Jr., 36, run this walk-in, cash-only business together. Their formula for success: Provide classic/ traditional cuts and hot-lather, straight razor shaves in a clean and unpretentious environment. Oh, and throw in a friendly glass of beer or spirits.
MAN spoke to Caccavella Jr. about his family business and its fearless, no-BS attitude that he admits tends to inspire either devout devotion or, well, just the opposite.
"I was a marketing guy in a former life, which has helped me a lot," he explains. "When I joined the business in '09, this area [Logan Square in northwest Chicago] was more 'urban,' for lack of a better word. Guys wanted their girlfriends' names in their hair, or they wanted what I call 'professional soccer haircuts.' Since I trained to be a traditional barber, we came up with our 'no lineups, no fades, no graphics, no braids' slogan. It's really more of a joke because we do provide styles that are a modern interpretation of old-school looks. I just like to push people's buttons. Our shop regulars eat it up, and others figure out they don't belong here, fast. I've learned to embrace the hate," Caccavella laughs.
Truth be told, a quick bit of research reveals that Joe's Barbershop has been voted Chicago's Best Barbershop in The Chicago Reader's polls every year from 2010 to 2016, so clearly the Windy City's locals are feeling the love. Perhaps even more so after a free glass of beer or gin. Although he has no liquor license, Caccavelli has devised a cross-marketing strategy that complies with state and county laws: The beers and spirits are donated by local businesses, so no money ever exchanges hands.
"It's kind of a guerilla marketing approach," Caccavella says. "We have sponsors who give us products for free and we share them with our customers." Currently Joe's Barbershop is sponsored by Chicago's Pipeworks Brewing Co., Alarmist Brewing and Letherbee Distillers, among others. It has even secured a Jim Beam Corp. sponsorship. (Note: The shop only admits customers who are 21 and over.)
Recently Caccavelli decided to expand his family's legacy a little more and, with some friends, launched Sixty8 Provisional Co., a product manufacturer with growing U.S. distribution and plans to go global. Currently Sixty8 carries pomades, beard oil, shaving oil and a custom razor that comes in a box handcrafted with reclaimed wood. "The products are made in New York and are unscented—I hate sandalwood!" he says.