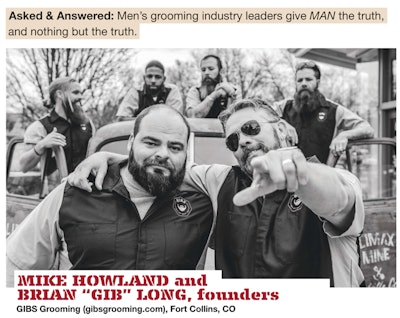 by Katie O'Reilly
How did you get started in men's grooming?
Gib: We're serial entrepreneurs and longtime business partners who entered the beauty industry five years ago. We started in hair feathers, and realized we were lucky to be at the front of a huge trend—even if it ended as quickly as it began! The experience showed us how cool the industry is, so we continued to meet all its players, shake hands and figure out how we could have staying power.
Mike: We're also fishers and hunters: meat- eating Colorado dads usually dressed in work boots and T-shirts. We saw that our fellow 'regular guys' nowadays are spending good money on products, whereas a decade ago they'd own maybe a bar of soap and use whatever shampoo happened to be in the bathroom. Of course, we also have a lot of gentlemen friends who, like us, are bearded. And we realized there was no simple beard oil on the market—sort of like there hadn't been any hair feathers a few years prior.
Gib: So, Mike and I went to the lab, figured out what we did and didn't like for our own beards, and then hired some pros to help us blend the oil properly.
What was your marketing strategy for that first product?
Gib: We felt that too many brands were speaking to the stylish 'GQ' guy, and we wanted to take care of regular guys like us. Because even though we're more 'lumbersexual' than 'metrosexual,' we'd be lying if we said we didn't care what we look like, and what our significant others think of us. So we tried to make our packaging accessible and 'dude-ish'—an extension of who we are.
Mike: We introduced and sold our first product at a Connecticut Barber Battle in April of 2014. Barber Battles are awesome: an underground brotherhood of thousands of barbers who connect through social media and periodically come together to have competitions and celebrate the art and craft of barbering. The barbers loved our product and style, so they helped us launch the process of becoming a credible brand.
How have you branched out since then?
Gib: We now have three varieties of beard oil; beard balm; a shave gel; Man Wash BHB, a beard/hair/body wash combo; and three varieties of pomade. We've also had success with our Hitman Texturizing Spray, and a product called Stiffy, which is a 'stache and mohawk glue. Then there's our exfoliating soap, The Handle Bar, and we're about to launch Washbuckler, a moisturizing bar.
Mike: We've got eight employees here in Fort Collins, and brand ambassadors/educators out on the streets nationwide, emphasizing why our brand is emerging as the coolest new real men's grooming line.
Do you have a formula to success?
Mike and Gib (in unison): It's a mosh pit!
Gib: That's what we've always said about all our wacky ventures. But really, it's being willing to dive into the organized chaos of constant multitasking. It's jumping whole-heartedly on board with the fast-moving energy of this industry, and staying excited about everything happening quickly. And it's doing it while remaining humble and listening to what professional barbers and stylists say about their needs, and what their clients will really use at home.
How did you settle on 'GIBS' as your title? Did y'all flip a coin?
Gib: Listen, I did not want to call it that! But we have a great marketing guru who convinced us that it worked as an acronym...
Mike: Yup. It stands for "Guys Into Beard Stuff."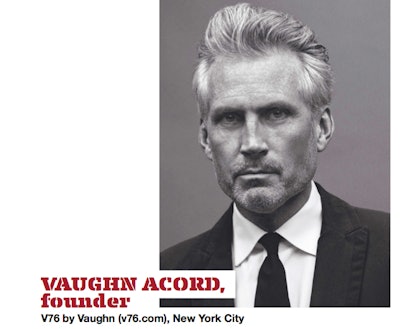 How did you become immersed in the men's grooming industry?
Vaughn: I was schooled and licensed in hair and had a little salon in Oberlin, Ohio, near where I grew up. I loved what I was doing, but I ended up with an opportunity to get into modeling. So, I spent seven years in Europe doing that, which ultimately brought me to New York. I'd gotten married and wanted to settle down and not be on the road so much, so I decided to go back into what I'd always liked doing: hair.
Did your modeling experience affect your work as a stylist?
Yes. Because of my background, I was called to do a lot of runway and magazine shoot work. I noticed that the covers and spreads of publications like GQ, Details and Rolling Stone were getting a lot more interesting, so I began to concentrate on what really looked good on a guy. I always made a point to look at him in a more complete way, and not just focus on his hair while ignoring his face and dress style and lifestyle. A few major players took note and kind of vaulted me into the world of working with celebrities and models and 'royalty,' so to speak.
How and when did V76 come into the picture?
In my head, about 16 years ago, when I found myself submerged in the culture of men's grooming. I kept seeing companies jump into this new opportunity without necessarily having the background or credibility to support it—they were mostly just adding stuff to existing women's lines. So in 2013, I created the product I'd been dreaming about, our V-Rated Wax. It was more natural than what I'd been using, with a great protein base.
And today your collection has 20 SKUs, is that correct?
Yes, we focus on four categories: Well Groomed, a line of hair products; Boldly Barbered, for facial hair; Face Forward skin and body care; and Well Gifted, a line of colognes and kits for travelers and gifts. Packaging for every line is legible, simplistic and reflective of who I am: It combines rich, matte colors along with some shine, to indicate the duality of work and play. The message is that guys can look good and groomed both downtown and uptown.
What's next for you?
This is an ever-evolving process— we're devoted to continually learning and asking questions. I'd say our overarching focus is to educate men on how to be comfortable in their skin no matter what they're working with and no matter their age. It's about building that trust with them.
Do you abide by an overall business philosophy?
Yes, and that is to enjoy what you do, while creating a culture of likemindedness around you. Our staff has grown to almost 75, and I could never do what I do without this team of fantastic people who work along with me. Also, you must remember to enjoy the journey. Everyone could always be more successful, but try to have fun in the moment.
WHERE DID 'V76' COME FROM?

The first haircut I ever did was in 1976. And the V stands for "Vampire..."!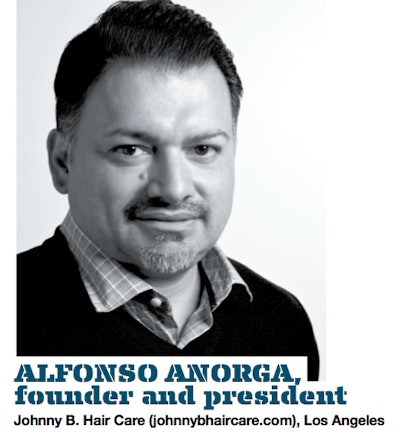 What led you to the men's grooming business?
Alfonso: My mom opened several salons and beauty supply stores in Southern California in the early '80s, when I was little. I'd help her manage them after school. Later, I went to cosmetology school, and then college. I thought I was done with the service side of the beauty industry, but Mama needed me to take over a salon she'd opened in a regional mall—it had been a Fantastic Sam's franchise.
I converted the franchise into a private ownership and loved it. It's a beautiful feeling to run a successful service business, to build a team where everyone works toward the same goals and level of quality. And in that quest, I saw a real need for a men's product line. There was such disconnect between salons and barbershops—it seemed the male customer had to be either
a 6'4" model with washboard abs or an everyday guy who changes your oil or works at the local market. I wanted there to be a product line made for every guy.
What was your very first product?
In 1994, we launched Johnny B. Original Pomade. Our packaging showed a slick, zoot-suited figure with a kind of '50s look. Over time, though, I saw that the '50s trend wasn't going to play out for long. In the late '90s, we cropped Johnny B. on our packaging so you could only see his head.
How many SKUs do you carry today?
We have almost 30 haircare products, but what really distinguishes us is that we have tools, too. We strive to make the most effective and efficient capes, tools, combs and razors, and we have many men's educators working for us. We also run the Johnny B. Barber Academy here in L.A. twice a year.
Where do you think the men's grooming industry is headed?
We think hair and beard straightening and relaxing will be huge. Many popular men's styles work best for straight hair, and it's hard for men with natural wave patterns to pull them off. [At print time, Johnny B. was preparing for a late summer launch of a two-step straightening process called Johnny Director, to be manufactured in Italy.]
What is your overarching business philosophy?
Pay attention to market gaps in your niche, and always invest in education.