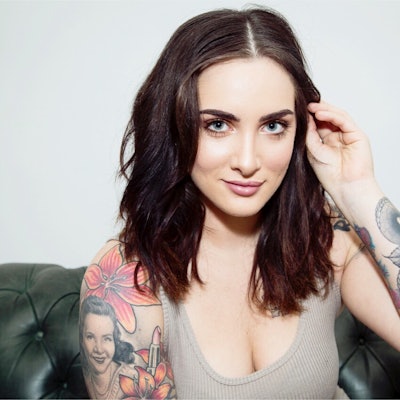 Create that perfect look for your clients' (or your own!) online and dating app profile pics with these helpful tips from Lauren Urasek.

Lauren Urasek is not only an accomplished editorial and celebrity makeup artist, but she also happens to be the most popular woman on OKCupid. In 2014 she was given the title by New York Magazine after receiving thousands of profile views, an average of 35 messages per day and over 15,000 4 and 5 star ratings. Lauren's book Popular follows the ups and downs of her journey to find digital romance in New York City and even details her guidelines for dating makeup. We turn to Lauren for a little advice on the do's and don'ts of achieving that perfect dating profile look and how to get into the world of editorial makeup.

Tell us about your journey to becoming a makeup artist?
I wanted to be a makeup artist in high school before it was super popular online —I was always creative. I moved to New York right when I turned 18 and went to a school out here. I just jumped right into it and started freelancing.

What are the accomplishments you are most proud of in your career?
Once you start doing shoots for magazines like Elle or Cosmo, you don't really think it's a big deal. Then you realize where you were even 5 years ago, and it's pretty awesome. Or when you get that first celebrity client that that you were looking up to as one of your favorite celebrities 5 years prior and then you did their makeup one morning. I think that's a really cool accomplishment.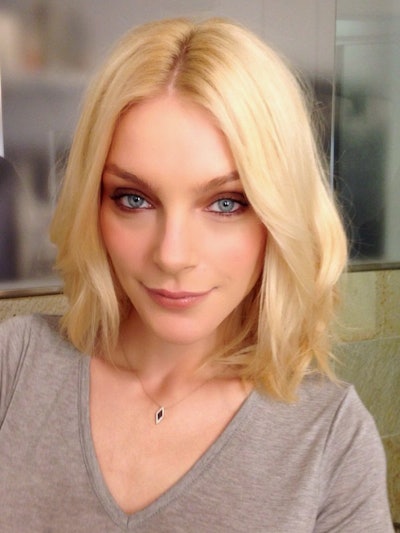 Did this happen to you with a celebrity?
I use Tumblr every once and a while and there is some good inspiration on there. I was going through old Tumblr posts and I found a picture of Jessica Stam, the model, that might have been from 10 years ago. I had done her makeup probably a year ago. High school Lauren would have never thought that as she was posting that picture on Tumblr, I would be doing her makeup now.

What are your specialties?
What I'm know for is just really awesome skin. Start with a really clean canvas —I love the NARS toner to clean the skin first. I rotate between moisturizers, but lately I've been using a lot of L'Occitane products.

Do you have a favorite trend or technique of the moment?
I'm always going to be into super highlighted skin. I don't really understand when someone wants matte skin all over. I also love a dark lip for the fall and winter.

What looks will be popular this spring and summer?
Once the weather starts to get warmer, people tend to use less makeup. I'm really into keeping the eye and lip pretty neutral and using more color on your cheeks or more bronzer. Have your face be the contrast as opposed to your lips or your eyes. I'm all about a strong brow and doing a nice natural contour and highlight. It's an easy way to wear makeup when it's starting to get warm outside —fresh bright colors on the cheeks and pretty glowy skin. I think messy hair looks good on everyone, just really textured hair. I love having my makeup look perfect and the hair look pretty messy whether that is in a ponytail, down or in a bun.

What are the three tools or products you can't live without in your makeup bag?
L'Occitane Pure Shea Butter. You can use it on cuticles, you can use it on lips, you can use it on eyebrows. It actually holds better than eyebrow gel and it is moveable if you need to fix a hair. I love that product because it's multi-use. For a natural contour, I love the NARS contour palette. I think the color I use most is Paloma. It's great on light to medium skin tones and it just creates the perfect color for a contour. I love the Shu Uemura eye lash curler. It always opens the eyes really nicely.

What is the biggest makeup mistake that you see people making?
I personally don't like when people do their eye makeup or wear a heavy lip, but don't do anything to their skin. Unless you have perfect skin, even if the lip is applied perfectly, skin should always be the priority because it just brings everything together.
 
Do you have any tips for people who want to get into editorial/celebrity makeup?
The most important thing is networking and being humble. Always continue to learn and never think that you know everything. Once you make those connections, people will want to hire you. It's definitely hard to get into that world, and I would say I'm still pretty new to it. I've only been doing it for 6 or 7 years. Anywhere I've gotten is from meeting people and talking to everyone I can. Once you let people know that you are a makeup artist, you never know who they are or what connections they have.

Can you share your makeup tips for dating profile pictures?
Be yourself. Some people will try to post pictures where they are wearing tons of makeup because they think the it will make them look better. The pictures might look great, but if you don't wear a red lip or or you don't wear a ton of makeup every day and you go out to meet whoever you are meeting online, it's not authentic. I always say natural makeup is best for photos unless that's not what you wear. I have a friend that wears glitter every single day, so she should take pictures with her glitter makeup on. For most people, I would say sticking with natural makeup and tones is best for online dating pictures.
LAUREN'S FAVORITES
Foundation: YSL Touché Eclat, Armani Maestro, NARS Radiant Creamy Concealers 
 
Lips: Tom Ford lipsticks
 
Blush/Bronzer/Highlight: Hourglass blushes, Becca Cosmetics highlighters, NARS Laguna bronzer
 
Eyeliner: Inglot gel liner, NARS pencils 
 
Eyeshadow: MAC & NARS shadows 
 
Mascara: L'Oréal Voluminous, NARS Audacious 
 
Cleanser: L'Occitane Oil Cleanser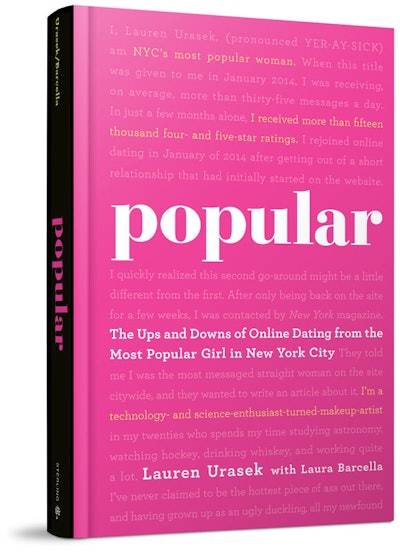 To learn more about Lauren, visit her blog or check out her book, Popular!
[Images courtesy of Lauren Urasek]