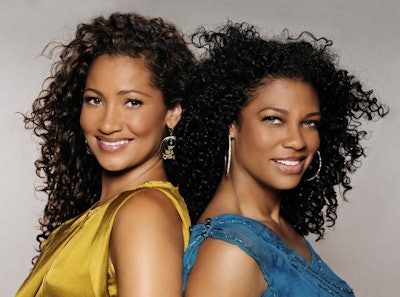 Los Angeles native Kim Etheredge knows hair. Growing up near sunny Southern California beaches, Etheredge learned firsthand how rough saltwater, sunshine and warm air can be for strands - especially when it comes to naturally curly, textured locks. "In a place obsessed with looks, my life was hell," says Etheredge. "My hair is naturally curly, but I never would wear it out because I had to use too many products to get the 'look.' I had to search from one end of the store to the other to concoct a combination for my 'unruly hair.' That was not only a pain, but expensive too! Lucky for me I met Wendi."
When Etheredge and Wendi Levy met, they knew they had something in common. Despite the fact that Levy was from the opposite side of the country, both women shared a similar struggle - the inability to find haircare products suited to meet the unique needs of their mixed strands. Says Levy, "When Kim and I met, we were laughing about our common problem. The idea of making our own product seemed silly at first, but two years later, Mixed Chicks was on the map."
Mixed Chicks - a haircare company devoted to helping all women of every hair type care for and embrace their natural, gorgeous texture - began in a garage. But it soon began to grow as Hollywood stars like Halle Berry and Jennifer Hudson started singing its praises. Now, Mixed Chicks is continuing to expand, launching brand new cosmetics in addition to hair products.
Recently, we chatted with co-founder Kim Etheredge on the success of Mixed Chicks, the challenges of a growing the brand, and the beauty of personal style.
Beauty Launchpad: What first drew you to the beauty industry?
Kim Etheredge: Having "combination" hair and being biracial, there were no hair products designed for [mine and co-founder, Wendi Levy's] specific hair texture. We were able to buy all kinds of products but we had to mix and match several of them just to achieve our desired look. Mixed Chicks was started because of a personal need to have the right product for us.
 
When did you first decide to focus on multi-ethnic hair needs, and what led you to this?
KE: We focused on multicultural consumers such as ourselves from the beginning. We made products for us and those with "combination" textured hair.
 
What were some challenges you faced when starting Mixed Chicks? How did you overcome these challenges?
KE: We still face many challenges with our product line. We are about texture and all worlds blending together however we still face issues trying to help the industry understand that our products are for ALL women and not just a specific group. We love that there is now a multicultural aisle but we'd like to see customers of all backgrounds shopping in that aisle so they can benefit from all that is there to share with them.
 
What makes Mixed Chicks products unique?
KE: Our products are not just for "one" specific hair texture. We have customers of all ethnic backgrounds and hair textures across the globe. It's nice to make products for everybody.
 
Natural hair is becoming increasingly celebrated these days. What is your number one tip for ladies rocking their natural curls?
KE: Condition, condition, condition. Make sure to keep your curls hydrated!
 
What's the one hair product you can't live without?
KE: Mixed Chicks leave-in conditioner. It defines my curls and never leaves me with a bad hair day!
 
What's your favorite beauty trend right now?
KE: Contouring! Makeup sorcery is alive!!!!
 
A beauty trend you could live without?
KE: Thinking a product is not for you because of the name. There are so many products out on the market. You'll never know if they'll work for you if you do not try!
 
What is your personal beauty philosophy?
KE: Do what makes you happy! Everyone has a personal style that others may not see fit for them. If you look good on the outside and it makes you feel stronger, more confident and better on the inside, than don't change for anyone!