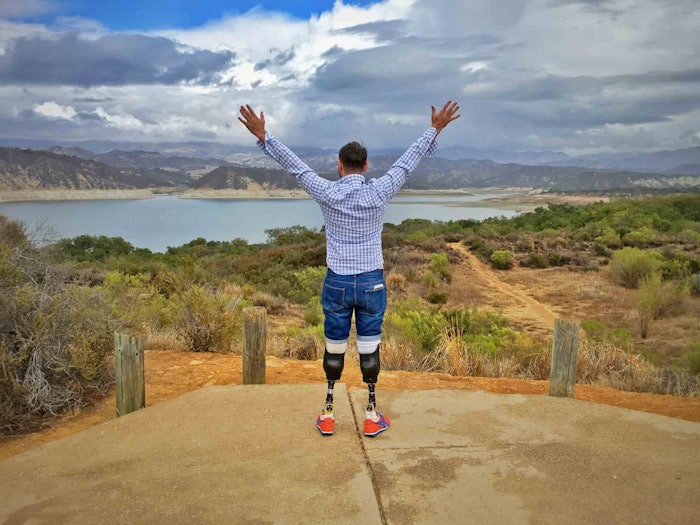 Thirteen months ago, Dell Miller had a two percent chance of survival. Today he shares his harrowing and inspirational struggle to survive—and the road that brought him back to the salon.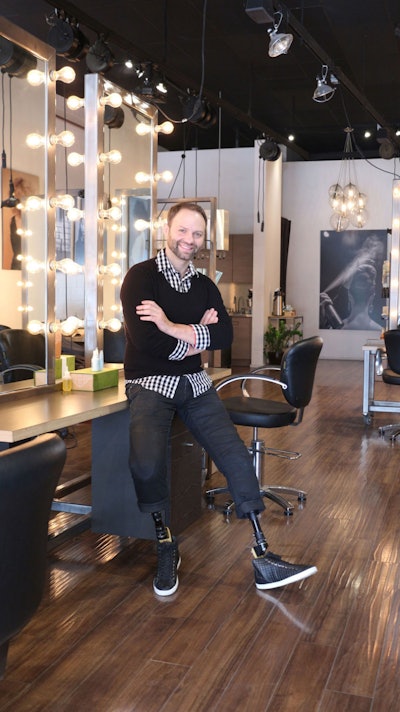 It was one of those gloriously warm and sunny Southern California days on January 25, 2015—the kind of day that convinces people under mountains of snow to pack up and move across the country. Dell Miller, Master Colorist and Educator at L.A.'s Spoke & Weal, was enjoying the sun and sand at the beach with his partner Sam and their French bulldog Charlotte. He wasn't alarmed when he started exhibiting flu-like symptoms, just upset that he had to cut the beach trip short. But within several hours, things took a dramatic turn: After repeated visits to the restroom, Miller noticed what he thought was vomit on his leg. It wasn't. Turning on the light, it looked like a bruise, and he noticed two more dime-sized "bruises" on his forearms—marks that hadn't been there before.
"Seeing those marks is what made me go to the ER," Miller says. "If I hadn't seen them, I would have stayed home and then it would have been too late."
While in the emergency waiting room, Miller felt worse and worse—he could barely even sit upright in the wheelchair the hospital had provided him. After nearly an hour and a half, he noticed 50 more marks on his body—and this was finally enough to convince the triage nurse to send him back immediately.
"When I finally got admitted, a doctor took one look at me, and then everyone started running around the ER—completely silent," Miller remembers. "I never thought I would know what it was like to feel death coming. I could feel my organs failing."
Miller had contracted Neisseria meningitides—meningococcal disease, a severe infection that, in his case, affected his bloodstream. As the bacteria coursed through his veins, it attacked his organs: liver, kidneys, lungs, skin. The survival rate, even with antibiotics, is between 2 and 15 percent—and death can occur within 24 hours of becoming symptomatic. "I was in ICU for a week, and in the hospital for two and a half months," Miller says.
Due to the infection, he developed gangrene in his legs, but doctors were initially hopeful that they could be saved. "At first they said, 'You may just lose the tips of your toes,'" Miller remembers. "Then it was like, 'Maybe one or two of them.' Then it was, 'Probably all of them.'" Even after he left the hospital, Miller continued to treat and dress his legs daily, and he went once a week to have them examined by a doctor. "It was emotional," he states, "just seeing them get a little worse every day." So he discussed his options: The first possibility was to rebuild his legs—a years-long process that would involve skin, bone and muscle grafts to yield only an 80-percent chance of keeping his legs without really being able to use them. The second option was amputation.
"I wanted to know what the recovery time for that looked like," Miller recalls. "The doctor said I'd be walking within two months. I said, 'OK, let's do that.'"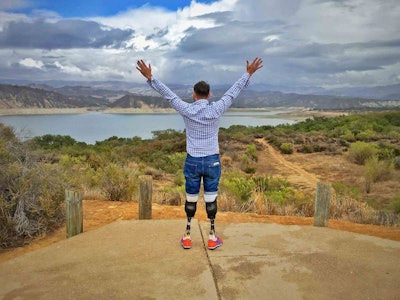 Destiny's Child
Miller has always been an active person. He loves waterskiing, surfing, rock climbing, running marathons—you name it. And he's always been optimistic, looking for the positive in everything. In fact, it's this attitude that got him into the salon industry in the first place. Miller says that he originally wanted to become an image consultant and motivational speaker. But two events changed his mind: First was his personal experience frequenting an Aveda salon, and the second was when he went with a friend to support her as she toured an Aveda school. "A week later I was enrolled," he laughs, saying he realized he could inspire and motivate people through the power of beauty. While in school, a salon in Washington D.C. approached him and offered an assistant position along with a complimentary course—one taught by Jon Reyman, who was then the Artistic Director for the Aveda Advanced Academy New York. "I took the class and fell in love with Jon, the salon people and D.C.," he says. After a few years of working in the salon and offering his services for free backstage at Fashion Week with Reyman and others, Miller was approached by Aveda to become one of 150 people to try out to become a Purefessional—and he was one of the five who were selected for the position. Two years later, he was asked to become a Mentoring Purefessional, and now reports directly to Ian Michael Black, Aveda's Global Artistic Director for Hair Color. And when Reyman opened Spoke & Weal in L.A. two years ago, he knew just who to tap as the salon's top colorist. "I always tell people to never say no," Miller shares. "If it wasn't for the class, working for Jon for free, auditioning for different positions, I wouldn't be here. It all led me to California, to my dream job and working at the best place."
Incidentally, Spoke & Weal is one of the few commission-based salons in the state that also offers insurance—meaning that Miller was free of the added burden of hospital and medical bills following his illness. "If I weren't working here, I am not sure if I would have continued to be a colorist," he confides. "But what we're doing here is changing lives."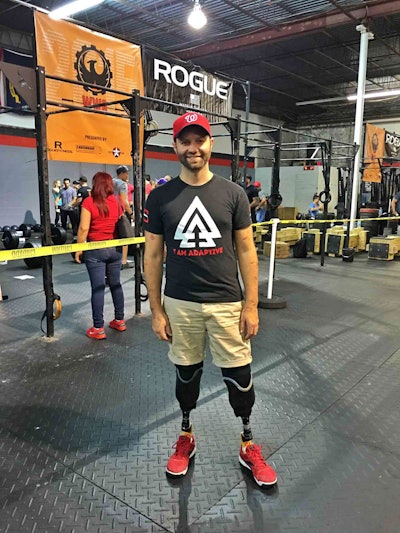 Next Steps
Naturally, a near-death experience will change your worldview. And Miller has had a lot of time for reflection. "I've realized that everyone has their challenges," he muses. "Mine happen to be very visible, but a lot of people have struggles that aren't visible. Now when I walk down the street, people wave to me, they give me high fives, they say good job—but nobody had said that to me before, ever. It makes me wonder why we don't say that to each other all the time." Miller has channeled this way of thinking into how he approaches his guests. "When people come to me to get their hair done, I ask them how they want to feel, not what color they want," he explains. "So rather than being blonde, she's fun, sexy and outgoing."
But in addition to making people feel better in the chair, he wants to send a broader message of encouragement. "I really want to share with people how challenges are there to help you grow and show you exactly what you're capable of," Miller says. So he plans on going back to his original dream of becoming a motivational speaker while continuing his color career. "I think it's important to bring it to the salon industry," he explains. "Dealing with the public and their emotions—people carry a lot of emotion in their hair—it can wear you down. But hopefully by sharing my story, stylists can get reenergized and realize that it's OK to ask for help."
Miller is still involved in the physical activities he loves. Recently a company that manufactures adaptive water skis asked him to demo their new model, and he's participating in a marathon in Haiti to benefit education. "I've been doing it for years," he says. "I'm not going to run this year, but I'm still going to go over and hand out water and raise money to help an orphanage. It's something I always do and I'm not going to stop." He also supports I Am Adaptive, a nonprofit that educates, socializes and empowers the adaptive and veteran communities, as well as Crossroads Alliance, which advocates for adaptive athlete inclusion into sports and fitness. So what does Miller think about starting his own charity? "I think if I were to do one, it would provide affordable prosthetics to people in third-world countries." He pauses and adds with a laugh, "Yeah, my next challenge."