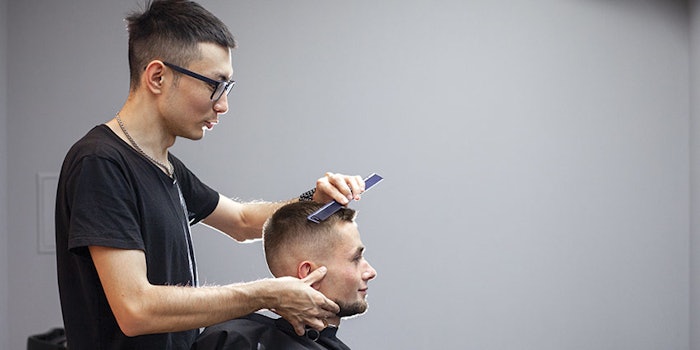 Want to develop successful, long-term repeat relationships with male clients? Think quality, experience and service—three keys to meeting men's unique needs in the salon space, according to Vaughn Acord (@vaughnnewyork), founder of V76 by Vaughn and cofounder/creative director of Mizu Louis Licari in New York. Whether you're cutting or styling, marketing or retailing, service them with confidence using these tips for success.
1. Laws of Attraction
When you're looking to land a man, set the scene with both skill and ambience. "Men want to know you have experience and expertise in working with men's hair, and they want to feel comfortable in the environment," Acord notes. "Offer services that speak to men, beyond haircuts—like beard care and detailing for brows, ears and nose." Then broadcast your finished looks via your website and social media. On Instagram, for example, invite your clients to follow you, and have them tag one friend who'd be interested in receiving a consultation.
WAHL Professional educator Kevin Nguyen (@yakuzabarber) agrees that men crave a combination of phenomenal service and top-tier cuts. "Find male models in your area, reach out to them and provide free haircuts—they'll be your walking billboards, including in promotional posts on social media," Nguyen advises. "I also recommend passing out flyers and business cards around men's retail stores at the mall, or in local shops."
2. Trend Watch
Nguyen notes that some of the biggest men's trends now involve textured hair and disconnections with fades. Meanwhile, Acord observes that men's looks are leaning toward longer, looser locks—think variations of mullet shapes and shags, heavily '70s-influenced. "I love this transition away from uptight hair, with more movement and touchability," Acord enthuses. "Even guys with shorter hair are allowing their sides to be warmer and not skinned down to the scalp." Much of this trend can be attributed to men visiting their groomers less often in pandemic times—but, Acord warns, that reality places even more of an emphasis on the quality of the cut.
3. Retail Redux
As stylists and clients alike cope with so many COVID-related changes at salons and barbershops, Acord notes that not all of them have been negative. "Now, everything is so much more focused and tailored for that client in the chair, with 100 percent attention," he asserts. "Your products, tools, supplies—everything you're using is geared to him, and you can ask questions about his routine, his challenges. You can really educate him on his specific needs and product solutions."
Still, pandemic-era retailing remains challenging, with clients now accustomed to ordering online. "Because of that new dynamic, I definitely keep less in the salon for retailing," Acord relates. "But that makes my testers and back bar even more important for education purposes and, ultimately, for clinching that sale."
Here Comes the Groom
Stock these recently released men's must-haves to meet all of your guy grooming needs.
WAHL Professional 1919 Shave Cream boasts a slick, smoothing formula that provides a bump-free, close shave every time. @wahlpro
STMNT Beard Oil softens and tames all beard types with a moisturizing, silicone-free formula that incorporates naturally derived oils and a luxe citrus scent with woody undertones. @stmntgrooming
Boasting an easy-to-use foam format, BosleyMD Hair Regrowth Treatment for men, with five percent minoxidil, is designed to reactivate follicles, stimulate hair growth and fight hair loss. @bosleymd
American Crew Prep & Prime Tonic optimizes the styling experience with a multifaceted formula that refreshes, moisturizes, detangles, and adds light hold and texture. @americancrew