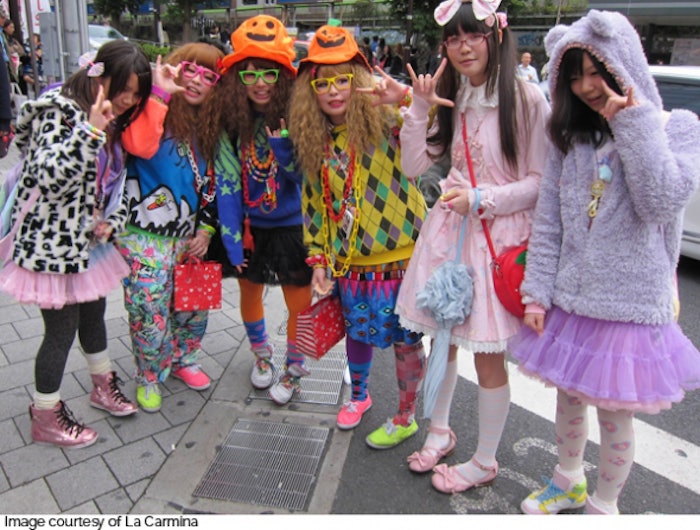 Launchpad's Lizzy Sherman talks beauty street trends from Japan with Tokyo style blogger La Carmina!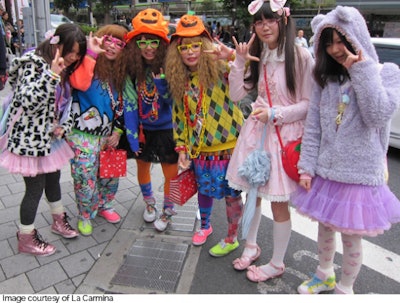 Tokyo, Japan has a reputation for being on the cutting edge when it comes to beauty and fashion, so on my recent visit, I couldn't wait to explore the city's hottest beauty trends in person. I chatted with La Carmina, journalist, television host and author who specializes in Tokyo's style trends to get her insight on my observations.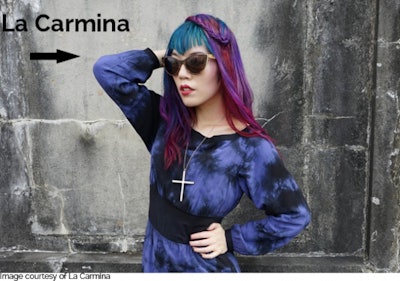 Lizzy: Let's talk about some of the top trends that popped out to me on my recent trip to Tokyo. Before we get into the everyday trends, I have to mention all the gorgeous updos I saw while visiting the Japanese shrines. Many of them were accessorized with a pretty flower.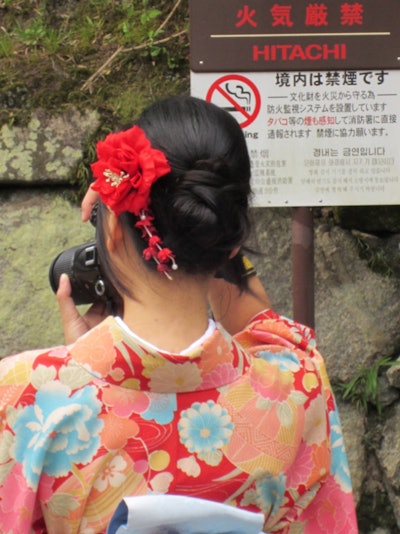 La Carmina: Traditionally, women in Japan have used flowers and other adornments in their hair, think of the Geisha look, for example. During cherry blossom festivals, a sprig of pink flowers in an updo remains the perfect, natural complement to a floral kimono.

Lizzy: My tour guide mentioned that some women like to dress up in traditional kimonos and get their hair professionally done when visiting the shrines to show their appreciation for the history of the site.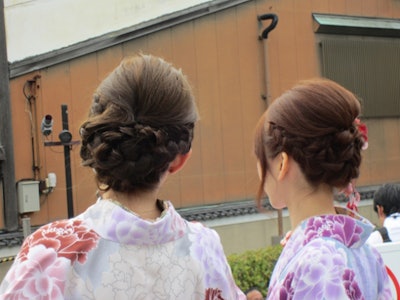 La Carmina: That's correct, there are lots of photo/makeup studios near shrines and temples, especially in Kyoto, that offer makeovers. It can be as basic as a simple kimono and updo. Or it can be as involved as a several-hour process of turning you into a geisha! Someone will do your makeup in the traditional heavy white geisha facepaint, and dress you in layers of kimonos and a stylized wig. This lets both tourists and locals step back in time and appreciate the Japanese traditions -- they literally get to walk in the sandal-ed shoes of geishas. I've never done this but I was on a French TV show that had one of the production staff take part -- she looked completely different! My male American friend also did this geisha/maiko makeover -- there's no issue about men getting it done too. Some tour packages include this experience, so it's certainly something that foreigners seek out, as well as locals.
Lizzy: I noticed women rocking a lot of fun hair accessories around Harajuku. A popular accessory that stood out to me was bows, such as to compliment a pretty braid.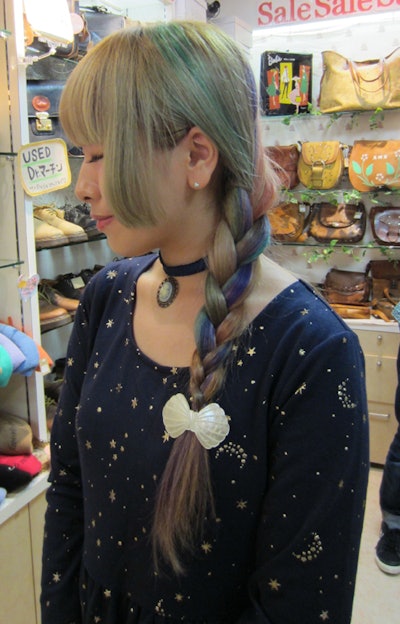 La Carmina: Harajuku girls took hair decoration to another level in the 90s, with the "decora" trend. This involves covering every possible inch of hair in colorful bows and clips, typically with cute mascots and faces. Girls might wear as many as 100 rainbow accessories in their hair! This candy-covered look is less popular now, but you still see bows, headbands and other bright objects in hair.  

Lizzy: Similarly to Los Angeles, I saw a lot of brightly colored hair colors from rainbow to pastel. Has anything stood out to you as a trending color for this year or for 2015?
La Carmina: I've noticed more blues and greens recently -- in fact, this was my hair color from late 2013 to late 2014. In the past, green and blue dyes faded quickly to a murky color. Today, these dyes are stronger and more effective, so it's possible to create stylish ombres and shade variations (like turquoise or mint greens) that stay in longer. I think we'll continue to see hues like this in 2015. My stylist, Stephanie Hoy at Stratosphere Vancouver, just changed my own hair to a blue-purple-magenta ombre with vampire V-shaped bangs.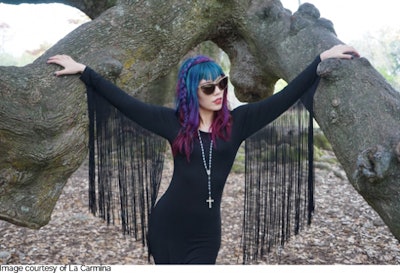 Lizzy: One thing that surprised me was that I saw a lot of senior women with brightly colored hair such as blue, green and purple. Is this a popular trend among senior women?

La Carmina: I wouldn't say that brightly colored hair is a trend among senior Japanese women, but they are certainly more willing to experiment in Japan than in other Asian cities, such as Hong Kong or Taipei.

Lizzy: I'm a big fan of Japanese nail art and loved all of the creative designs I spotted. While I didn't have a chance to get my nails done, I definitely admired the imaginative nails displayed in salon windows. What are some of the biggest trends in Tokyo nail art?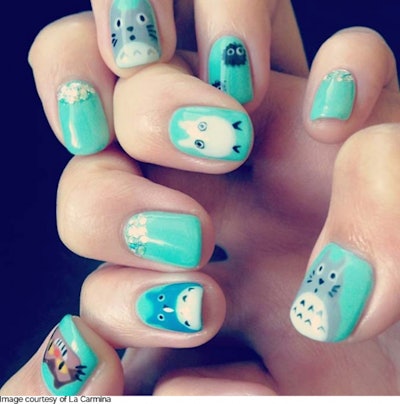 La Carmina: Nail art continues to boom, especially in districts like Shibuya and Harajuku. These salons are as sparkly, cute and pink as the designs that the artists create on your nails. Worldwide, I've seen a bit of a decline in the over-the-top decorated nails, which were trending a few years ago. Today, people are going for more subtle colors and designs -- but subtle is a relative word. In Japan, this may mean sparkly and clear pink princess nails, rather than 3D Hello Kitty heads.
Lizzy: You mentioned Harajuku being big for nail art. Harajuku has a reputation for risk taking when it comes to alternative beauty and fashion. What are the latest beauty trends you are noticing right now coming out of Harajuku?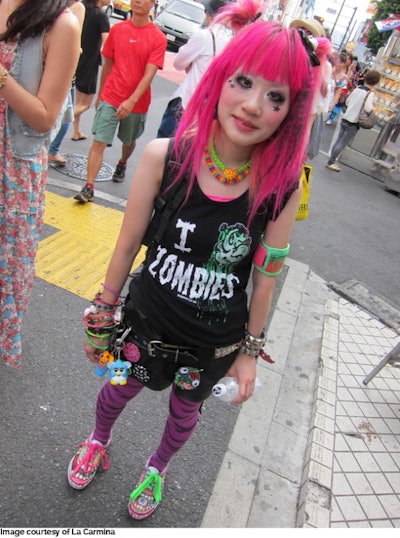 La Carmina: I see more of a gravitation to sleek lines and materials. A few years ago, ruffled clothing, neon cyber locks and decora hair (with lots of colorful adornments, like stuffed toys) were everywhere. Now, you'll see studded and ripped black clothing, leather, and piercings.

Lizzy: What are your favorite Tokyo street trends right now?

La Carmina: Layering remains big in Japan -- such as wearing a shirt, cardigan and poncho with varying materials and hemlines. Colorful or patterned tights and leggings also add personality to an outfit. I love seeing how women of all ages use liquid eyeliner and false lashes to doll up the eyes. Some use makeup to create a "puffy" or "droopy" eye effect, which is considered youthful and cute!

Lizzy: I noticed these "BEAUTY muse" photo booths around Tokyo. Can you tell me a little about these?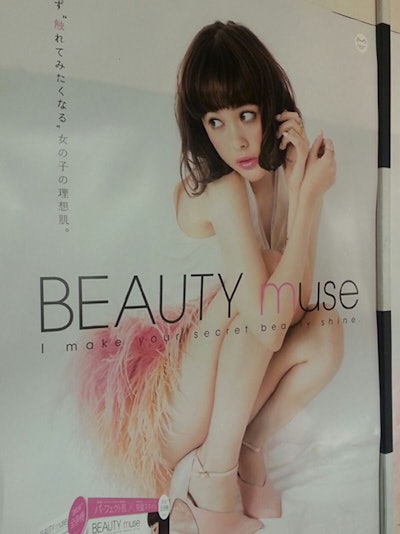 La Carmina: This is one of the new purikura (sticker pictures) photobooths. These machines use special effects to enhance your photos for maximum "kawaii" effect: big eyes, doll lashes, pale skin, slim body. You can also choose filters, borders, and digital stickers to decorate the images to your heart's delight, and then print them out or send them to your phone for sharing. I'm amazed at how much the image quality has increased over the years; these manufacturers keep improving purikura technology in order to attract fickle customers.
Be sure to visit La Carmina's blog and Instagram page @LaCarmina for more Tokyo beauty and fashion!