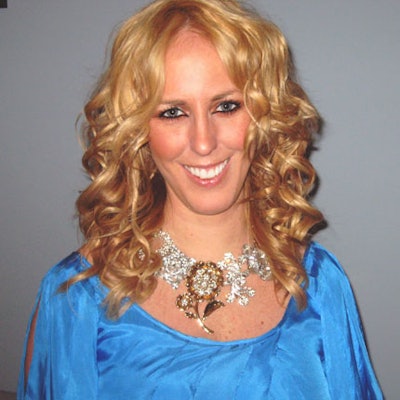 This is me with a whole lot more hair than I'm born with, courtesy of Platinum Seamless.
Even though I'm a beauty editor that works for a hair-centric magazine and knows better, I,  like your biggest nightmare clients, take to dying my hair myself. I can't explain it; when I feel the need to change hues, I have to do it right then and there...no waiting.

Well, I did the dye-stuff the night before visiting the Ted Gibson Salon in Manhattan to preview a new line of hair extensions, Platinum Seamless. Because I'm no pro, my high-lift honey blonde had gone the orange route. Embarrassed, I decided to wear a hat to the event so nobody would be the wiser, but I couldn't keep under the radar. Platinum Seamless' president, Lisa Kenna, was curious about what I was hiding (clearly, I wore the scarlet letter of home-haircolor shame on my face) and asked to see my hair; she thought whatever damage I had done thus far could be partially rectified with a great set of her extensions. After some cajoling, I gave in to removing my hat and getting the extensions (and also working as a model for the Ted Gibson team to learn on!). The result was beautifully blended haircolor and, I have to say, the head of hair I should have been born with (after all, I am a Leo!).

Celebrity stylist Ron King, who flew in from Austin, Texas, to educate NYC's A-list salons about Platinum Seamless, gives us the 411 on the extensions.

"These extensions are perfect for people with fine textured hair, and for even filling in gaps," he says. This is because the ultra-light wefts feature a paper-thin strip adhesive that lays flat to the head, making the wefts virtually undetectable even when you touch the head. Pointing to a multitude of colors that are distinguished by Levels 1 to 11, and explaining that the adhesive bond strips come in tinted color levels so that they further blend with the client's hair, King says that this service is one that his clients are clamoring after. "You can do a full head in 30 minutes, and give your client a ton of volume and great customized color."

As for me, I've been wearing my Platinum Seamless extensions for almost two weeks now, and I adore them. They're easy to style, they look as though they are MY OWN hair, and I never knew I could be such a bombshell. Of course, I couldn't not share with you this experience, so check out this quick video of the process.