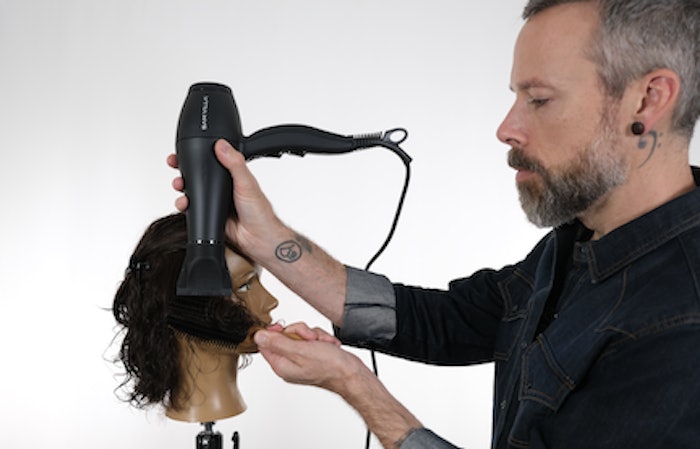 Sam Villa introduces the Essential Series Blow Dryer, the brand's most affordable dryer packed with tons of features in a lightweight design. 
"For glossy strands that really shine, use a blowdryer with ionic technology, like the Essential Series Blow Dryer. It tightens and polishes the hair's cuticle for a satiny-smooth, high-shine finish. For even more luster, use the cool shot button to lock in all that shine and style," says Andrew Carruthers, education director for Sam Villa. 
Carruthers breaks down how to develop a solid blow dry skill set with this entry level professional dryer:
Work first to create an intentional foundation by wrap-drying hair to about 60-80 percent dry.
Work hair diagonally, taking small sections at a time to access the base of the hair.
Wrap downward to control volume and wrap up and over the head when trying to create volume.
Reduce the heat for fine, thin or overly processed hair.
Keep the dryer following close behind the brush.
Once hair is about 60-80 percent dry, start the styling process with round or styling brushes. 
Work in sections, but don't pre-section the entire head to avoid part lines.
Smaller round brushes create more bend and are better for creating volume.
Larger round brushes are great for smoothing or creating soft bend in the hair.
Use a thermal brush for more shape and a boar hair bristle brush for tension and polish.
Get comfortable with tools to build muscle memory, save time and take stress off the body.
Practice twirling brushes through the hair in different sectioning patterns.
Try holding the blowdryer in different positions.
Turn the concentrator nozzle to be parallel with the head instead of turning the entire dryer.