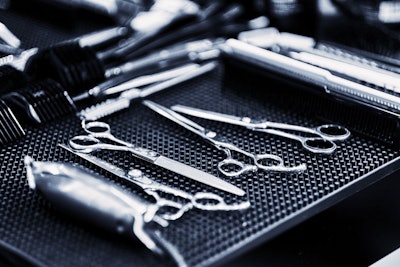 Where would stylists be without their snipping tools? These essential shears, clippers, trimmers, razors, and cutting combs are more than mere gadgets—they serve as extensions of a hairdresser's arms. And like precious limbs, they need protecting. "Stylists' tools require proper maintenance to ensure maximum longevity," says Frank Soto, BaBylissPRO lead educator. At minimum, federal and state requirements legally mandate that all professional stylers must be regularly sanitized. Yet, Barbicide is only the beginning.
Sustaining Shears
Start by handling shears gently—never toss them on a station counter and strive to avoid dropping them as that can dull blade edges or cause misalignment. It's not excessive to wipe shears with a damp towel multiple times during the same cut. Doing so nixes hair shards or oils leeched from skin, which may interfere with the scissor's ability to snip. "I also clean my blades using alcohol and a cotton ball after cutting hair following a chemical service," says Mandy Kinn, Olivia Garden educator. Never let water drops or cleaning solution evaporate on shears because buildup can corrode the metal surface. Proper daily cleansing involves a rinse with soapy water, followed by thorough drying with a clean rag. Next comes oil. "At the end of every day, I dab oil at the pivot point of shears," says Kinn. Keep scissors open to 45 degrees and gently rub a small dollop of oil into the center joint, using a soft cloth. "Lubrication keeps the motion of the blades fluid, as does removing any residual hair or overlooked debris," Kinn continues. Along with being sharp, shears must feel comfortable in their owner's hand. Optimum cutting performance may be compromised when tension is too tight or loose, so adjust the tension dial as needed after prolonged use. Finally, store properly sanitized, dry shears in a protective case lined with soft, absorbent material that wicks away moisture and guards against environmental stressors.
Conserving Clippers
While most clippers come equipped with their own brush and cleaning kit, some pros opt for an old toothbrush as the preferred means of digging deep into tiny crevices to scour away deposits that may grind like glass between blade teeth if left unchecked. Next, ensure blades are properly aligned prior to every service because crooked teeth can easily nick necks. Hold a clipper sideways and look down its length, checking for blades that are parallel with the cutter blade. "Knowing your tool is key," says Soto. "It's not always necessary to replace a tool if it doesn't cut—sometimes you can just swap a blade or get it sharpened."
RELATED: Beauty Professionals Name Their All-Time Favorite Products
Retaining Razors
"I change the blade of my razor after one or two haircuts," shares Kinn. Diligent blade changes help prevent tress snagging. After carefully removing a used blade, clean the razor body with rubbing alcohol and cotton balls to dispel surface impurities like oil, lotion or styling product. "Buildup can prevent a blade from sliding through hair seamlessly, or staying in place properly," explains Kinn. Remember: H2O is rust's best friend. Several quick blasts with a blowdryer can thoroughly banish moisture and keep this tool sparkling in a stylist's arsenal.
Pro Comb Tip
Don't forget your combs! Soak combs in liquid sanitizer for up to 10 minutes—max. Never leave them plunged overnight as chemicals in the solution may start to break down the materials from which your combs are made.
Choose Wisley
Not all shears are created equally. Cherry Petenbrink, Olivia Garden artistic director, shares her top tips for selecting the right tool.
Most Essential: Make sure the shears' weight, shape and blade length feel comfortable in your hand.
Closely Consider Quality—which isn't always dictated by price. Superior- made shears can last a lifetime (with the right care) and be affordable.
Research warranty and workmanship prior to purchase. Top brands promise lifetime warranties to repair or replace defective shears at zero charge.
One size does not fit all. Choose a variety of shears for clean lines and daily cutting, versus wet- or dry-cutting and layering.
Styist is nearly never without shears, so select those that prevent stress on wrists and hands. Swivel thumbs and other ergonomic design factors can help ease overextension.
RELATED: 9 Hot New Products for Every Colorist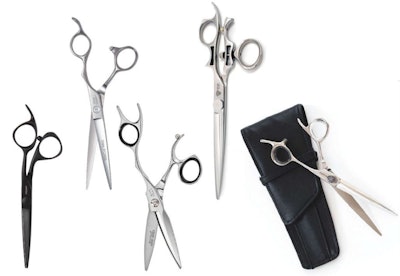 Cheers, Shears
Superior Japanese steel plus a hand-honed convex blade ensure Fromm Dare 1-Piece Shears deliver precise cutting performance.
Olivia Garden SilkCutPro Shear features a comfy offset handle with dedicated thumb curvature that keeps hands relaxed in a natural, open position. The design is sleek (read: no protruding knobs).
Techniques like slicing, channel-cutting, pinch- and-slide, and point-cutting take on a softer touch with Sam Villa Artist Series 6" Slide Cutting Shear, which lets hair slip while being cut, creating clean edges without compromising integrity.
The contour grip of Surface Diamond Anniversary Shear provides ergonomic control, while 6.75-inch blades promise ideal length for creativity.
Dynamic and precise, Wilson Collective 6.5" Cutting Shear is made with proprietary Japanese alloy steel and an inherent ball- bearing tension system, which makes blades wear more evenly— and stay sharper longer.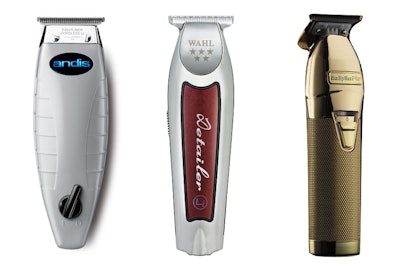 Trimmed and True
Equipped with constant speed motor technology, Andis T-Outliner Cordless Li Trimmer promises superior snip performance for all tress types. Plug it in or use it cordless for more than 100 minutes of run time.
WAHL Professional 5 Star Cordless Detailer now offers more freedom thanks to its powerful motor with 100-minute run time. What's more: The charging station's cord rotation saves precious station space.
Designed to handle details, BaBylissPRO Barberology GoldFX features an exposed T-blade with 360-degree views that make it a prime choice for hard lines or crisp edge- ups.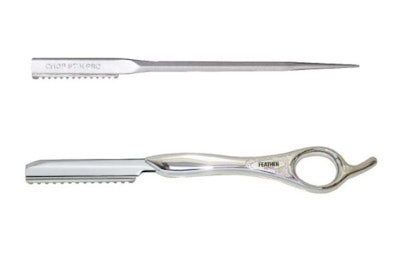 Blade Runners
Here's a tip from Donald Scott: Hold his eponymous Chop Stik Pro Razor at a 45-degree angle and gently guide through strands in one continuous motion, removing bulk while creating movement.
Beloved by more than half a million stylists, Jatai Feather Silver Styling Razor boasts the same variety of blades (standard, R-type, texturizing), but now with the glam addition of a silver handle that fits snug in hands and never chatters when you move.

Comb On Over
Smooth styling is now a cinch thanks to the Japanese- made Cricket Silkcomb Pro-45. State-of-the-art injected silicone technology plus finely polished teeth glide through strands and never stick to product.
[Images: Courtesy of manufacturers; Visionstock]