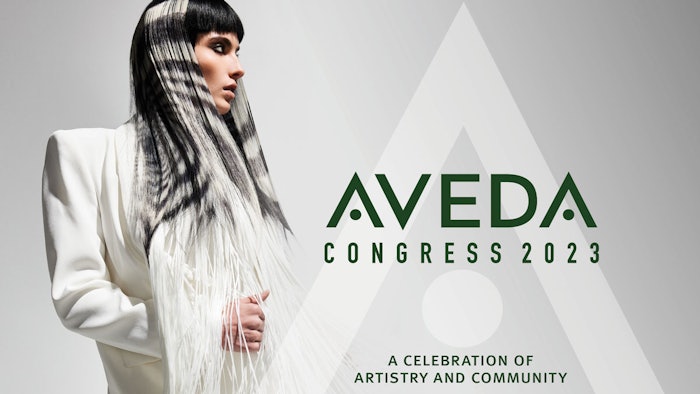 Courtesy of Aveda
Attend Aveda Congress this weekend in Minneapolis, MN. 
Held September 23-26, 2023, the Aveda Congress features four days of immersive artistry from top global artists, wisdom from industry leaders and insightful, expert-led workshops from the best in the business. Connect with your fellow artists and unlock your potential as an artist, an entrepreneur and a steward of the planet.
The event features several key lights: 
The Kickoff Jam: Kick off Congress with an electrifying stage spectacular and cocktail party. Featuring top artists from around the world, creating together alongside a live DJ.  
The Experience Area: Immerse yourself in everything Aveda. This selfie-worthy space features what's new and what's next with product demonstrations, sustainability achievements, new product information and much more. 
The Global Stage: The Global Stage is where you'll find the very best of the best. Master stylists from across the globe demonstrate their expertise and share their techniques and creative vision with you, from cutting-edge editorial work to celebrity styling.
The Evening Performance: The culmination of the Congress experience: Beauty, fashion, technical expertise and artistry combine in a premier stage performance under the direction of the legendary Antoinette Beenders. Don't miss your chance to witness the art of hair at its finest. 
The Aveda Retail Shop: Shop exclusive merch available only at Congress 2023. This is the place for branded T-shirts, hats, bags, accessories and much more. 
Workshops and Forums: Elevate your skills to the next level with business-focused and career development-centered workshops for owners and artists alike.
The Digital Experience: The digital destination for the biggest and best moments from the live Congress 2023 shows, exclusive pro-led workshops, artist interviews and backstage access. 
The After Party: Celebrate with the people who make it all possible—you and your peers!
The event is being held at Minneapolis Convention Center. For more details, you can visit the official website for Aveda Congress.