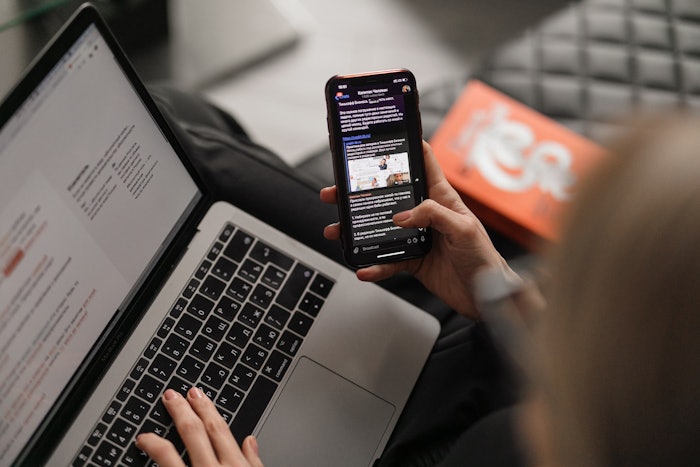 Whether we like it or not, modern technology keeps evolving. While looking back on the days of yore with fondness might inspire feelings of missing simpler times, it's safe to say that technology has helped streamline our industry. Curious as to how salon owners put technology to good use, we chatted with Penzone Salon + Spas.  
 Do you consider technology to be an important part of your salon?
Yes, we use technology every day at PENZONE Salon + Spas! We have our PENZONE App where our guests can book appointments online and even shop for our retail products. We also developed our own intranet called PENZONE "ONE" where our team can communicate with one another and sign up for virtual training opportunities. Moreover, we LOVE when our team shows off their work on social media. It allows our guests to have a strong sense of what type of service that artist offers. Finally, considering the pandemic, we have transitioned many of our trainings and team meetings to virtual via Zoom. This has allowed our team to join from anywhere and to be able to stay connected to the conversation. We have also been able to secure trainers from all over, so we are no longer limited to local trainers. 
 How do you use technology to your advantage?
In September, we launched our own e-commerce platform. While we only have two months of data to share, it is evident that our platform is going to prove to be a great success. In the first two months of operation, we had over 170 products purchased online, with multiple orders placed at over $400. While our in-salon retail is still leading the charge, we believe guests will continue to buy online, especially when they realize how easy it is to reorder (we even send reminders!).
Our team can log into the app SalonBiz and view their sales goals and how they are doing compared to last year while being able to view sales in real time. Our artists can also rebook their guest through this app right from the chair. 
We are fortunate enough to use PENZONE "ONE", an internal communication tool (website + app) that is available for all our team members. Using this tool, we can connect with our team members every day and provide them with important updates. We have had an 87% user adoption since launch and saw a huge surge in engagement during the pandemic.
We also hosted Zoom meetings to gather our team together and touch base with everyone. We invited the team to join us for coffee talks, happy hours, anniversary celebrations and much more! Before reopening, we also utilized Zoom to meet with all of our team members to field any questions or concerns they had prior to heading back into the salon + spa, to train them on the new health and safety protocols, and to align on their new schedules – especially for those juggling the virtual and hybrid learning of schools.
 Do you have moments of missing the days with less technology? 
I was a hairstylist in 1989 when we brought technology into the salon for the first time. We used it as an advantage to grow the business and to look at the numbers to better facilitate our growth. We also used technology to stay connected with our team members and guests. 
 Are there any parts of those days you've held onto or wish you could have back?
We have taken some of those special moments (thank you cards, phone calls) and have used technology to help us connect with our team and guests. For example, we can send a recorded message, or spotlight our guest's before and after on our Instagram account. This allows our guests enjoy being part of the magic while on social media. 
 What are the more recent useful benefits you can think of that technology has brought to running the salon?
 We developed our own intranet called PENZONE "ONE" where our team members can internally communicate with one another. With PENZONE "ONE" can let our team know about promotions, training opportunities and other events within the company. Our team can tag one another and even ask questions, so this has provided us an opportunity to help each other. 
We offer virtual trainings and events to our team members, but our guests as well. Because of this, we have been able to really build our community. 
 What are the more recent useful benefits you can think of that technology has brought to benefit the stylists?
Our team can see how they are doing and growing with the SalonBiz app. The app tracks real time sales so our artists can compare how they are doing from the same time last year. 
We see many of our new guests coming in from the influence of Instagram and social media. On our social platforms, our young stylists are able to let guests know about openings and how to book appointments.
Spotlighting stylist's talent via before and after on Instagram.
We offer virtual training to our team members. For example, we recently had a training for our new Spring/Summer floor set where team members from all locations, across all departments, joined together to learn about our new products that will soon be hitting the shelves. 
 What are the more recent useful benefits you can think of that technology has brought to benefit the consumers?
Our guests can share their honest experiences by leaving us a review. 
They can also purchase retail products through our shoppenzone.com site.  
Guests post their before and after pictures on social media and Instagram—giving shout-outs to their hair artist.
We've even hosted a few virtual events for our guests. Around Valentine's Day, we hosted a Galentine's Day where guests were able to purchase tickets for the event which included a few products, food and drinks from a local restaurant. We had a total sell-out of this event! Our guests LOVED being able to connect and relax with our team members while learning more about how to use our products. 
We are looking forward to hosting even more virtual events soon. We are anticipating an upcoming guest-facing Insider Event—stay tuned for more details on that! 
What additional thoughts come to mind regarding technology? 
Last year, we created pop-up promotions on social media and would track the sales from those promotions to see if they were driving sales.  
Please share any and all things that come to mind, and we'll find ways to incorporate as much as we can.
We love how technology has been able to allow our team members to come together, location is no longer an issue! We also LOVE being able to connect our team members and our guests as location is no longer a deterrent to our reach. 
Please provide your web address, social media channels, and any contact information you'd like included. 
Instagram @penzonesalonsandspas