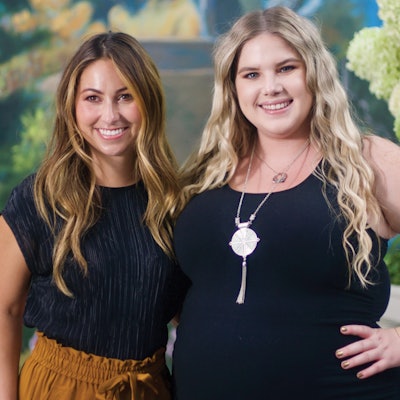 Morgan Haile and Taylor Daniel, the duo behind Morgan Taylor Professional Nail Lacquer, dive deep—into their handbags, that is! See the items they can't live without.
Morgan Haile
"I always have receipts and random things in my bag," Morgan Haile tells Beauty Launchpad. When you're balancing creating cool colors and international work travels, it's no doubt that her bag is full. "I have a train ticket from Italy in here, which was like 4 Euros—that's pretty cheap, right?"
Oil to Go
"I always have a bottle of Remedy Cuticle Oil by Morgan Taylor. It has a nice scent to it, like cucumber, and it's really nice and moisturizing."
Sweet Scents
"One thing I never leave without, other than my wallet and keys obviously, is perfume; this one is Bombshell by Victoria's Secret. I can't tell you how many times I've used this; it has come in really handy a lot—not that I smell or anything!"
RELATED: Behind the New Morgan Taylor Polish Collection 
Breath Saver
"I always carry around a toothbrush and toothpaste because you never know when you're going to need it or if you want to freshen up, like before you go out to dinner with some friends. But I'm really crazy about my teeth so having a toothbrush is really important to me."
Taylor Daniel
"Right at the top I always have sunglasses, wallet, hand sanitizer and gum (I'm a Minty Sweet Twist fan)," says Taylor Daniel of the contents of her purse. The self- proclaimed lipstick junky and lover of red lacquers boasts a bunch of practical items in her bag.
Lip Smacker
"One thing I can't leave without, aside from my wallet because that's just practical, is Chapstick. I need Chapstick. I can have a bare face, no makeup, but Chapstick is a must."
RELATED: The Dynamic Duo Behind Morgan Taylor on Partnering with Designers on the Runway 
Sewed Up
"I always have a mini sewing kit. Funny story: On my wedding day, my bridesmaid needed a pin for her dress. Bride comes in clutch!"
The Write Stuff
"I always have a little notebook. I love to write things down, you know, when you get a brain dump going. The last thing I wrote down was a to-do list, and it says, 'organize the guest room.' It wasn't crossed off, so I probably didn't do it!"