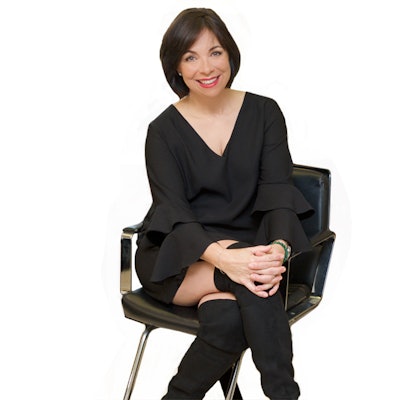 Until Parodi Professional Care launched in late 2015, the concept of a skin care product line developed for salon professionals was practically unheard of, despite the fact that their hands undergo constant assault. "The impetus for PARODI Professional Care came when I was working for a large beauty product manufacturer. I had just finished a week of doing sales calls, and realized that the majority of the salons I visited had at least one person out of the salon due to surgery for carpal tunnel, a bad shoulder or needing time to let their hands heal before returning to work," Parodi recalls. Realizing that these pros often took care of others while foregoing self-care, and after seeing friends leave the industry for this very reason, Parodi sought to formulate ultra-therapeutic skin care that would help to alleviate some of hairdressers' common hand pains so that they could continue working (and thriving!) in their profession. Here, Parodi shares the details behind the brand.
What differentiates PARODI products from other moisturizers on the market?
Our hero product, Daily Moisturizing Hand Cream, was developed first and foremost for salon industry professionals. In the development of this product we worked with focus groups in Paris and Chicago to find out what professionals wanted and needed in a hand cream—it was fascinating. PARODI hand creams are incredibly effective, and they feel different than anything else on the market. They're fast-absorbing; nongreasy; stay in your skin for up to three washes; contain our proprietary HypeauPro blend, which is a powerhouse of antioxidants that help the hands heal; and are free of silicones, synthetic fragrance, parabens, and phthalates.
Take us through the development of the HypeauPro complex. What is it? How does it specifically serve stylists?
When conceiving HypeauPro—which is the base of all PARODI products—our team investigated ingredients that really make a difference in skin health. We looked into numerous ingredients that some consider folklore herbs, and realized that some of these herbs really are valid when it comes to caring for the skin with anti-bacterial, anti-inflammatory, anti-fungal, and anti-aging properties. In our blend we use St. John's wort and spilanthes—both of these herbs have been used for centuries to care for skin irritations. HypeauPro contains additional ingredients that make for a therapeutic formula, but the St. John's wort and spilanthes are key.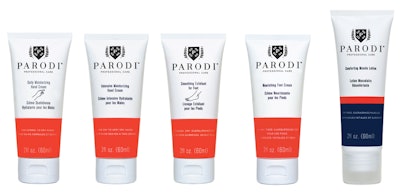 What is the function of each product?
PARODI Daily Moisturizing Hand Cream is a rich yet quick-absorbing formula created for anyone whose hands are frequently exposed to irritants, like water, heat or chemicals, that leave them craving moisture.
PARODI Intensive Moisturizing Hand Cream acts as a deeply nourishing "night cream" with an extra-rich formula that provides lasting moisture for dry hands.
PARODI Smoothing Exfoliant for Feet uses gentle chemical and physical exfoliating ingredients to help feet feel smooth, soft and refreshed whether you are standing all day, walking to and from work, or keeping up with a busy lifestyle. It's recommended for weekly—even daily—use in the shower or bath.
PARODI Nourishing Foot Cream is the perfect follow-up to ​PARODI Smoothing Exfoliant for Feet. It tends to dryness and helps to alleviate the foot pain that results from wearing heels, flats, sling-backs, and other types of footwear. Its fast-absorbing formula imparts moisture and keeps calluses under control.
PARODI Comforting Muscle Lotion is specifically formulated for people leading an active workday or lifestyle that can result in sore or overworked muscles due to overexertion. The cooling, fast-acting roll-on lotion helps calm overworked muscles when gentle massage is applied with an applicator. Traditional cooling agents, including menthol and camphor, help calm and relax tired muscles, while arnica and magnesium oil work to soothe.
What's next for the brand?
Many things—more body care products that are functionally different than others on the market, as well as a few interesting products for the face and other niche products that will help professionals feel good.
Be sure to follow Parodi Professional Care on Instagram!
[Images: Courtesy of Parodi Professional Care]
Disclaimer:
The above paid-for content was produced by and posted on behalf of the Sponsor. Content provided is generated solely by the Sponsor or its affiliates, and it is the Sponsor's responsi­bility for the accuracy, completeness and validity of all information included. Beauty Launchpad takes steps to ensure that you will not confuse sponsored content with content produced by Beauty Launchpad and governed by its editorial policy.