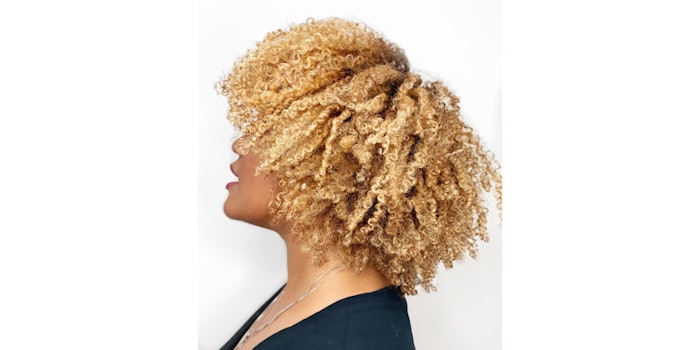 Achieving the proper saturation, lift and tone when high-lifting natural texture takes a solid knowledge of color fundamentals and a couple tricks.
Lindsey Olson, Sam Villa ambassador, offers tips for success and a golden blonde color formula.
"You really have to set yourself up for success by having your guest arrive prepared, respecting her texture and using products that will not compromise the integrity of her hair," advises Olson, who suggests the following guidelines for happy high lifting.
Tips:
1) Guest should arrive with previously applied leave-in conditioner and dry hair.
2) Detangle hair before color service to ensure even application.
3) Start color application in the back so that area processes the longest.
4) Re-mix product every 15 minutes to activate for maximum lift.
How-to Acheive this Golden Blonde Look:
Hand-paint slices throughout entire head with Redken Flash Lift Bonder Inside.
Apply Redken Chromatics Clear/10-volume on remaining hair and process up to 45 minutes, depending on level of desired lightness.
Glaze with equal parts Redken Shades EQ 09RB/Blush, 09GI/Hamptons and 000/Clear.
Shampoo with Redken All Soft Mega Shampoo and Conditioner.
Mix equal parts Mizani 25 Miracle Milk Leave-in Conditioner and True Texture Perfect Coil Oil Curl Gel; apply a generous amount to 1-inch sections. Hair should be very wet while applying product. Twist each section.
Using a Sam Villa Vision Blow Dryer with diffuser on low air and high heat, tilt head forward and direct airflow from mids to ends, without touching hair with hands.
Rotate head back while moving toward the hairline and dry to 100 percent.
Use a hair pick to break up twists and push volume from the base.
Apply Redken All Soft Argan-6 Oil for shine and definition.