Valerie Supczak paints lively hues that you'll want to keep tabs on.
It's the beginning of a new decade—aka the perfect time to give your color work a refresh. When seeking inspiration you can turn to Valerie Supczak—from bespoke rainbow melts to peekaboo pops of color, her pigmented hues stand out on IG. Her top tip for making bright creations: "Always add a bond builder into your vivid color," she says. "It adds strength and shine that makes your vivids pop!"
Who: Valerie Supczak @supvalerie
Number of Followers: 14.9k
Location: N. Dartmouth, Massachusetts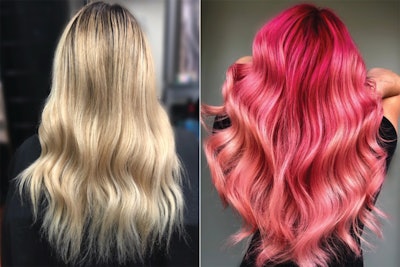 RELATED: Rising Star - Hairstylist Michael Gray
Supczak shares how she created this rose gold hue.
Begin by mixing 30-vol. with Redken Flash Lift Bonder inside and perform full head babylights in foils, leaving out mid-lengths and roots.
Tone hair using Pravana ChromaSilk 9.22 + 10.1 + 10.07 + Violet + Pearl Express Toners with equal parts zero lift. Process at the sink for 10 minutes.
Rinse with a color-safe shampoo and conditioner.
Rough-dry until hair is completely dry.
Apply Pulp Riot mixture Fireball + Cupid + b3 Brazilian Bond Builder onto base and mid-lengths.
Apply Pulp Riot mixture Cleopatra + Lava + Clear + b3 Brazilian Bond Builder onto mid-lengths and ends.
Comb through with a wide-tooth comb.
Process for 20 minutes.
Wash out with a color-safe shampoo and conditioner. (Use ice-cold water.)
Seal colors with Brazilian Bond Builder b3 Ionic Color Lock Spray.
Blow-dry and curl hair with a one-inch wand.
Finish with R+Co GLITTERING Smoothing Shine Spray and OUTER SPACE Flexible Hairspray. Run fingers through hair to break up curls.
RELATED: Rising Star - #Mydentity Educator Josh Boynton
[Images: Courtesy of Valerie Supczak; Instagram}