Do blondes really have more fun? While we can neither confirm nor deny, we can say that there are limitless options for those seeking to brighten their hue—from icy blonde and golden platinum to strawberry blonde and beyond. We've compiled the most on-trend blonding techniques.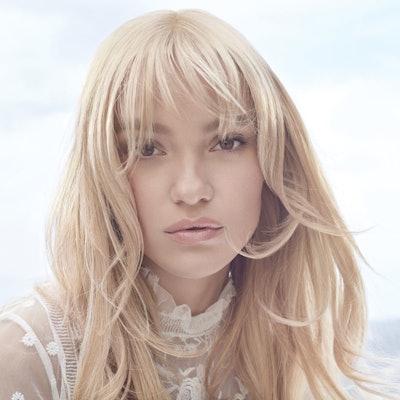 Simply Sultry
John Paul Mitchell Systems artist Jenn Montoya shares her formula for this gorgeous blonde shade, which features peekaboo babylights for an organic-looking effect.
Pre-Lighten
Foils
1 scoop SynchroLift + 2oz. (60g. /ml.) 10-vol. Cream Developer
Teasy Hightlights
1 scoop SynchroLift + 2oz. (60g./ml.) 5-vol. Cream Developer
1) Begin at the front hairline with a ne diagonal weave. Lightly paint the 10- vol. mixture in the foil and feather up to the base. Place approximately four foils near the hairline, then take a slice to backcomb. Tease this section a few times and paint the 5-vol. mixture in a foil.
2) Continue the pattern of two babylights and one teasy highlight until you reach the center back. Move to the other hairline and repeat.
3) Move to the top and begin at the front right hairline. Take a diagonal back weave and place four fine babylights with the 10-vol. mixture and one teasy highlight with the 5-vol. mixture. Repeat the pattern of two babylights and one teasy highlight until you reach the apex. Repeat again on the other side of the top.
4) In the crown, take diagonal sections and alternate babylights and teasy highlights.
5) Remove foils and using a wide- tooth comb, gently remove/loosen the teased areas. Rinse well.
Refinement
Base Shift
1oz. (30g./ml.) the color XG UTPN (UTPN/86) + 1.5oz. (45g./ml.) 10-vol. Cream Developer
Sandy Tone
1oz. (30g./ml.) Flash Finish Pale Neutral + 1oz. (30g./ml.) 5-vol. Cream Developer
1) Mix and quickly apply the base formula to the natural base to give a subtle base bump. Begin in the crown (naturally darkest) and move toward the hairline (naturally lightest).
2) Rinse well and shampoo. Towel-dry. Apply the sandy tone Flash Finish formula for 5-10 minutes.
3) Complete by rinsing with Forever Blonde Shampoo and Conditioner.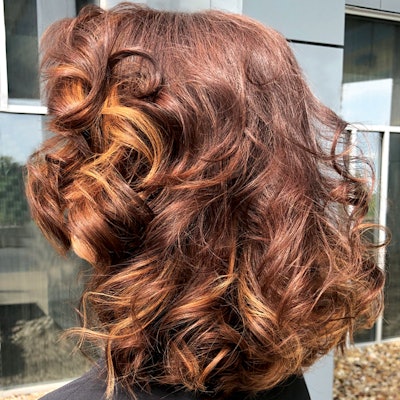 Gold Medal Ribbon
Looking for ways to enhance your client's hair color with an easy and quick natural-looking blonde effect? Wendy Bond, Lakmé national director of education, recommends ribbon lightening as an effective way to evoke depth and movement by visually placing blonde through hair for maximum impact. "Fewer foils and less work make greater impact on clients' hair color by giving them the most up-to-date looks in little time," says Bond. "Ribbon lightening is perfect for ne hair to create visual density and movement, as well as thick hair where traditional highlighting tends to get lost."
Base Color
Gloss 20g. 5/60 + 40g. 6-vol. gloss Long- Lasting Developer
Ribbon Color
15g. k.blonde Clay Bleach and 30g. 30-vol. Collage Hydrox Developer + 10g. i.Plex
RELATED: Pre-Fall Red Alert From Schwarzkopf Professional's Maryl Velbeck
Overlay Color
Gloss 30g. /8 + 60g. 6-vol. gloss Long-Lasting Developer
1 )Apply base color to new growth.
2) Visually plan for ribbon lightening areas. Choose placement based on longer areas of haircut; this will accentuate the overall health and movement of hair. Avoid short fine areas such as the hairline.
3) Visually selected ribbons should be one to two fingers thick. Start bleach application at ends of ribbon, saturating ends thoroughly with Clay Bleach, feathering bleach toward the top to naturally blend hair color, creating focus on the light ends.
4) Process 30 minutes. Shampoo with Deep Care Shampoo and Conditioner. Towel-dry.
5) Apply overlay color. Process for 10 minutes.
6) Rinse. Towel-dry hair. Apply i.Plex Step 2.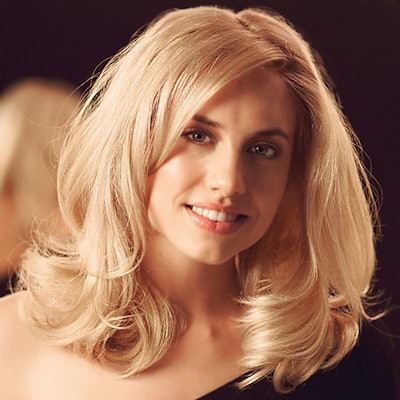 Golden Girl
Elevate her blonde hue with this step-by-step courtesy of Kenra Professional stylist Wesley Boyce. This golden shade of blonde adds warmth to skin tones and will be the envy of everyone as it sparkles in the sunshine.
RELATED: Celebrity Colorists Share their Most In-Demand Formulas
1) Mix Color Simply Blonde Crème Lightener at a 1:2 ratio with 20-vol. developer.
2) Separate hair into four quadrants.
3) Work from the back to the front in horizontal subsections, applying to previously colored hair needing additional lift. Separate into foils if necessary.
4) Go back and apply to regrowth in -inch` horizontal subsections and process until desired lift is achieved.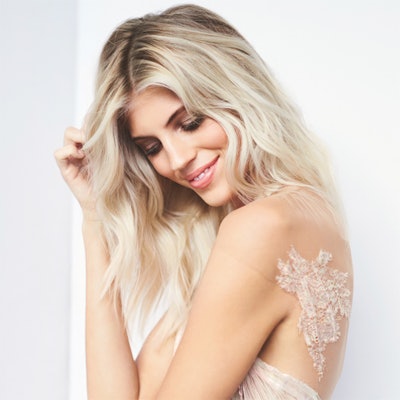 Baby Blonde
"We wanted something that didn't look silver but had very little warmth to it at the same time," says Moroccanoil global ambassador Briana Cisneros of the model's color. "We ended up with a very balanced blonde that was more of a pearly tone." Glean more about her technique for creating this gorgeous color.
PHOTOS: Blue Hues Are Poised to Take Over Your Color Station
1) Prep hair with ChromaTech Prime prior to coloring.
2) Add babylights and balayage throughout entire head, painting each section in a specific pattern in order to achieve an organic-looking effect. Separate hair into very fine sections, encapsulated in foils, to help even out the blonde and get the maximum amount of lift with minimal damage.
3) After shampooing hair, balayage around the front hairline to lend a seamless look. This helps give the effect that the hair is growing out with that perfect baby blonde shade. This technique is best done on levels eight and higher.
4) After shampooing again, tone roots through ends with a level 10 silver/violet toner that does not life the natural base.
5) Complete service with ChromaTech Post to fortify hair.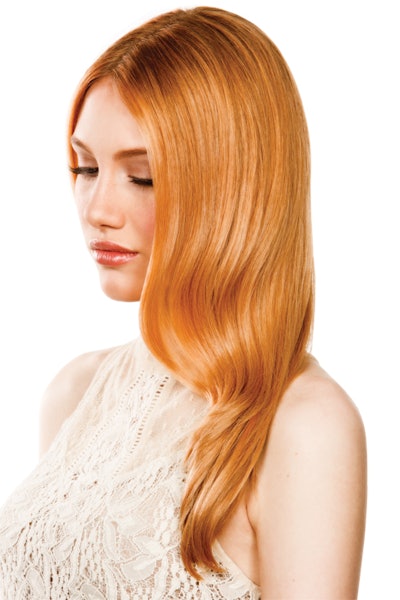 Apricot Blonde
"Apricot blondes are the new 'it' blonde for summer 2018!" says Sara Gallagher, color director for Surface Hair. "As a young colorist, I struggle to create a rich, warm blonde 'on purpose.' With Surface Pure Color, I find it easier than ever because of the tonal balance it gives me as as an overlay." Learn how to create this custom color for your clients.
1) Apply a full head of back-to-back microlights and balayage with one part Pure Blonde and two parts 20-vol. Enzyme Cream Activator.
2) Shampoo with Trinity Shampoo and Conditioner. Apply Trinity One Shot from ends to base and blow dry.
3) Apply two parts 9NB "butter," two parts 9C "copper," equal parts 7-vol. Enzyme Cream Activator, and process for 20 minutes.
4) Repeat Step 2 and style with Bliss Cream for a voluminous yet sleek feel.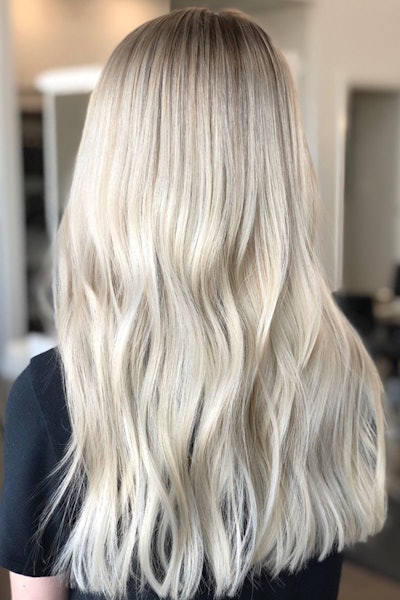 Dimensional Blonde
This stunning shade was created by Malibu C artist Georgia Reed. Here, she shares her how-to for replicating this multidimensional look for clients.
1) Shampoo thoroughly to remove resins and surface buildup.
2) Apply one packet of Malibu C Crystal Gel with 2 oz. of water. Apply to one-inch sections, and massage in.
3) Place hair under a heat cap for 45 minutes. When time is up, shampoo again. Do not condition. Rinse and blow-dry.
4) Mix Trionics KO and Trionics Lift Thru 1:1. Starting at the occipital with a horizontal parting, take diagonal back partings off of that to create a triangle. Then paint in slants up the back of the head.
5) Moving on to the two front sections (from top of the head to behind the ear), utilize diagonal back and front sections, working in a corrugated pattern. Paint slats and a few full panel pieces to elicit a babylights effect.
6) Cover with Sunlights Balayage Balay Wrap and process for 45-50 minutes.
7) Mix up Malibu C Crystal Gel again with 2 oz. of water and a few drops of Malibu C Concentr8 blue pigment. This stops oxidation and helps pre- tone the hair. Massage in for 60 seconds.
8) Rinse and apply Pulp Riot Silver Toner. Process for ve minutes. Rinse, and stop oxidation one last time with Malibu C Crystal Gel for 60 seconds. Rinse and apply Malibu C Illumin8 Conditioner.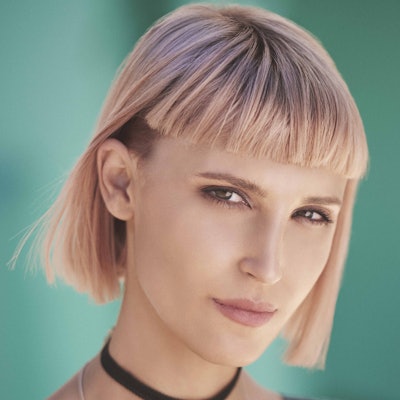 Rose Glow
This blushing blonde will have clients in the mood for rosé all day. Matrix artists Adam and Michelle Ciaccia collaborated on this flaxen pastel look to create an ideal summertime shade.
Color Formulas
 Formula A
1 scoop Light Master + 20-vol. Cream Developer + BOND ULtim8
Formula B
Color Sync Rose Gold
Formula C
2:1 Color Sync Rose Gold and Clear
Formula D
2:1 Color Sync Clear and Rose Gold
Formula E
3:1 Color Sync Clear and Rose Gold
Pre-Lighten
1) Section the hair in four quadrants.
2) Working with /8-inch subsections, apply Formula A starting -inch away from the scalp and pulling through mid-lengths and ends.
3) Process until two-thirds of the desired lightness is achieved.
4) Mix a fresh batch of Formula A and apply to the scalp area. Process accordingly. Time up to 50 minutes at room temperature. Rinse thoroughly. 5Cleanse with shampoo, then dry.
Color Application 
1) Resection the hair into four quadrants.
2) Apply Formula B to the undercut area, then working in the two back quadrants, apply Formula C from the scalp to the ends. 
3) In the two front sections, apply Formula D to new growth.
4) Apply Formula E to remaining mid-lengths and ends.
5) Process up to 20 minutes. Rinse thoroughly.
6) Apply BOND Ultim8 Step 2 Sealer for 10 minutes. Rinse thoroughly, cleanse and condition.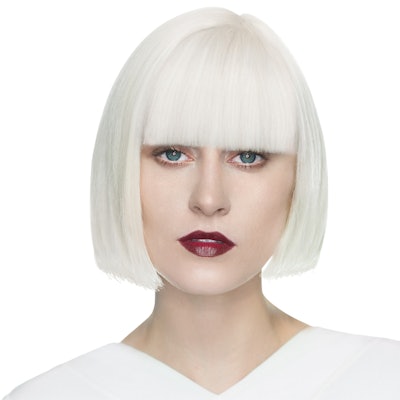 Cool as Ice
Who says white can't be worn after Labor Day? This icy tone is a supreme segue as your clients transition from summer to fall. Seamless translucency is the most difficult to achieve when going blonde, which is why the Rusk team suggests the low and slow approach. Read on to discover a simple yet effective process for achieving a white-blonde color that will look cool all season long.
Deepshine White Luminating Powder Lightener + Deepshine 20-vol. Developer
1) Treat as a virgin application by applying formula to mid-shafts and ends, then regrowth. If needed, apply as a spot treatment to get as even of a canvas as possible before toning.
2) Once the hair is lifted evenly to a pale blonde, tone with equal parts Deepshine Gloss 9A and Deepshine Clear to achieve a pristine pale color.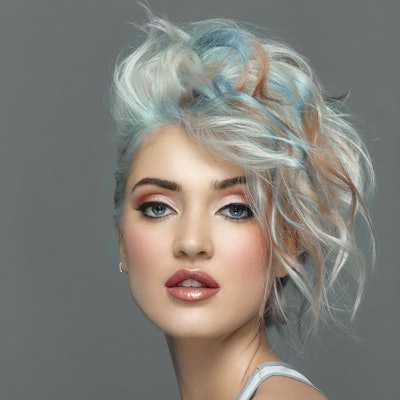 Earthy Effect
If your client is looking for something extra, Goldwell artistic director Rebecca Hiele has conjured up an earthbound cool blonde with subdued hues and oval round effects that mimic mineral erosion and gradient diffusion with fluid texture for a multidimensional look. The model's natural regrowth had been colored with 5N while her mid-lengths to ends are 10G.
Resourceful Formula 
(Background Root Shading): Topchic + 20ml. 6% (20-vol.) + 20ml. H2O + 5ml. 8CA + 15ml. 10 vol.
Driftwood Forumla
(Mid-Lengths and Ends): Colorance Cover Plus + 40ml. Colorance Cover Plus Lotion + 2ml. Pastel Indigo + 8ml. 10BS + 10ml. 10BG
Pre-Lightening
On regrowth, apply 35
ml. Conditioning Cream Developer 6% (20-vol.)
+ 1 scoop of High Performance Lightener
+ 3 pumps of Intensive Conditioning Serum Concentrate. After processing, shampoo and condition.
Technique Part 1
1) Divide hair into four sections and apply the Resourceful Formula on only the scalp area to create a root shading effect.
2) Apply the Driftwood Formula on the mid- lengths and ends of the same sections.
3) Process for 20 minutes, then shampoo and condition.
Technique Part 2
1) Section three ovals. Oval shapes are two inches by three inches in size. Isolate the first oval in the fringe area, the second oval at the left ear above the round of the head shape, and the third behind the right ear above the round of the head shape.
2) Using macro slices, start from the longer part of the oval from bottom to top. Alternate all three accent shades down the strands and isolate in thermal foils. In the first slice, with a medium color brush, paint each shade in circular ovals down the strands in rotation. Alternate the three shades in three rotations until each oval section is completed and isolated in foils. Process for 20 minutes.
Rotation 1
Accent shades 1, 2 and 3
Rotation 2
Accent shades 3, 1 and 2
Rotation 3
Accent shades 2, 3 and 1
Accent Shade 1
Chili Oil: 40ml. Colorance Cover Plus Lotion + 13ml. Pastel Peach + 5ml. 7RB + 2ml. 6KG
Accent Shade 2
Little Boy Blue: 40ml. Colorance Cover Plus Lotion + 15ml. Pastel Mint+ 3ml. 8CA + 2ml. Pastel Indigo
Accent Shade 3
Rusted Lavender: 40ml. Colorance Cover Plus Lotion + 5ml. 9KG + 15ml. Pastel Lavender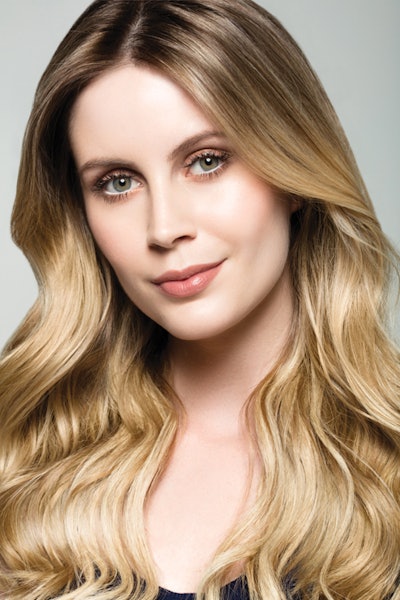 Honey Hue
"The first step to proper color or perfect blonding is to determine the fabric that we are working with," says Sharon Medina, Inoar Professional educator. "Depending on if the hair is virgin, colored, healthy or damaged, that will help determine what type of blonding technique we are going to use." Here, she shares some of her highly coveted techniques for blonding, depending on your client's hair type.
Virgin Hair
Levels 1-5:
Use powder lighteners, high-lift colors or cream lighteners with a higher developer 30 or 40—they will provide a nice lift up to four or ve levels. On lower levels, use a toner to balance out the under-pigment that has risen from lifting.
1) Divide hair into four sections.
2Apply desired color from mid-shafts to ends. Proceed to apply onto roots until desired lift is reached.
3) Apply toner to balance or enhance the desired tonality you wish for your guest.
Natural, Treated or Processed Hair
Levels S 6-10:
Use powder lightener, higher-lift colors and cream lightener as well, with a lower developer volume such as 10 or 20. They will also produce up to three or four levels of lift without damage, balance any unwanted under-pigment and close the cuticle.
1) Divide hair into four sections.
2) Apply desired color, starting at the new growth areas and then proceed to go over any spots that need to be lighter in some areas.
3) Apply toner to balance or enhance the desired tonality.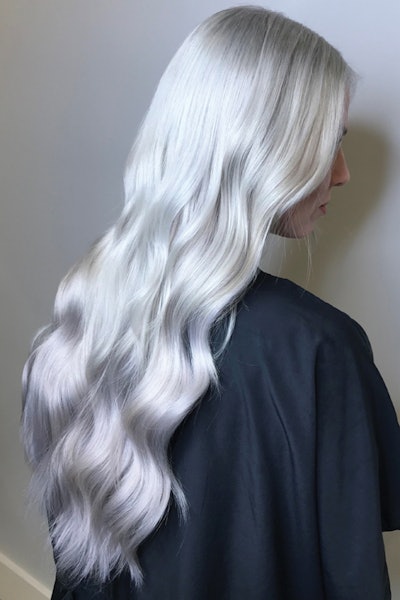 Platinum Perfection
It takes a lot of courage to go super blonde, but the results are denitely worth it. Schwarzkopf Professional influencer Zach Mesquite shares his formula and technique for mastering this gorgeous blonde color on a natural level six.
1) Apply BlondMe Bond Enforcing 9+ Lightener with 20-vol. 6% BlondMe Premium Developer from mid-lengths to ends, half an inch off the scalp. Lift to a level 9.5.
2) Apply BlondMe Enforcing 9+ Lightener with 20-vol. 6% BlondMe Premium Developer on scalp. Once the rest of hair lifts to a level 9, let everything lift together to an even level 10.
3) Shampoo and condition. Tone with BlondMe Ice and Steel Blue equal parts with one inch of IGORA 0-11 with 7-vol. developer for 10 minutes.
[Images: courtesy of each brand]