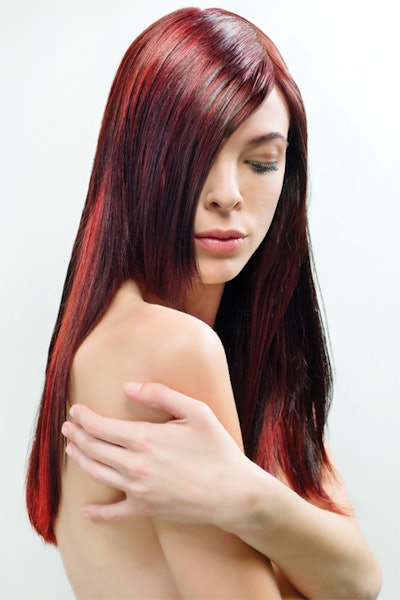 Colorist Maryl Velbeck predicts that a crimson wave will elicit a ripple effect come autumn. Velbeck, who dubbed her cover look "Regal Rouge," sourced her inspiration from the natural world, channeling the beauty of vividly colored dark red geraniums. The result? A black cherry-esque color melt that's ripe for the impending season.
RELATED: Celebrity Colorists Share their Most In-Demand Formulas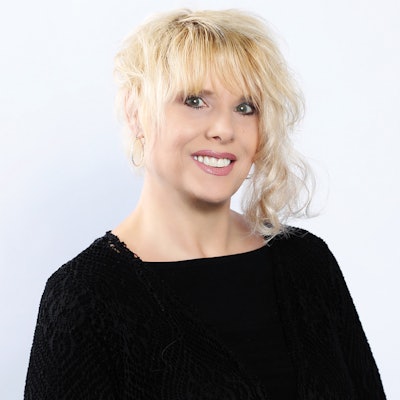 PHOTOS: Blue Hues Are Poised to Take Over Your Color Station
Formulas
On the model's natural level seven hair, Velbeck created a base using Igora Royal 7-77 + 7-88.

Triangular partings were formed around the face frame using Igora Royal 4-88 + 4-99 + Igora Royal Booster 0-89.

A triangular section through the top of the head was then given a freehand twisted color melt balayage with alternating strands colored with Igora Royal Fashion Lights L-88 + L-77, twisted together with strands colored with Igora Royal 4-99.

Tresses underneath were kissed with Igora Royal Fashion Lights L-88 + L-77.

or a finishing touch, an overlay of new Igora Vibrance in 0-00 + 7-88 was incorporated for extra shine.

To style, new OSiS+ Topped Up Light Control Gentle Hold Mousse was cocktailed with OSiS+ Session Label Miracle 15 for the ideal mixture of soft, shiny hair with a touch of control.
[Images: photography by Ming H2 Wu; hair by Maryl Velbeck; Makeup by Mei Li]