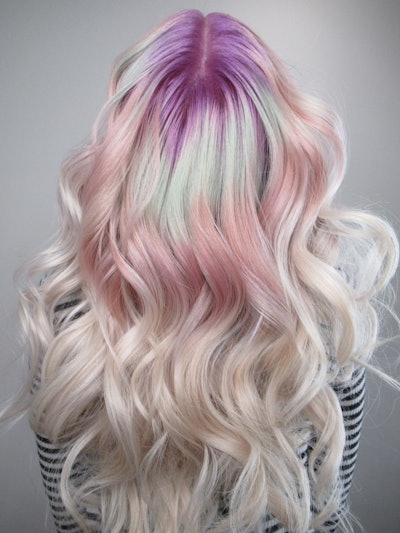 Pravana just announced a new addition to its wildly-successful Vivids line!
Vivids Crystals comes in six different tones: Aquamarine, Garnet, Jade, Sunstone, Rose Quartz and Purple Tourmaline. Each shade is uniquely pigmented to reflect consistent, saturated tonal value, making it easy to achieve a prismatic look while applying only one shade (on levels seven through ten).
"VIVIDS Crystals make it possible to create so many beautiful looks!" said Pravana Collective member Chita Beseau. "I like to soften them with VIVIDS Clear and make iridescent root melts, just like color prisms out in the sunlight!"
The new shades will be available wherever Pravana is sold already at the start of Marchm byt Beseau's already had fun with them. Recreate this gorgeous look with the following formula.
Get the Look:
Prelighten hair
Formula 1 (Root): .75 oz. VIVIDS Purple Tourmaline + .25 oz. VIVIDS Clear
Formula 2 (Midshaft top): .75 oz. VIVIDS Mystical Mint + .25 oz. VIVIDS Clear
Formula 3 (Midshaft bottom): VIVIDS Rose Quartz
[Image courtesy of Pravana]