Our client came in looking for a big change for her birthday celebration and wanted to try going blonde. It had been some time since we last saw Alexza, so she had about 3 inches of natural level 4 out growth and the rest was a warm level 7 ombre.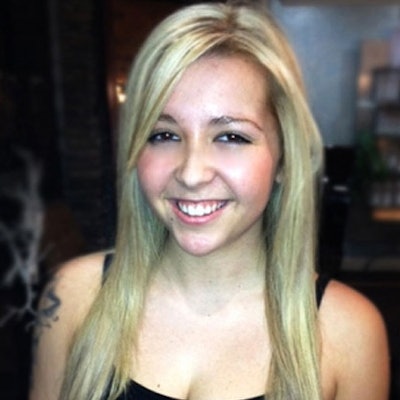 I knew that I wanted to go cool with Alexza's blonde, but first I had to take care of the outgrowth. I colored the outgrowth with Framesi Futura 7N with 25 volume Ossidor developer. This gave Alezxa an even palette to work with.
I then started the highlighting process. I wanted to go significantly light without compromising Alexza's hair. I did a full head highlight of heavy 1/8" panels with Framesi Decolour B Diamond Bleach with 25 Volume Proxima developer. I used Framesi decoulour B Diamond bleach because I wanted even lifting that wouldn't compromise the hair quality. Decolour B Diamond is great because it smoothes the hair and adds shine.
I lifted the hair color to a level 9/10 past the yellow stage and rinsed. I wanted to tone the blonde and cancel out some of the warmth to get a nice cool blonde. I used Framesi Framcolor 2001 usa and usplus equal parts with 15 vol, which toned it to a cool blonde. Because Framesi color conditions as it colors we were able to keep Alexza's hair intact and induce shine.
I finished Alexa's hair with the be Clarked "straighten up" leave in conditioner and smoothing balm which also helped keep Alexza's hair color resilient, protected and shiny. -Clark Russell, Clark Russell Salon
Celebrity Stylist Clark Russell, owner and creator of the be Clarked luxury product line and Clark Russell Salon, has been featured on several television shows and publications as a stylist, colorist and commentator. Clark and his salon team recently placed as a top salon team in the nation in the Battle of the Strands 2012 competition. Clark's be Clarked company has just launched their new be Clarkeducated educational series, dedicated to inspiring and educating hair professionals at all levels.