Is your client looking for a little color? Teal and orange tones are a hot combination! PRAVANA Artistic Educator Consuelo Barajas shows the step-by-step for designing this vibrant 'do.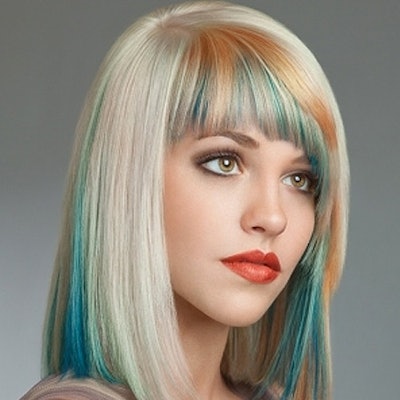 Step 1: Retouch First
If your client requires retouch past the first 1/2 inch off the scalp, begin with that. For this particular client, Consuelo uses a scale to mix one part dust free powder and 3 parts developer as this mixing ratio provides the perfect creamy consistency for application. She begins her application ½ inch off the scalp through to the line of separation, taking extra care not to overlap onto Nicole's previously lightened hair.

Consuelo then applies Pure Light Power Lightener with 10 volume developer at the scalp, seeing how well the first application of Pure Light Power Lightener is starting to lift Nicole's hair. The additional heat produced from the scalp will have these two formulas processing to the desired level of lift at the same time. When using Pure Light Power Lightener on the scalp, PRAVANA strictly recommends never exceeding 20 volume developer.

Step 2: Preparing the Hair for VIVIDS
Once the desired lift has been achieved, Consuelo shampoos Nicole's hair with Pravana's Sulfate-Free Pure Light Brightening Shampoo followed by Pure Light Brightening Conditioner, as their delicate violet base is formulated to instantly brighten blonde or white hair. Consuelo then sprays Intense Therapy Leave-In Treatment before combing and drying Nicole's hair.  

Step 3:  Sectioning
Once hair is dry, Consuelo sections out three triangles for her custom ChromaSilk VIVIDS placements.  

Step 4:  Customizing the VIVIDS formulation
When creating a pastel version of a VIVIDS color, use VIVIDS Clear as the pasteling agent and always start with VIVIDS Clear in the bowl first and add color to it. Remember when custom formulating, if the hair is white, what you see in the bowl is what you will see on the hair. If there is still yellow in the hair from lifting, the yellow will contribute to the final result of the color.  

The Formula: For the ocean blue color, Consuelo mixes 1 ounce of VIVIDS Clear with 1 inch of Blue and ½ inch of Green. For the peach color, she mixes ½ ounce of VIVIDS Clear, ½ ounce of Magenta, and ½ ounce of Yellow.  It is important to note that the long lasting effect VIVIDS are known for will be reduced in formulas with large percentages of VIVIDS Clear.

Step 5:  VIVIDS Application and Processing
Consuelo begins her application on the pre-sectioned triangles, slicing sections thin enough to ensure adequate saturation; it can be helpful to use foil as a barrier to keep the VIVIDS formula away from the rest of the hair. Once the application is completed, Consuelo will let the VIVIDS color process for 20 minutes.  No heat is required for VIVIDS processing.

Step 6:  Rinse, Shampoo, Treat
Once the 20 minutes are completed, shampoo hair. This time, Consuelo uses NEVO Moisture Rich Shampoo followed by the NEVO 60 Second Treatment. It is recommended to rinse the VIVIDS thoroughly until the water runs clear and away from any other pieces of lightened hair to avoid any unintended staining.

Step 7:  Style and Finish
To finish off the look, Consuelo applies NEVO Full Volume throughout Nicole's hair and uses a round brush while blow drying for fullness. Consuelo then mists Super Shape Hair Spray lightly over Nicole's dry hair and does some finish work on the ends and in the fringe with her flat iron.