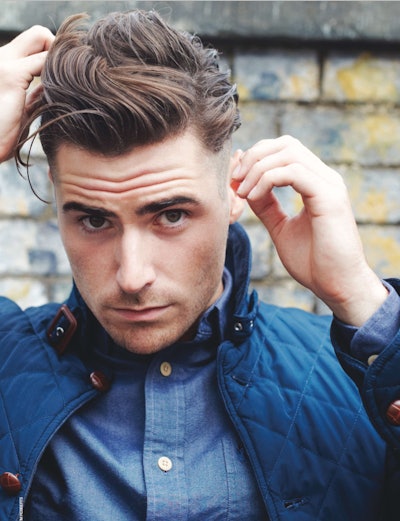 Whether to subtly cover gray or attain a complete change, men are emerging from the shadows to request professional haircolor services.
By Tracy Morin
Men's hair color has come a long way since the turn of the millennium. The Los Angeles Times reported in 2012 that the percentage of American men who color their hair increased from 2% to 7% from 1999 to 2010, and that 11% of today's men ages 50 to 64 opt for coloring. And that number is rising as more men jump on the grooming bandwagon.
"All men who come into the salon are seekers in one way or another; whether they're conservative and classic or adventurous and bold, they're looking for information," explains Justin Frost, a top artist for the Kadus Professional brand and owner of Justin Frost Hair in Studio City, California. "In essence, they're the perfect clients because we have many things to offer them!" Here, to prepare you to accommodate this growing movement, experts share the hottest trends and techniques in men's color.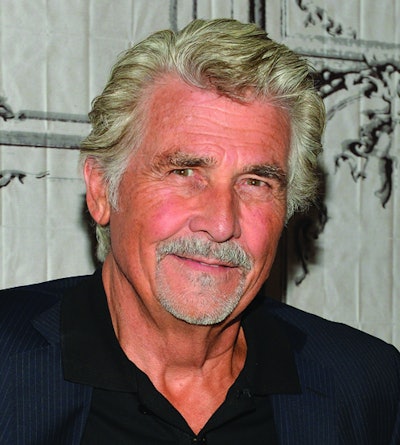 Gray Matters
As the stats show, many graying men are looking for a simple solution at the salon: discreet coverage. For this client, Frost recommends enhancing the natural tone of hair with a soft demi color or a gray-blending technique. "When the hair is longer, it's easy to use a balayage paddle and a small brush to lightly stroke his natural color into the gray," he details. "If his hair is short, use a comb for the best application." After all, Frost says, this more conservative client may come in on a lunch break and want some gray blended away, but he doesn't want to go back to work looking like he has colored his hair.
For clients with a small amount of gray who opt for a quick blending, Marco Pelusi, celebrity hair colorist and owner of Marco Pelusi Hair Studio in West Hollywood, California, also opts for the subtle blending effect of demi color; the color fades on-tone gradually over about six weeks, which his clients appreciate. "Fear is a big factor with guys, and the best way to deal with that is low-commitment color," Pelusi notes. For older clients with more gray, Pelusi uses lowlighting and foiling, applying permanent color in very thin slices. "This is an important service to learn and get really good at," Pelusi stresses. "As guys get older, they don't want to color the whole head, because it looks unnatural. I do this on [actor] James Brolin's hair, blending the gray with lowlights."
Victoria Cariello, a colorist, educator and sales rep for Organic Natural Colors in Los Angeles, covers gray with a 15-minute-or-less application of 10 volume developer and some blue pigment, for a wash that camouflages gray, looks natural and fades gradually. "For full gray coverage, you leave it on longer," Cariello explains. "The grayer the client is, the more pigment and less developer you use."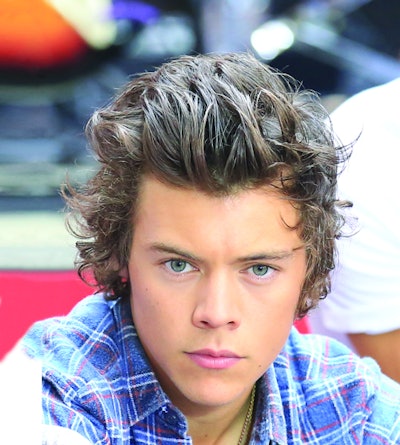 Subtle Boosts
Some men might embrace their natural color but simply want an age-defying boost. For example, Pelusi services naturally blond men whose hair color has darkened or dulled over the years. For these men, adding highlights to brighten up their natural hue provides a subtle enhancement that shaves years off their appearance; it turns heads in an under-the-radar way that many guys prefer. To nail this approach, Pelusi advises, "Avoid warm colors, like gold and red; most men don't look right with them. Stay in the cool tones with men's hair color. The only exception is the very small percentage of men who are natural redheads, but even they don't want an orange shade." And let's not forget swarthier hair tones; darker hair that's dulled or faded can be refreshed with a quick demi color service.
If your man boasts a bit of length, Frost feels that his longer hair presents more opportunity for color and creativity; he points to razor cuts and styles with "personality" as canvases that allow for color techniques that are intuitive, artistic and simple. "You'll see a lot of freehand painting techniques (allowing the stylist to customize the color to suit each individual), with multi-tones that accentuate the cuts," he says. "However, certain men will always love the feel of sun-washed beach hair with lighter tips, so we won't be putting our foils away completely." Looking forward to spring, Frost sees men embracing soft, subtle highlights that melt from darker to lighter throughout the hair to add a sun-kissed glow—think a London shag with dark roots and lighter tips that give the hair dimension and texture with a rock-and-roll vibe, a la Harry Styles.
Total Change-Up
On the unsubtle end of the spectrum, Frost notes, is the artistic, daring guy who wants everyone to know he has the guts to change his look—from rocking blue streaks to platinum blond to smoky silver. "Take him from a brown to a blond; you can do a lightening and then tone from scalp to ends," Frost suggests. (Check out this story's sidebar, "Dear Blond," for top takes on this trend.) "You can also take light hair to a chocolate brown or even add in some fashion colors. Remember, this guy wants to stand out and he likes change!"
Pelusi and Cariello find that younger clients—i.e., millennials and college students—are more open to changing their color completely. "They might shave the sides, bleach the top to an almost-white and add a few crazy colors, which fade out readily and require virtually no commitment. It's a rare guy who can wear that look for work; he's experimenting," Pelusi laughs.
Whether your guys seek an obvious or discreet change of color, successfully delivering what they desire boils down to understanding your clients. "You have to be able to read people," Pelusi reminds. "This way you can tell when someone really wants a complete change or isn't quite sure."
[Image: Getty Images]