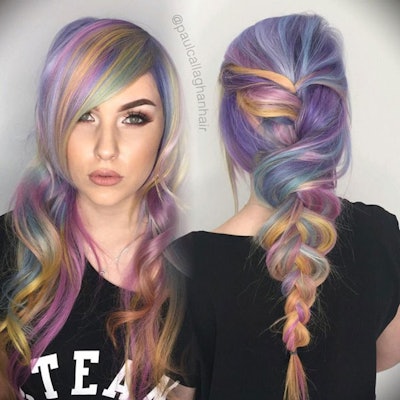 Scotland-based hairstylist and independent educator Paul Callaghan recently created this gorgeous pastel hair color for his client. Soft lilac blends with subtle fuchsia and twists of periwinkle and yellow gold for a stunning, muted rainbow effect. Recreate this on-trend look for your own client with Paul's color formula and step-by-step how-to, below!
Get the Look: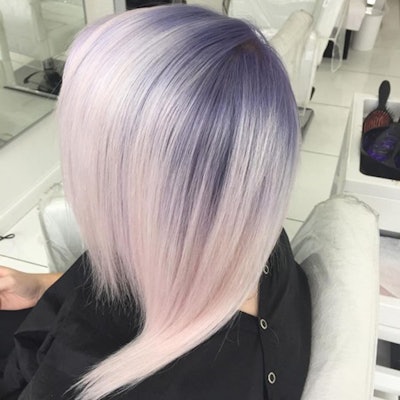 1. "I started with a nice clean white base and added a shadow root using Schwarzkopf Pearlescence and BlondMe Toning in Pastel Lavender and Steel Blue with Blond Me 2% Developer," says Paul. "After letting that sit for 20 minutes, I rinsed, shampooed and dried.
2. "I custom-mixed PRAVANA VIVIDS and used Olaplex 2 to dilute the shades. This is my favorite way of pastel-izing my 'flavors.'
FORMULAS:
"Shadow root: Olaplex #2 + 2 drops PRAVANA Violet with 1 dot blue (already has the lavender base, so just matching it and giving it a little bit of dimension.)
"Iridescent Magenta: Olaplex 2 + 2 drops Magenta and a drop of Silver.
"Bubblegum Blue: Olaplex 2 + 1 drop of Blue, 1 drop Pink and a drop of Silver.
"Spearmint Green: Olaplex 2 + 1 drop Green, 1 drop NEON Blue.
"Yellow Splash: Tiny amount of Olaplex 2 + 2 drops of Yellow, 2 drops of NEON Yellow.
"Bronze Blush (THAT GOLD): Olaplex 2 + 3 drops of NEON Orange, 1 dot (literally) Magenta.
"Violet undertone: Lots of Olaplex 2 with 1 drop Violet and 1 drop Silver.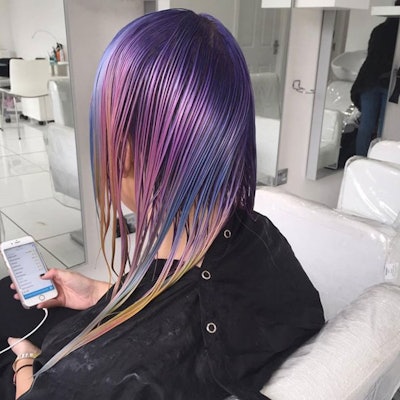 3. "I applied the shadow root area first, then sectioned off the back and used EmBee Meche to create some fragments, applying magenta, blue, yellow, magenta, orange in a stripe formation. Check out @xostylistxo or @vividartistichairdesign for this method - it's cool.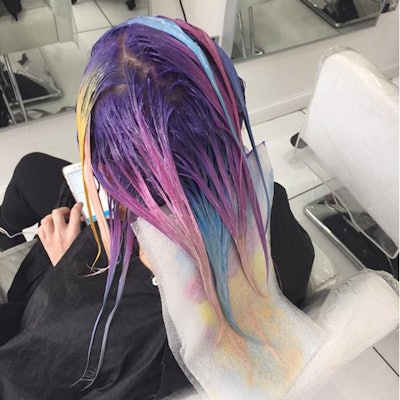 4. "I completed about 2-3 sections at the back like this, then went back to traditional color-melting going, with my gut throughout the head. When I got to the sides, I decided to make a yellow splash piece by sectioning out a triangle and alternating between the yellow and bronze blush so that when the hair was pulled over, that would be the main focus.
 
5. "I then custom-colored her clip-in extensions to match her hair using some pieces to create the fragments.
 
6. "I rinsed and lightly washed and conditioned with a moisture treatment, blasted and started styling."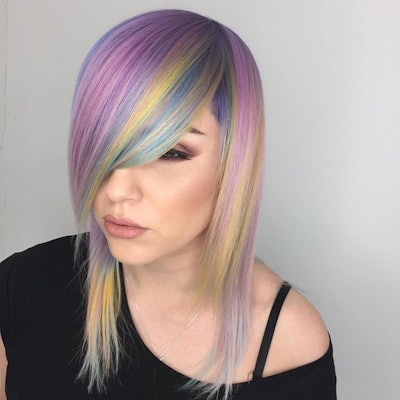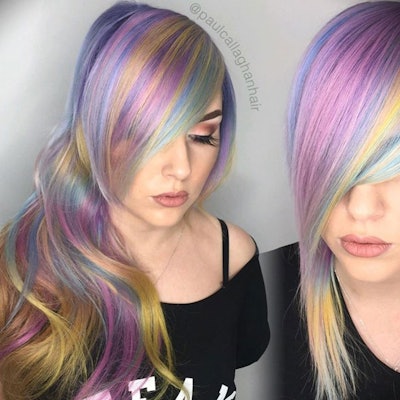 For more gorgeous looks, follow Paul on Instagram @paulcallaghanhair!