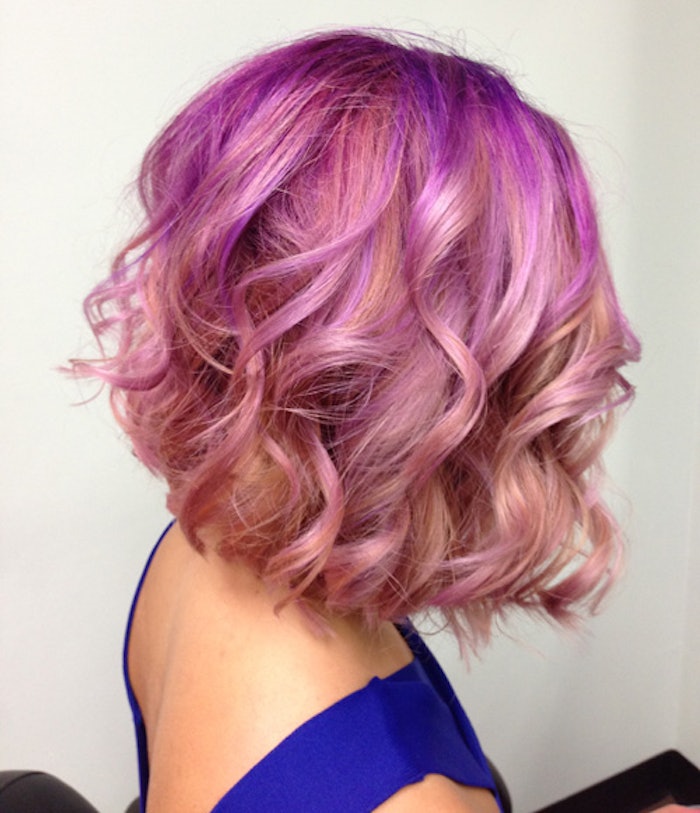 Hairstylist Tammy Muniz of Rouge 22 Salon in Chattanooga, TN, recently created this gorgeous pink and purple colormelt. By rinsing the hair slowly in warm water, Tammy was able to carefully let the colors melt together until they blended beautifully from purple, to pink, to rose gold. Below, Tammy shares the steps she took to create this look so you can recreate it for your own clients.
Get the Look:
Says Tammy, "This is a transformation and example of 'color melting' on my coworker/favorite firstborn, Lauren Muniz. She has had an ombre color for a while, originally a deep red and now a chocolate brown.

1. "I began by pre-lightening her hair with Schwarzkopf Vario and 20 vol. I reapplied to areas as needed that were hanging on to some stubborn gold (no Olaplex).

2. "Shampoo, rinse, and completely dry (no conditioner).
3. "Next, I mixed Joico's Cobalt Blue and Pink to a shade of purple that I liked. A shade of purple would have worked, but I was in the lab and had to concoct!
 
4. "I processed her under heat for 30 minutes (color still only on new growth area).

5. "When it was time to rinse, I purposefully rinsed slowly and in warm water. This allowed the strong pigment to grab and 'melt' onto the pastel blonde mid-shafts and ends. This created the most beautiful shades of lavender, pink and a few pieces of rose gold while keeping the darker purple shade at base.

6. "When it came time to shampoo a couple of days later, I lathered the hair and then took a palmful of Joico's Pink and a palmful of Joico's Amethyst and mixed in my hands. I added that to the head and continued to shampoo with the color and the shampoo mixed for a good minute. I then followed up with a conditioner. This brightened and enhanced the color even more. I will be using this process in the future!"
For more from Tammy, follow her on Instagram @rouge22salon.

[Images courtesy of Tammy Muniz]