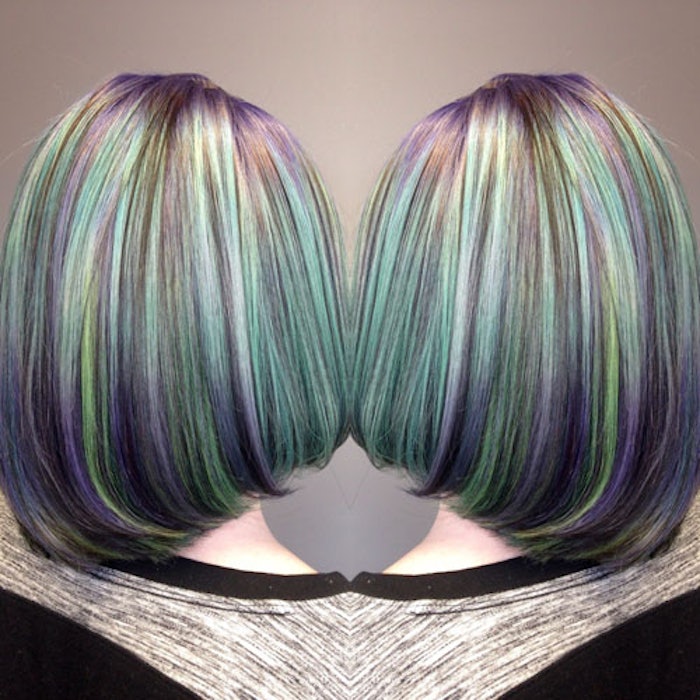 Hairstylist Jordan Glindmyer recently created this gorgeous, mermaid-inspired hair color for her client. Says Jordan, "Kelly [the client] originally started coming to me with some basic, buttery highlights, and we began a full, back-to-back foil process of high contrast platinum blonde with 2N/3N lowlights. When she decided to transition to some fun, vivid color, we decided to keep the lowlights and work with the pre-lightened hair as a base!"


Before
Get the Look:
1. Says Jordan, "We began by doing a root retouch with Wella Blondor and 20 volume all over, including the root pieces of the lowlights. After processing for 30 minutes, we rinsed and toned with Shades EQ 9V with a splash of 9B.

2. "For the beautiful sea glass inspired shades of pastels, I applied the following formulas using PRAVANA VIVIDS to Kelly's dry hair with no heat for 30 minutes:
Shadow Root: Silver + Violet
Blissful Blue + Neon Blue
Mystical Mint + Green + Neon Green
Mystical Mint + Blissful Blue + Neon Blue"
"Using the Silver/Violet base for Kelly's shadow root anchored the 2N/3N and allowed for harmony between the darkness of the lowlights, and the lightness of the pastel colors to create a rich blend between such high contrast," adds Jordan. "Kelly's pastel color can typically can last her about 8 weeks with proper home care, including using PRAVANA VIVID Shampoo, Conditioner and Color Protect Sealing Spray, using cold water to wash, and only washing once or twice a week!"
For more from Jordan, follow her on Instagram @pinupjordan.

[Images courtesy of Jordan Glindmyer]