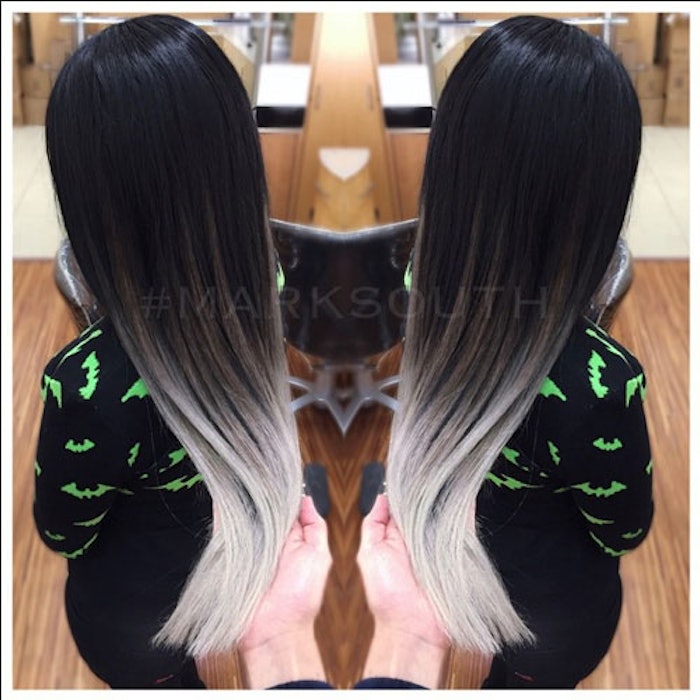 Mark South, Stylist at Regis Salon Albuquerque, NM, recently created this striking, ghostly silver ombré for his client. Says South, "My client came to me with pre-lightened, 22-inch, level 10 extensions, with her desired look being a long, black-to-silvery-platinum ombré." The smooth transition from dark to light results in a soft, smokey effect that is both dramatic and beautiful. Below, South explains his process in creating this look.

Get the Look:
Says South, "My clients' natural hair color is a level 2 and at a length of about 3 inches below the collarbone."

COLORING THE EXTENSIONS
Color formula: Matrix Color Sync
Dark Color - 2parts 4A & 1part 2A
Med Color - 2parts 6A & 1part 8P
Light Color - equal parts 10V & 10P
"Divide the extensions into 4 sections. The first two upper sections of the extensions will be filled with the 'dark color,' with a fuller saturation at the top and lightly (emphasis on lightly) fanning into the 3rd section.
When working the 'med color' into the third section, first start by fully saturating it into the lightly fanned area you just did. Repeat the same process of lightly fanning this color into the last section.
After applying the dark and medium colors, let them process for about 30 minutes. Do not apply final light color.
Once color is fully processed, rinse the extensions thoroughly, removing excess water with a towel, and then tone with the light color formula for about 10-15 minutes.

TIP: Texturizing you're clients natural hair and thinning out their blunt ends (especially the top layer) will allow for a smooth blending into the extensions."

See more of South's work on Instagram!

[Images courtesy of Mark South via Instagram]