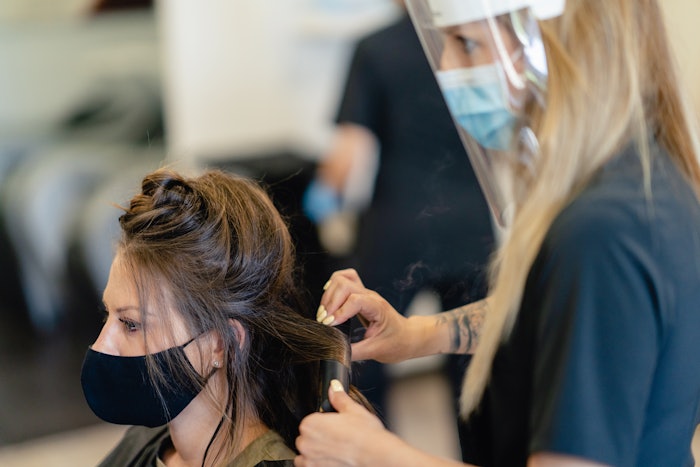 Following another uptick of the global pandemic, it is important to recognize that the "new normal" has changed the pro-beauty industry for the long term, possibly forever.
James Alba, founder of The Salon Movement and co-owner of B-Hive Organic Salon in Hillsdale, New Jersey, interviewed salon owners and stylists to address the current and future state of the industry. 
1. Touch Starvation
"The pandemic has severely curtailed touching, and despite easing of restrictions, we will not be getting as physical again for quite some time, if ever. So those nice little extras, such as hand massages, are out, as are goodbye hugs. In the new post-COVID world, we must find alternatives to add value. At Love and Mercy [salon], we want to get clients in relaxation mode right at the start. We've added paraffin hand treatments that are not only natural and sanitary, but use biodegradable gloves, and we've installed high-powered ECOHEAD showerheads that massage as they rinse to enhance the backwash experience," says Patty Martin and Josh Scheidel of Love and Mercy Salon in Boston.
2. Keep it Clean
"Clients have come to expect uncompromising levels of in-salon hygiene, and that is not going away. They expect everything to be clinically clean and are more at ease if they see evidence of high standards such as stylists disinfecting brushes, single-use items like Scrummi biodegradable towels, and disinfected cutting stations and waiting areas," says Gloria and Chris Perperas of Gloria and Company in Fairhaven, Massachusetts.
3. Shades of Green
"It's not just COVID that clients are thinking of where we are on the Atlantic coast. The numbers of named tropical storms doubling in the past 20 years and the never-ending drought in huge swathes of the country have kept the issue of sustainability in the headlines. This has led clients to demand more eco-action from us. My clients are really questioning our sustainability claims, and we must prove we are taking it seriously and not just green washing. Those that deliver will not only benefit from an enhanced profile, but by partnering with companies such as Sustain Beauty Co that champion affordable sustainable alternatives, they'll see a huge return on investment," says Brian and Dalbe Markman of AOC Salon in Norfolk and Virginia Beach, Virginia.
4. Know Your Worth
"Over the past decade, we sat in agony as the freebie culture proliferated. Then came COVID. It was a wake-up call, but also an opportunity. Now the whole industry has realized that promotional pricing benefits no one. Lockdown also shocked clients, making them acutely aware they can't live without us. They are now willing to pay for quality services, especially with systems such as Vish Color Management providing data on color use and allowing us to charge correctly, fairly and with 100 percent transparency for every service delivered," says Charles and Nicole Gillick, owners of Blu A Color Salon in Valley Park, Missouri.
5. Retail Rethink
"The whole crisis had everyone looking for innovative ways to raise revenue and retain client contact, and that has led to a massive rise in e-commerce and affiliate marketing. We are in a mountain resort town, so it has been a huge help for our salon. To be successful going forward, we must adopt a multifaceted approach of selling via our salon websites, through e-commerce partners and even through affiliate programs that bring in commission without the cost of holding inventory. [This way of selling] is here to stay, and those of us who get this right will be the ones that thrive," says Brenna and Chad Carpenter of Root Down Hair Studio in Banner Elk, North Carolina.