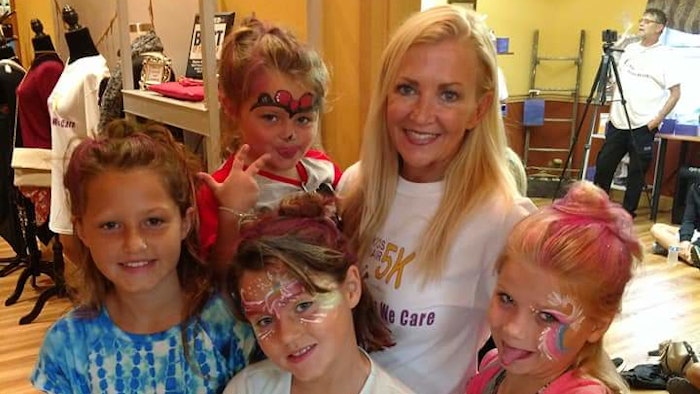 I have a special place in my heart for kids in need or kids who are suffering, and since I opened my salon, my team and I have tried to do our part to raise funds for kids with cancer or who are hospitalized, in orphanages, are hungry and more. I'm lucky my team is equally motivated by the opportunity to give. 
Most recently we've been working with kids whose lives have been affected by drugs. Too many children are seeing and experiencing things no child should have to see or experience. We want to turn this into education for these kids to 'go the other way' and for the kids who are on the right track to stay on the right track. 
I opened SoZo Hair by Bajon Salon and Spa, which in Greek means "save, heal, protect and make whole," 21 years ago, and during that time a large part of my motivation to embrace innovation and drive profitability has come from my desire to help others. I was an early adopter of the Vish color management system, which has saved me $25k, much of which I have funneled into our charity work.
In 2007 I launched my own product range, SoZo Heavenly Hair, set up so that for every bottle of shampoo or conditioner sold an equal amount of shampoo or body wash is donated to children in need. In the same year I took my first trip to Kenya, visiting Samburu, a small village seven hours north of the capital, Nairobi. I saw kids playing football with some scrunched up cardboard tied up with rope. It touched my heart and I was forever changed.
I adopted the village and have returned five times so far to donate footballs, clothing, mosquito nets, school supplies, goats and many basic necessities. I've even been involved in the funding and actual building of a classroom for nursery school kids. But it would not be possible if I didn't run a profitable salon, manned by a motivated and enthusiastic team. Every little thing plays into the bottom line.
Setting up my own product range and bringing in Vish were sound business decisions, but both have been motivated as much by my desire to help children as by a wish to run a successful business. The extra profits from Vish means we've got more to give. I consider myself very lucky that I am able to combine my two passions—hairdressing and helping children—and they color every business decision I make. 
—Karen Welch