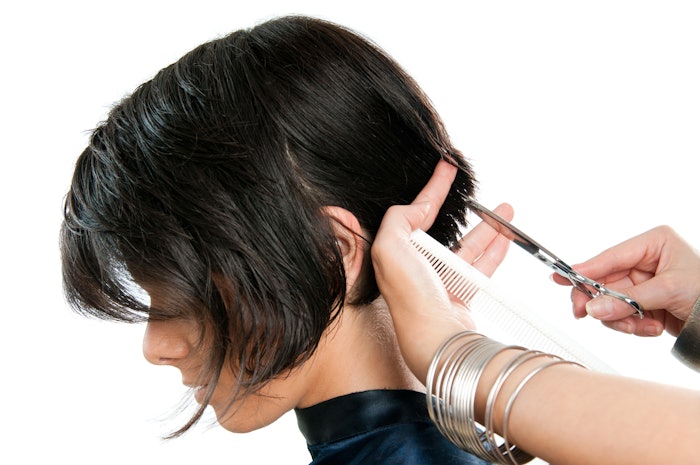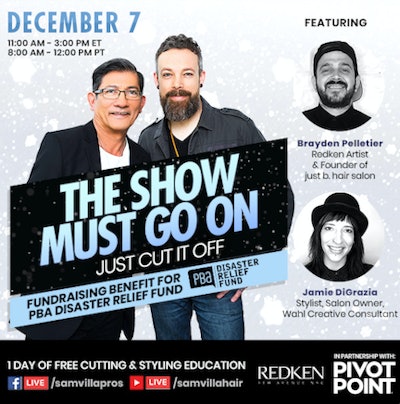 On December 7, 2020, 11:00 AM – 3:00 PM EDT//8:00 AM – 12:00 PM PDT, tune into Facebook Live: @SamVillaPros and YouTube Live: @SamVillaHair for the "Just Cut it Off?" episode of The Show Must Go On Series. 
Sam Villa, cofounder and chief creative officer of Sam Villa and global artistic ambassador for Redken; Andrew Carruthers, education director for Sam Villa; and special guests Brayden Pelletier, Redken artist and founder of Just b Hair Salons; and Jamie DiGrazia, stylist, salon owner and WAHL Professional creative team member, will explore multiple approaches to haircutting.
Giveaways Include:
Sam Villa is giving away a shear package valued at more than $600
Sam Villa will conduct a 40% off sitewide sale December 7-8, 2020, with 10% of all proceeds going to the PBA Disaster Relief Fund. 

Redken

is giving away 4 tickets to

The Redken Exchange Power Session with Tracey Cunningham and Friends

on December 14

th

valued at $100 each, and 1 ticket to the

2021 Color and Know Why

, a five-phase virtual hands-on program in February valued at $1000.

Pivot Point

is also donating prizes!
The event is broken into 4 segments:
Just Layer It - Sam Villa @SamVillaHair
11:00 AM - 12:00 PM ET
Discover how and when to layer hair to create loose textured looks and how to maintain and extract weight on all hair lengths, as well as layer fine hair.
Fringe and Face Frames - Brayden Pelletier @justbhair
12:00 PM - 1:00 PM ET 
Learn how vertical finger position allows for a leaner shape, horizontal position creates a wide shape and how releasing hair affects signature style.
Art of Short Hair Sculpture - Jamie DiGrazia @jamiedigrazia 
1:00 PM - 2:00 PM ET 
Learn about Prep–air forming and directional drying with products; Shape–surface razoring and short hair sculpting; and Finish–product application for photo-ready images.
The Curly Crop - Andrew Carruthers @andrew.carruthers
2:00 PM - 3:00 PM ET 
Explore the challenges and solutions when cutting curls, using razors and shears to develop movement, and styling and finishing tips for short coils.
 For a full schedule of The Show Must Go On education series, visit samvilla.com.