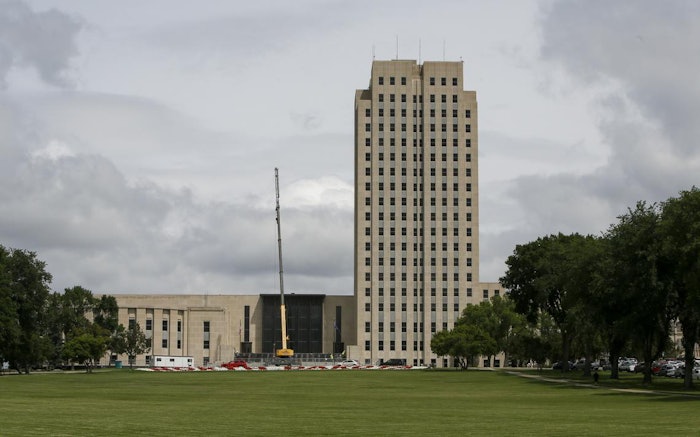 North Dakota
HB 1426 would have designated cosmetic application, hairstyling, and eyelash extension application as "niche beauty services."  The Committee amendment however removed the eyelash extension provisions.  As currently drafted, the measure requires the state's Board of Cosmetology to issue certificates to individuals performing cosmetic application and hairstyling after the completion of a four-hour course in health, safety, and infection control and state law.  The bill further states, "A certificate holder is not licensed under this chapter as a cosmetologist, esthetician, or manicurist.  A facility at which a niche beauty services provider provides hairstyling and cosmetic services is not subject to regulation under this chapter."
SB 2092 would reduce the hours of training required for cosmetology licensure from 1,800 to a minimum of 1,500 hours.  The hours required for esthetics and manicuring licensure would remain unchanged at 600 and 350 hours, respectively.  The measure also authorizes apprenticeship programs and cosmetology school internships; and contains streamlined licensure by reciprocity language that would allow applicants licensed in good standing by another state, territory, or jurisdiction to avoid providing transcripts and proof of passing an acceptable theoretical and practical examination to obtain a North Dakota license. 
Michigan
The House and Senate apprenticeship bills introduced in Michigan would establish an 1,800-hour barbering apprenticeship, which is the same as the course of study at a barber college/school. Both HB 4207 and SB 116 also include language specifying that "the owner of a barbershop that conducts an apprenticeship program shall not charge a fee for the teaching of barber services to apprentices on the premises.  The owner of a barbershop where 1 apprentice has been successfully trained may allow the training of additional apprentices at the establishment, except that not more than 2 apprentices may be trained at the same time." The bills have been referred to the Regulation Reform Committee in their Chamber of introduction.  A similar bill was unanimously passed by Michigan's Senate last September but was never considered on the House floor. 
Oklahoma
In Oklahoma, the House Government Modernization and Efficiency Committee favorably reported HB 1807 last week.  The bill makes technical changes and would increase from one to two the number of apprentices allowed to receive training in a cosmetology or barbering establishment at any one time.  For instructor licensure, the measure would allow training hours or the equivalent credit hours to be obtained at either a nationally or regionally accredited Oklahoma cosmetology school.