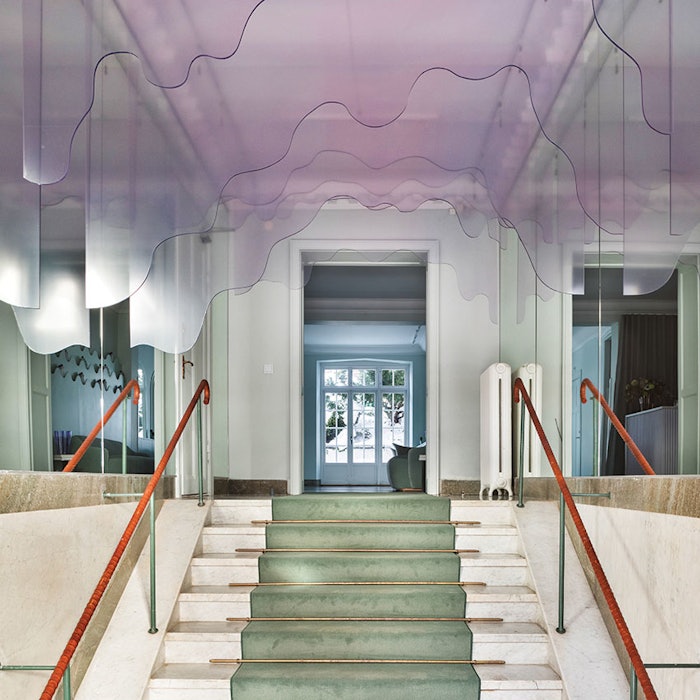 Stockholm, Sweden
When Swedish haircare brand Maria Nila outgrew its original headquarters, the acquisition of a 20th-century four-story townhouse in the Lärkstaden area of Stockholm gave the forward-thinking company a rather large project to undertake: Redesign it. "We wished to not compromise the old soul of the house, and asked the up-and-coming architecture firm ASKA to take on the mission of creating an interior that would mirror the core values of our brand: friendliness, curiosity and honesty," says Emma Barkå, Maria Nila marketing coordinator. Kept: details like sweeping wooden stairs and a green-and-white checkered floor that speak to the building's architectural past. Nixed: a sterile palette of white and gray in favor of a rainbow of pastels that match the brand's product bottles. "It's clear that the inside of our space now evokes a young-at-heart and playful feeling," says Barkå.
That playfulness is seen in layered undulating retail shelves that float along the walls—the perfect home for the brand's high-end products. "We wanted our workspace to feel creative and unique. But, most of all, we wanted it to feel alive," says Barkå, noting that the organic shapes derive from elements found in nature, like forests, oceans, coral reefs and caves—a callback to the brand's green and eco-friendly approach to beauty.
Perhaps the most striking element, panels of wavy form-cut plexiglass that seem to crest and break from the entryway's ceiling, also has brand roots: The ASKA installation is inspired by Maria Nila shampoo leaking from the roof. "We really wanted a 'wow' experience the second you open the door," shares Barkå.
Due to the sheer uniqueness of the space, Maria Nila tasked ASKA with creating sustainably made original furniture that would sit alongside objects and art by rising creators like furniture designer Gustaf Westman, LED artist Josefin Eklund and artist My Zachrisson. ASKA delivered, crafting one-of-kind zigzag end tables in bright pastel purples and greens, bulbous velvet sofas and built-in benches resembling Nilla Wafers.
In the salon area where the brand hosts events and education, the wash station holds court. The soft sage-hued egg appears straight out of a '60s sci-fi movie—and is beloved by staff stylists. "We didn't have a wash station in our previous office so it was really important to us—a necessity, really—to have one in the new space. As Maria Nila boasts a full professional portfolio, from haircare to bleach and color, we wouldn't be able to fully demonstrate our products and innovation without one," Barkå explains. For cut and color demos, three workstations, bathed in the palest gradient of sea foam green, carry through the theme of sloping curves, with arch mirrors and rounded white chairs providing an Instagrammable backdrop.
"Every floor and room is unique!" Barkå enthuses, noting that clients and staff can't get enough of the space's whimsical fun house appeal. "The colors, shapes and overall feeling just boost everyone with energy, which is very rare when you enter a workspace these days," she says.
WHAT'S UNIQUE
Wave, Hello!: From undulating pastel waves on the walls to wavy panels of plexiglass draping down from the ceiling, the organic flow of waves speaks to the brand's love of nature, modernism and all things fun.
Pastel Perfection: Each floor and room of the townhouse boasts a unique pastel color inspired by the brand's different product portfolios. "The pastel colors are one of the main identities of the brand," says Barkå. "Combining them with the playful and soft architectural language that ASKA created makes up the DNA of the building."