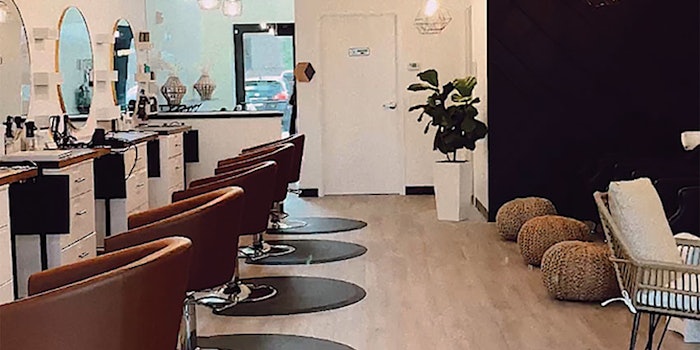 The Mane Artistry Salon and Studio / Bloomington, Minnesota
INSIDE STORY:
Before Maguy (pronounced "Maggie") Rosen pursued hair, she fell for another creative medium: photography. For a decade, she lensed weddings, locations and eventually her salon clients, and she found a love connection beyond shooting subjects: her fiancé, Trae Compton, also a photographer. Since 2010, the two often collaborated on photography projects. Then they had an idea: Why not merge photography with hair in one place?
That idea became fully realized in July 2020 with the opening of 1,109-square-foot The Mane Artistry Salon and Studio (@themaneartistrysalon) in Bloomington, Minnesota. "We wanted to create a small, intimate space for artists in the beauty and photography industry to come together and create art," Rosen says. Independent contractors fill out the salon's five chairs, while Compton works out of the studio section, collaborating with the stylists on editorial shoots; photographing product photography, headshots and interior salon photos; and filming salon promos and Rosen's education videos when Compton's not freelancing. "He also helps all of the stylists and me with our own photography—what lenses to shoot with and how to adjust our camera settings," she says, adding, "Clients love watching him shoot during salon working hours. It's different and I think it really sets us apart from your average salon environment and culture."
While The Mane Artistry Salon and Studio has an on-site photographer, Rosen ditched a long-held salon staff staple: the front desk. "We have a personalized way of doing business. I thought in order to provide that intimate experience, we could remove the need for a front-desk person," she explains. Booking and retailing falls to the stylists, who each have their own POS systems—and it works. "Stylists know their clients best, and are the best to address the clients' needs and desires. Sometimes having that middle person relaying information back to the stylist or client can get misinterpreted," Rosen explains.
Without a front desk taking up space, the waiting area feels airy and light enough to host a commanding gilded mirror that allows guests to admire themselves coming and going. Hats and baskets float on the waiting area's wall—a feature that guests admire. "Clients always comment on it and say it's 'so my style,'" Rosen laughs. The entire salon is bathed in space-expanding neutrals, like blonde wood flooring, tan jute poufs, caramel leather styling chairs and oatmeal-colored seating. Pops of greenery introduce verdant color, while a black statement wall near the shampoo bowls adds sophistication to the creamy landscape. "My fiancé and I wainscoted the feature wall ourselves. I feel like it is such a timeless addition. Sometimes artwork and photographs can become off-trend quickly. But having a wainscoted wall really keeps the environment chic and bold," Rosen says.
Rosen and Compton did a lot of the renovation themselves; the mandated shutdown allowed them the time to throw themselves into the project. If you noticed the date The Mane Artistry opened its doors—mid-pandemic during the height of racial and societal turmoil—you'd assume Rosen would feel stressed about her new business … and you'd be wrong. "I've fallen deeply in love with being a business owner," she says. "Being a person of color trying to open up a small business during a pandemic actually motivated me more to take that leap and just go for it at the age of 25."
RETAIL HAIR LINES:
Moroccanoil, Living Proof, Olaplexand Truss Professional
COLOR LINES:
Redken, Truss Professional, Schwarzkopf Professional and Joico
POPULAR SERVICES:
Dimensional balayage and extensions
WHAT'S UNIQUE
Say Cheese: The salon's photography studio not only allows stylists to build their portfolios, but also catches clients' eyes. "We do full shoots during salon hours sometimes, which is such a different and cool experience for the guests," Rosen shares.
Education, Embraced: An Aveda Institute graduate and Moroccanoil influencer, Rosen lives for education, having offered her one-on-one class "Shadowing 1:1" for stylists wanting to learn her techniques. She's looking forward to the eventual launch of more online education courses after she says, "I do." "I plan to really push the education side of my business and hope to grow my name and brand in that area," she says.