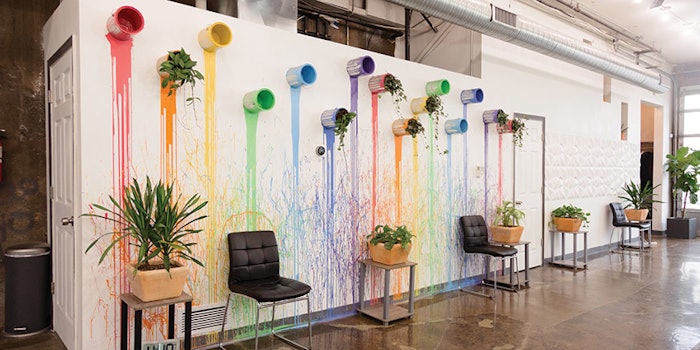 Kansas City, Missouri
INSIDE STORY:
Husband-and-wife duo Andrew (@buzzedandfaded) and Kat Collett (@katkolors) make serious decisions—like, say, opening a salon—using "TNT." No, it's not dynamite, but it has had explosively good results for the team. "We discovered a new way to communicate about our goals, both personal and business-related, during this one destination hair education trip in Punta Cana," they say. As they holed up in paradise, the two experienced a mind-meld of sorts. "We barely left our room except to eat. We now make this a tradition on any trips or throughout the year to check in—and we call it 'TNT' … 'Two Noggins Together,'" they laugh.
On this Punta Cana trip, "TNT" spurred the creation of With Love Salon (@withlovesalon), founded in 2018. "We wanted to do something bigger than ourselves—to help others—while still tying in our passion for doing hair. This became the root of why our salon is called With Love Salon. We not only want to help our stylists, but also those whom our stylists come into contact with and our community around us," they say.
If this seems like an earnest endeavor, the duo means what they say: They strive to always give back to the community. Pre-pandemic, With Love Salon hosted monthly "giveback" events that ranged from haircuts and warm meals for those in need to raising money or collecting items for natural disaster relief funds to even turning the salon into a more welcoming environment for children and young adults on the autism spectrum. "We hope to continue this work as the world begins to open again," they say, adding that they've been eyeing With Love Salon's philanthropic work possibly going international.
If giving back to clients and community is a primary tenet of With Love Salon, education is its equal. Kat and Andrew, both educators by trade (Kat became a coach at her mentor's The Ben Mollin Project, was an international educator and digital content creator for Pulp Riot, and is now a Schwarzkopf Professional USA brand ambassador, while Andrew has been an educator for Keracolor and Pulp Riot), have launched their own platform: the Momentum Tour. Birthed during a quarantined "TNT" session in late 2020, the Momentum Tour 2021 came about because, "We wanted to help artists gain 'momentum' following the impact COVID-19 has left on all of our lives, both personally and professionally," the duo reasons. The one-day class breaks down the pair's popular services, yet is "filled with layers of inspiration to help reignite the fire in anyone who attends it," they say. Though the pandemic has left destruction in its wake, particularly in the hair industry, Kat and Andrew encourage stylists to continue their education—to give themselves new, inspiring skills that, in turn, build confidence to carry on. "Education is so important for our personal growth, but it is also the key to the growth of our industry and individual careers," Kat says.
The creative twosome certainly has their hands full as they try to navigate the intricacies of pandemic life and ensure their tour follows proper COVID-19 safety protocols so that all attendees come away not only educationally renewed, but also healthy. Through all the stresses of sanitation and travel worries, their message is clear: "Our goal is to change the world one head at a time. Through cosmetics we reach for the hair and aim to touch the soul. We will show each and every person who we encounter that they're beautiful, and that one person can make a difference," they say. "The reason for living is giving. There is beauty in all things. Love can change the world."
RETAIL HAIR LINES:
Schwarzkopf Professional, Pulp Riot
COLOR LINES:
Schwarzkopf Professional, Pulp Riot, Olaplex, Keracolor, STMNT Grooming
REFRESHMENTS:
Water, coffee, tea assortments, complimentary beer and wine
WHAT'S UNIQUE
The Gift of Giving: Monthly "givebacks" to the community and those in need keep the charitable spirit alive in the salon. "Many of our guests not only offer donations but also participate in our givebacks, and help grow our network to reach more people in our community," they say.
Visual Story: "Our graffiti wall tells a unique story of our lives through art," the duo says. "Also, any of our friends who come to visit or work/worked at the salon tag their name on the wall."
Spill It!: Paint buckets seemingly spill pigment down a wall, with some cans even sprouting greenery.