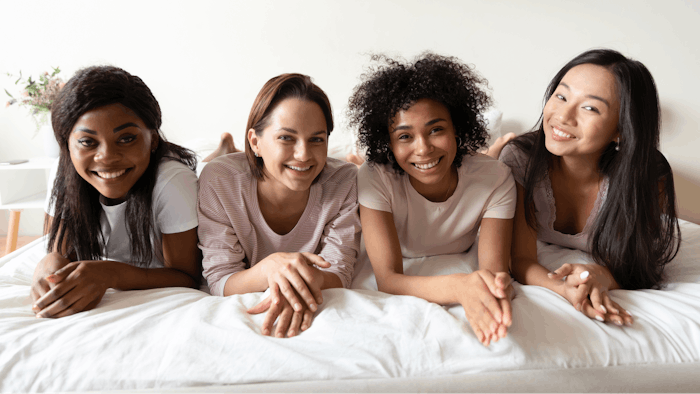 In honor of Women's History Month, Wella Company has released a beauty report that focuses on topics impacting female beauty industry professionals, including the pay gap, leadership and challenges caused by COVID-19.
The report, "An Inside Look at Gender Equity in Professional Beauty," provides an in-depth analysis of data collected from 600 professional beauty associates. The majority of the report's subjects are from the United States and the United Kingdom.
According to the report:
In the United States, women hold about 89.6% of professional beauty service jobs.
By the numbers, women dominate professional beauty, yet men hold more leadership positions and make more money.
Of the top seven global professional beauty companies—L'Oréal, Paul Mitchell, Pravana, The Estée Lauder Companies, COTY, Henkel and Wella Company—only Coty and Wella Company have female CEOs.
59% of U.S. women in professional beauty believe their male counterparts make more money as beauty professionals.
63% of U.S. professionals believe high-level, corporate decision-makers in the beauty industry to be males.
65% of beauty professionals feel equal pay is lagging globally.
49% say leadership opportunities for female beauty professionals are lagging globally.
Women who worked in personal care made 85 cents to the dollar men earned in 2019.
In editorial hairstyling, women make up only 26% of the hair talent at major agencies for jobs like magazine covers and ad campaigns.
Unique Challenges U.S. Female Beauty Pros Faced During COVID-19
58% cited pandemic restrictions are preventing women-owned beauty businesses from surviving.
29% cited insufficient funding/financial support to become an independent stylist/nail tech or salon owner.
21% feel that the culture of men holding high profile positions is standing in the way of success
19% cited inflexible work environment makes it harder to thrive at work and at home.
Wella Company Spotlight
57% of Wella Company employees globally are female.
45% of these female employees are director level or above.
In the three months after the company was formed, on December 1, 2020, 70% of its new hires were women.
Annie Young-Scrivner, CEO of Wella Company, was quoted in the report as saying, "While women dominate the professional beauty service industry in sheer numbers, they are still working towards equal pay and securing positions of decision-making. Moreover, due to the pandemic, women are losing their jobs or dropping out of the workforce in growing numbers due to caregiving responsibilities and pay inequality."
To help alleviate these challenges, especially those brought on by the pandemic, Wella Company has launched initiatives to help support women in the professional beauty community. The company has reportedly provided more than 100 free education classes online and via Instagram during the months spent in lockdown. Additionally, Wella teams in North America implemented a $200,000 fund through Hairdressers at Heart to help licensed beauty professionals that were facing loss of business, educational investment and more.
For the full report, please visit www.wellacompany.com/news/inside-look-at-gender-equity-in-professional-beauty.