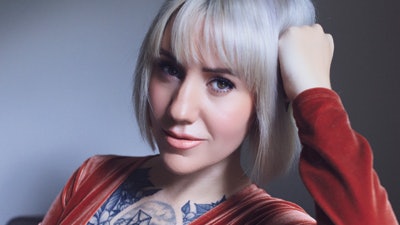 My tattoos tell a story; they're indicators of what I've been through, who I am, and where I came from. I have so many tattoos—I actually don't know the exact number! My chest piece is based on an excerpt from my favorite poem, "The Moon Is a Kite," by Andrea Gibson. I gave the artist the excerpt and asked him to create a piece drawn from these words that have resonated deeply with me for years, and have gotten me through difficult moments in my life:
"I know you think this world is too dark to even dream in color, but I've seen flowers bloom at midnight. I've seen kites fly in gray skies and they were real close to looking like
the sunrise, and sometimes it takes the most wounded wings the most broken things to notice how strong the breeze is, how precious the flight."
My most recent tattoo is a tribute to my craft and Vidal Sassoon. I wanted an outline of the iconic five-point haircut Sassoon created, as well as a representation of the color wheel. I would not be the artist I am today without either of these concepts! Sassoon is my greatest inspiration, and I wanted to honor him in a way that felt meaningful.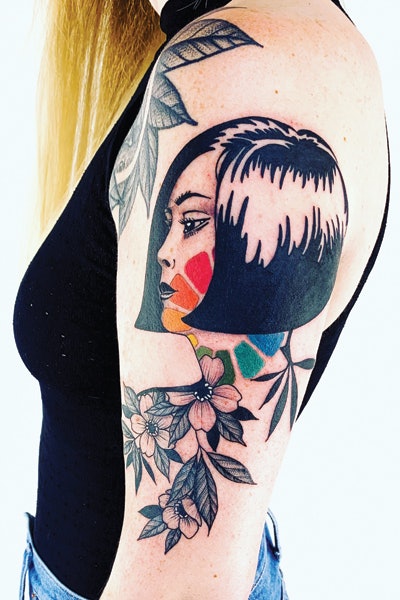 Follow Lindsay Wolf on Instagram! 
As told to Alyson Osterman-Kerr
[Images: Courtesy of Lindsay Wolf, Beth Conlin]
This story first appeared in the December issue of Beauty Launchpad. To receive the magazine, click here to subscribe.