Forget what you know about traditional holiday party hairstyles; the days of overtly fussy updos have disappeared into the ether. Instead, look to Hollywood's biggest risk-takers for trend-birthing cuts and styles that warrant wear during the season's soirees—and into the New Year.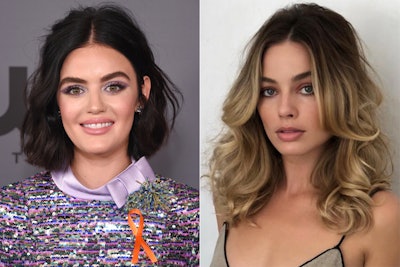 Mod Behavior 
Stylists love to mine 1960s icons (think Jean Shrimpton and Brigitte Bardot) for hairspiration—and it's no wonder: They carried off larger-than-life hairdos with gusto, grace and sexual aplomb. "The '60s was the first time we saw undone hair; before this era, all the looks were so stiff and dressed," explains celebrity stylist Justine Marjan of what perpetually draws hairdressers to the decade. Teased-to-the- heavens and full of bouncy body, the current '60s redux spotted on adventurous celebrities offers up daring 'dos for your clients' holiday fetes—but it also demands a serious know- how of backcombing. Celebrity stylist and eponymous brand founder Ted Gibson, who learned the technique from mane legend Horst Rechelbacher, shares this tip: "Start with a horizontal section about a 1/2-inch wide. Holding your tail comb taut between your thumb and index finger, move the comb in a circular fashion close to the scalp at first, and then work your way up to the sky. If the hair stands on its own, that means you did it correctly!" Don't be shy, Marjan says—more is more here. "Do more— then you can take it down," she stresses. "Also, note that the hair should not be packed when teased. If it's backcombed well, it should also be easy to brush out."
RELATED: 2020 NAHA Finalists Announced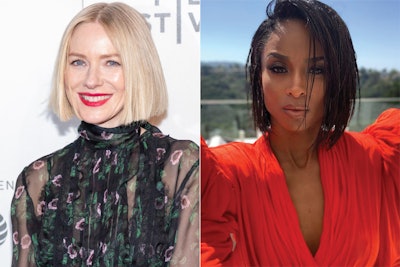 A Cut Above
Quite simply, 2019 was the year of the blunt bob. And though it may seem drastic to suggest such a chop for the holiday season, this surprisingly versatile cut is all but guaranteed to turn heads. "We've seen enough purposely messy styles in years past that the polished shine of a blunt cut makes for a chic upgrade," opines Marjan. Her top tip: "Take your time, take thin sections, make sure your shears are sharp, and allow for lift at the ears so that the hair doesn't bounce up if you cut with too much tension."Though blunt cuts seem uncomplicated, they're anything but. "Remember: No tension, no elevation and no over-direction," stresses Gibson. "This hair technique is the hardest to achieve because we forget or don't know the importance of this." While today's blunt bobs strike a chord because they look crisp and chic, their draw boils down to finessing the cut— especially if your client seeks versatility in her styling. "To modernize the haircut, use the points of your scissors and do small cutting motions; this creates a nice blurred line that gives the bob a fresh feel yet still maintains a clean, blunt line," says Nine Zero One salon stylist Tim Dueñas, adding, "It also gives the hair more movement and a really nice aesthetic if your client curls or flat-irons it."
RELATED: Crimped Hairstyles Set Off the Season's Most Interesting Ripple Effect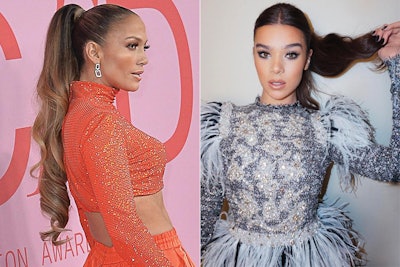 A Tail to Remember
Free-swinging ponytails—the type that whip to and fro with a simple head flick—granted celebs glamazon status this year—and they'll do the same for your clients, too. "Today's ponytails are about reinventing a classic idea," says Gibson. Indeed, adding elements to your client's pony will push it past its humble roots. Marjan beefs up her ponytails with Hidden Crown extensions, citing that this sleight-of-hand grants the increased length and fullness head-turning ponytails require. Celebrity stylist and Beachwaver Co. inventor Sarah Potempa points to braids as a way to freshen up tired tails. "Create detail with a top braid, a side fishtail or multiple detail braids to take your pony to the next level," she suggests. And don't leave any accessory unturned; Potempa, whose own line of hair accessories does gangbusters, recommends scrunchies for a lighthearted feel or hair cuffs for a more modern aesthetic. If introducing barrettes or clips, "think about how the hair looks from all angles and where you want to see added sparkle," Marjan suggests. "It's fun to play around, but if your client is intimidated, try adding an accessory in the very back."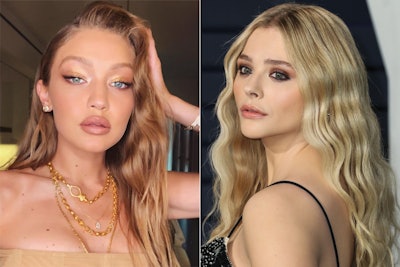 Waves, Hello!
Will we ever turn our backs on bends? No—but they continue to evolve year after year. "As we see more straight hairstyles in fashion, the waved look has become a little bit looser and more relaxed," reasons Dueñas of starlets' penchants for überlanky waves. Two versions that Potempa has her eye on: brushed-out waves and a relaxed middle wave. "Brushed-out waves provide a good balance between a relaxed curl and a glam, polished look"—which appeals to the current done-yet-undone zeitgeist, Potempa notes. The relaxed middle wave, created by curling larger sections of hair and leaving the ends straight, "is so fast and easy, and really works for both everyday work and events," Potempa shares. The key to today's A-list waves: Less is more. "You want to make sure that the hair doesn't look like it was curled by a curling iron," Dueñas says, adding that leaving a bit of fuzz and using a smaller barrel does the trick. Though it may seem counterintuitive for relaxed waves, he reasons that a 1-inch curling iron (as opposed to anything larger) gives you "a lot more variation in the wave, as well as the option to create both bigger and tighter waves, which makes the hair appear more natural rather than overly styled."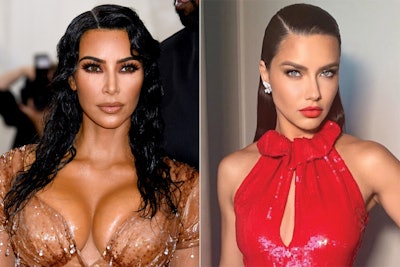 Drip Drop
Saturated strands, whether loose and rumpled, slicked and pristine, or even gelled and glittered, gained an ocean's worth of approval from celebrities, but still tend to be as elusive to your clients as the depths of the sea. Quell any caginess with examples. "Have a book or file of hairstyle ideas on hand and a separate folder of different wet looks," says Marjan. "This will give your client a chance to see many different approaches and find one that best relates to her." The type of texture your client desires will determine your product and application. Marjan warns against using gels that cause stiffness if your client desires touchable movement. Instead, apply oils through the ends and pomade at the roots. Dueñas sticks to a liberal application of mousse, loosely diffusing strands until they're dry. "Then, apply a styling cream to create the desired wet look," he shares. "For an extra-wet look you can use a shine spray to make the hair reflective and appear to still have excess moisture in it."The pros agree that more deliberate, slicked styles require a directional blowout followed by flat- ironing and a strategic application of pomade or wax.
[Images: iStock; Instagram]
This story first appeared in the November issue of Beauty Launchpad. To receive the magazine, click here to subscribe.