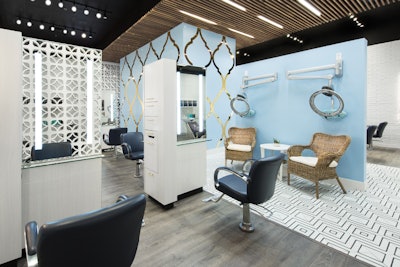 The beauty and nostalgia of mid-century modern design gives Globe Salon's second Las Vegas location an upscale yet laid-back vibe. 
Inside Story
The origin story may sound familiar: Globe Salon co- owner Staci Linklater dressed her dolls' hair as a kid, then graduated to friends, then pursued her passion behind the chair, branding herself Las Vegas' "Hairstylist to the Hip." But then the story diverges: Ten years into her career, New York Times writer Linda Lee interviewed Linklater for her book, Success Without College, and the experience triggered a light-bulb moment. "The interview sort of jump-started this idea that I could do even more," she says. Together with co-owner and self- professed serial entrepreneur James Reza, she opened the first Globe Salon in 2000. "In the beginning, we had imagined Globe Salon as having a handful of locations in special 'global cities'—think: Las Vegas, San Francisco, London—that could all serve a similar guest demographic and provide a consistent client experience wherever we were," Linklater says. "That vision still guides what we do. We always think bigger in terms of who we are and what we do—we always reach for more." Hence, the opening of the second location in the ​Summerlin suburb of Las Vegas last February.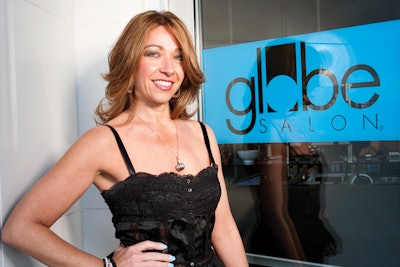 After scouting for locations that eschewed typical strip malls and a few false starts in suburban mixed-use developments, the duo felt as though "the wind had been sucked from our sails," Linklater concedes. Then, new owners at lifestyle center Rampart Commons, where the new Globe Salon calls home, revitalized the complex. "It felt just as much like home as our downtown space. It was fresh, modern and upscale, and the brands they were bringing in were ones we wanted to be surrounded by," says Reza. The renovated building acted like a blank slate rather than a space Globe Salon needed to conform to, allowing the duo the flexibility to use space judiciously—like with their workstation "neighborhoods," two paired chairs where stylists have only one co-worker in their immediate proximity and guests have a more private styling experience.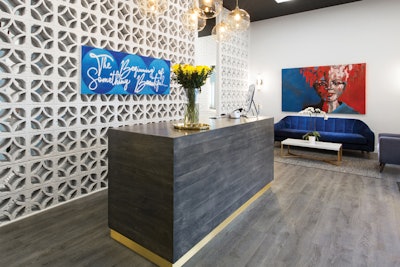 Mining the talents of designer Kevin Brailsford, who designed the flagship Globe, the duo requested the interior pay an homage to the mid-century modernism of Palm Springs, California, and Las Vegas—think: geometric tiling; a natural wood-slat drop ceiling; rattan chairs; a palette of vibrant sky blue, gold and crisp white; as well as floor-to-ceiling breeze-block walls—the latter element being the standout amongst several. "[The breeze blocks] are very much a touchstone of mid-century modern desert design, and guests really love the feature; it's nostalgic for many of them," Linklater shares. The overall effect is like walking into the setting of a Slim Aarons photograph—all sun-washed and desert luxe. "It almost feels like a country club—like you might leave the salon and step onto a tennis court or golf course," Linklater says.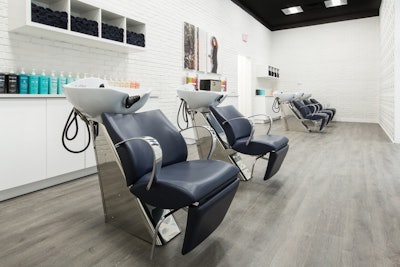 Though the two Globe Salon locations exist within 10 miles of one another, opening the second location in Summerlin—central to the highest average income ZIP codes in the Las Vegas metro area—has opened up the business to a whole new clientele. "Many Summerlin residents don't venture farther east than a few miles and would never come downtown," Linklater concedes. And, because the same team manages both salons, and some staff members work at both locations, the new Globe Salon opens up opportunities for all involved—but never at the sacrifice of putting the guest first. "We're strongly focused on hospitality and guest service," says Linklater. "From the front desk to the assistants to the stylists, everyone is dedicated to making guests smile."
What's Unique
Towel Service: "We offer a relaxing, hot lavender towel at the shampoo bowl, but we also provide a chilled towel that is a response to our arid desert environment," Linklater says
Easy, Breezy: More than a visual stunner, the breeze-block walls transport clients to a different era. "They take guests back to somewhere fond in their memory," Linklater shares.
Boot Camp: For Globe's newbie stylists, education opportunity abounds. "We've developed a training and boot camp program that includes 25 in-house classes that prepare new licensees for a successful career behind the chair," Linklater explains.
Retail Hair Lines: Kérastase Paris, Kevin.Murphy
Color Line: Wella Professionals
Refreshments: Coffee, tea, Coke, Diet Coke, iced tea, cranberry juice, Arnold Palmer
Typical Clients: Professionals of all genders
[Images: Courtesy of Squareshooting.com]
This story first appeared in the November issue of Beauty Launchpad. To receive the magazine, click here to subscribe.