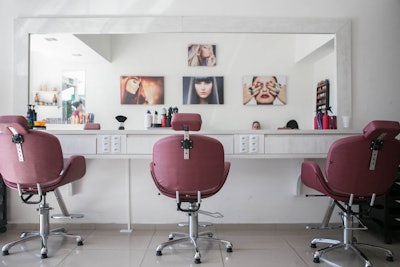 Protect your license: what you should know about liability insurance and protecting your career. 
Yes, your salon is probably required to carry business insurance—but does this guarantee protection for you specifically? Nope…not always. Yes, this kind of insurance will cover you for most mishaps or unfortunate events that occur in the salon you're employed at. However, this type of coverage is usually limited and does not cover you if you are practicing out of the salon. Do you work weddings? Are you a mobile stylist? Do you occasionally perform services at your home or client's homes? In the event of a claim in any of these scenarios, your salon policy would likely not have you covered. Having your own policy to cover you wherever you perform services is vital to make sure your license is protected. Salon polices also often lack additional coverages such as stolen equipment coverage or identity theft protection plans. This is why we're dishing out literally everything you need to know about professional liability insurance. 
Keep reading for detailed answers to your biggest questions about coverage, finding your best options and how you can proactively protect the career you love with assistance from Elite Beauty Society. 
What Even Is Liability Insurance? 
It's pretty simple actually: Professional liability insurance is a type of coverage for your craft that protects YOU, individually, as the professional. This means you are protected from any incidents regardless of where you're working. 
Even though you are part of a bigger salon team, being a cosmetology professional means you are an entrepreneur yourself and only YOU are responsible for your license.  Professional liability insurance is more than just mobile protection, it also is completely comprehensive coverage for a range of incidents.
Here's what a typical liability insurance policy from Elite Beauty Society covers:
In-salon, at-home and outside incidents or mishaps.
Slip and fall accidents. Here's an example: Your client slips on some water splashed from the wash bowl, falls and breaks their arm. While this isn't directly your fault, you could be liable for their medical bills.
Unexpected medical bodily injury. Yes, we know this is worst case scenario, but it can happen no matter how well you're trained.
Issues. Here's an example: You're using a lightener on your client after they go blonder and they have an allergic reaction to the product. While this isn't directly your fault either, (and you could've never known) you could be liable for their medical bills.
Rental damage protection (looking at you suite renters!)
Identity theft protection.
Stolen/damaged equipment coverage.
Never experienced an incident before? That's great! But you can never be too prepared for the unexpected. You're a trained professional, but accidents happen, and one minor issue can lead to a client filing a claim, lawsuits, bad reputations, lost money, and even a lost license.
You don't even have to make a mistake as a professional to end up in the unfortunate situation of being sued, a client simply slipping on some cut hair on your floor and breaking their arm could lead to a claim.
 What Should You Look for in Your Liability Insurance Policy?
As we previously mentioned, many insurance policy providers include additional benefits to your policy such as a free professional website, identity theft protection and stolen equipment coverage! Before you start researching, consider these things as you look for the policy that best fits your needs:
Occurrence Form Coverage: This means that you will be covered for any claims that may be made after your policy expires- as long as they occurred while your policy was active. Clients legally have the right wait up to two years after the incident to file a claim.
Individual Coverage: This means that you are covered for the full amount on your policy, no matter how many other insureds file claims with the provider. You don't want to share your amount with every other professional, once the "money bank" runs out, there are no more funds to cover you with a shared coverage policy.
Mobile Coverage: Some policies only cover you while you're working at the location listed on the policy, so look for the ones that will cover you no matter where you are providing services. This can include weddings, trade shows, and even in your home. Stay protected wherever your career takes you.
Can I Afford This Kind of Insurance Policy?
Good news! Professional liability insurance policies are significantly less expensive than the cost of other insurance policies. Elite Beauty Society has also partnered with Beauty Launchpad to offer all readers a $10 discount on their comprehensive policy!
Call:  (800) 990-3042 to get insurance or visit elitebeautyins.com/lp1