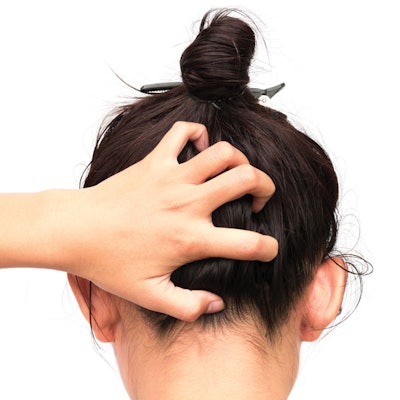 Seeking better hair health? Start at the scalp. Michelle Blaisure, product and technical specialist for Bosley Professional Strength, stresses the importance of a solid background on scalp health, since the scalp skin is the "soil" from which hair grows. "Salon professionals are often the first line of defense when it comes to common scalp issues that can contribute to hair thinning and loss," Blaisure explains. "They're given some basic information about scalp issues, such as dry scalp and dandruff, during cosmetology training, so they should be able to recognize some of the more common problems."
The Importance of ID
Bridgette Hill, aka "The Scalp Therapist," notes that stylists can address superficial scalp abnormalities, but they should also work in tandem with medical pros—a trichologist, dermatologist or doctor. "Simply by seeing and feeling the scalp, stylists can communicate any changes to clients and aid in identifying their historical scalp/hair routines and habits," Hill details. "It would be irresponsible to expect the salon professional to medically identify, diagnose or treat conditions of the skin and scalp, but the stylist can present proper scalp analysis and incorporate scalp care to aid in prevention and maintain the health of the clients' scalp and hair." Alternatively, Blaisure adds, for more in-depth knowledge—or to specialize in hair and scalp health—trichology certification is a great option.
In reality, a licensed cosmetologist can treat only two scalp conditions in a salon setting once a condition has been diagnosed: dandruff and mild seborrheic dermatitis. "Always put on gloves if you suspect any kind of scalp lesion or debris as some scalp conditions are highly contagious, and practice proper state- issued sanitation rules and regulations," Hill advises. "While all other conditions must be managed by a dermatologist or medical professional, a stylist should acknowledge any changes in the client's scalp and hair and engage in proper consultations to address any concern in its infancy before it can become a larger threat to the overall scalp and hair health." For example, is the client complaining of a scaly, sore or itchy scalp? Are these symptoms visible to the naked eye?
RELATED: Meet the Members of Beauty Launchpad's 2019 Education Team
Tony Odisho, president and CEO of Tony Odisho Extensions, agrees that part of the stylist's job is to examine the scalp as the growing ground for healthy hair— looking for anything from potentially cancerous lesions to excess buildup. "We may see itching, flaking, scaling, allergic reactions or infections, and we may be able to recommend products such as clarifying or anti-dandruff shampoo in certain cases," he says. "But it's very important to build a relationship with a dermatologist so you can refer the client when you spot problems."
Generally, Hill notes several scalp conditions to watch out for, and their symptoms:
• Dandruff: Skin cells of the scalp shed at a faster rate than normal, creating buildup.
• Seborrheic dermatitis: Occurring in oily skin areas other than just the scalp, symptoms are itchiness, as well as scaly, red skin that may occur with dandruff.
• Psoriasis: Look for bright pink, inflamed skin covered with silvery scales (which may bleed if the scales are removed).
• Folliculitis: is is a contagious inflammation of the hair follicle.
• Fungal/bacterial ringworm. "Most medical scalp conditions relate more to general health and diet, but a contributing factor of some scalp ailments can be attributed to the products that the stylist uses on the client during chemical or styling services," Hill says. "The stylist should do patch testing and incorporate proper scalp cleansing and exfoliation as pre-treatment services, while comprehensive consultations will assist a client in getting to the root of his or her scalp issues and can allow the salon pro to guide the client to consult with a trichologist or dermatologist if needed."
Root Causes
Hill notes that abnormal hair and scalp conditions can be caused by one or a combination of factors: Genetics, lifestyle, diet, styling habits, environment, health, stress, hormones, and medications may all play a role. For severe problems medical testing may be required, while some issues can be tamed in-salon with treatments that encourage more circulation in the scalp, plus proper shampooing so that the scalp is being properly cleansed and balanced, Hill says. "Because scalp health is a affected by a combination of factors, it's often challenging to isolate one particular cause," she adds.
RELATED: Schwarzkopf Professional's "One Nation Under Blonde" Campaign
However, Hill outlines some possible causes of various scalp conditions:
• Dandruff: overgrowth of yeast, stress, hormones, excess oil on the scalp, immune system illnesses
• Seborrheic dermatitis: overgrowth of yeast, fatty/poor diet, stress, winter weather
• Psoriasis: bacterial or viral infections, dry air (often worse in winter), injury to skin, stress, excess alcohol consumption, weakened immune system
• Folliculitis: viruses, bacteria, inflammation of ingrown hairs
• Fungal/bacterial (contagious): pets, warm weather environments that create more wetness on the scalp
Odisho, for example, witnesses a definite uptick in dryness amid the fluctuating weather at his Chicago-based salon, while tress-taming ingredients like keratin or silicones can clog the scalp. "Scalp problems can be due to a variety of circumstances, such as the use of harsh chemicals; infrequent shampooing and overuse of dry shampoos; stress; autoimmune disorders; a poor diet lacking in vital nutrients; and environmental factors such as pollution, dry/cold weather and sun damage," Blaisure explains. "Or the client may simply be genetically predisposed to certain scalp conditions, like eczema." If a client is experiencing a scalp problem or hair loss, Blaisure recommends questioning the client to help determine the source of the issue and contributing factors, which can provide the stylist with information that can help her make a recommendation—e.g., an anti-dandruff shampoo, different hair products, reducing chemical processes, or seeing a medical pro for a diagnosis.
Talk Therapy
As Blaisure notes, experts agree that conversation is critical—but when it's time to have that talk with clients, stylists may feel intimidated. How can you approach the topic in a helpful way? "Sometimes stylists are more concerned about making a client comfortable than actually solving problems," Odisho admits. "But many clients are more likely to confide in their stylist than a doctor, so with the proper education and verbiage, stylists can feel more comfortable."
Indeed, Hill recommends engaging with the client and making time to scan the client's scalp and hair prior to every appointment. "Ask questions: 'Have you noticed or experienced any changes in your scalp and hair since our last appointment?'" she advises. "When seasons change, that's a great opportunity to inquire about any at-home hair routine changes." Additionally, if you notice a severe issue (think bleeding or scaly patches), acknowledge what you see and ask, "Have you felt any changes in sensitivity or tenderness on your scalp?" Identify areas of concern and suggest dermatological care in severe cases.
Blaisure agrees that a consultation is the first step toward treatment— especially with a new client. " is can be as simple as saying, 'Tell me about your hair; have you had any challenges?'" she says. "This can easily lead into discussing what the stylist sees." Meanwhile, with a regular client, Blaisure recommends taking advantage of that established relationship to bring up any issues with the scalp or hair, and then making recommendations based on the client's responses.
Targeted Solutions
Naturally, the proper solutions to a scalp issue depend on the causes. Hill outlines the following possible treatments for various scalp conditions:
• Dandruff: frequent shampooing; anti-​dandruff shampoos containing selenium sulfide, salicylic acid, sulfur, coal tar or zinc; reducing stress and fats in the diet (such as chocolate and cheese)
• Seborrheic dermatitis: Anti- inflammatory, antiseptic prescriptions; frequent shampooing; medical prescriptions; a shampoo with the ingredients mentioned for dandruff
• Psoriasis: Requires medical care (possibly topical and/or oral prescriptions); frequent shampooing; or a shampoo with the ingredients mentioned for dandruff
• Folliculitis or fungal/bacterial causes: Requires medical care with oral and/or topical prescriptions 
However, note that some conditions can look similar, such as dry scalp and dandruff. "With both, we see dry flaking on the scalp, but dandruff is due to a fungal overgrowth, whereas dry scalp is often due to a lack of moisture or oil in the skin," Blaisure explains. "If it itches and has been ongoing, it may be dandruff, and recommending an anti-dandruff shampoo would be a solution; if it's dry scalp, using a moisturizing conditioner or scalp oil can help alleviate the dryness."
On the other hand, Blaisure adds, if the problems are caused by chemical services or products, the client may want to reduce the use of chemicals, cut down the use of problem-causing products or switch the product regimen altogether. "Cleansing the scalp on a regular basis is always recommended—shampooing at least once a week, if not more, especially if your client is experiencing scalp issues," Blaisure says. "When the scalp is not cleansed on a regular basis, bacteria can build up along with debris and cause inflammation on the scalp, which can lead not only to scalp problems but also to hair loss."
Still, Hill warns, some of the proven active ingredients in those scalp treatments may have adverse affects on the hair fabric, creating a challenge for the stylist. " is is where a certified trichologist can assist: understanding ingestibles, topicals and scalp therapies that can offer scalp relief as well as maintain the integrity of the hair," Hill notes. "For any client who suffers from scalp conditions, use soothing salves and oils designed for sensitive scalps, and create barriers before chemical treatments."These products are also ideal for pre-treatments before shampooing.
Finally, clients with chronic scalp issues should be encouraged to maintain minimal-heat, low-tension hairstyling routines so as not to worsen any present conditions. Hill notes that most scalp conditions can only be controlled (versus completely healed), but stylists can offer preventive scalp services and treatments to keep domes properly exfoliated and cleansed, which assists in managing proper cellular turnover while keeping the hair follicle nutrient-rich.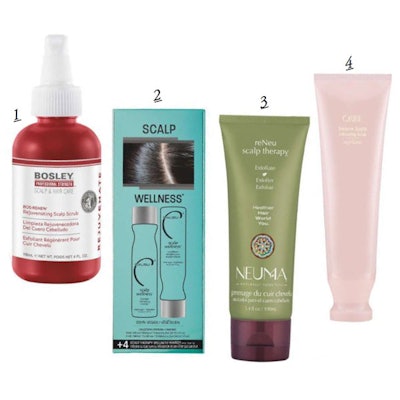 Scalp Soothers
1. Bosley Professional Strength Bos•Renew Rejuvenating Scalp Scrub boasts purifying bamboo charcoal to exfoliate and detoxify, while soothing essential oils and moisturizing botanicals nourish the scalp and hair. 
2. Malibu C Scalp Wellness Collection feeds the scalp with ingredients to help banish flaking, itching and irritation as it refreshes with spearmint and eucalyptus essential oils. 
3. Neuma reNeu Scalp Therapy calms scalp irritation and flaking with bay laurel leaf extract as it exfoliates follicle-blocking dead skin cells via bamboo stem powder. 
4. Oribe Serene Scalp Exfoliating Scrub incorporates physical and chemical exfoliators to cleanse pores, nourish hair and leave domes primed and purified, while alpha hydroxy acid and fruit extracts promote healthy scalp and hair. 
[Images: Bigstock; Courtesy of manufacturers]
This story first appeared in the October issue of Beauty Launchpad. To receive the magazine, click here to subscribe.